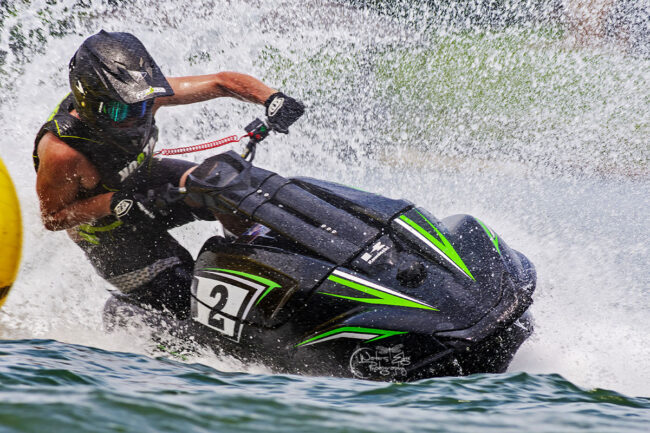 It was a long-standing joke that the bulk of personal watercraft racing's best and most talented athletes were all middle-aged. MacClugage, Farthing, Motzouris, Baldwin, Snyder, and Warner all wield incredible resumes, and all are aged close to – if not over – 40-years-old. Recently, it was learned that the average age of a PGA golfer was just over 34-years-old. When the majority of professional golfers are younger than pro jet skiers, you know you've got a problem.
That's not to say that any have slowed in their age – what's the old adage? Beware of an old man in a profession where men usually die young – with age comes skill and wisdom and today's pros are steeped in both. Of the above list, only Farthing has pulled out from regular racing, choosing to support his sons' efforts on the track mainly (although he does enter the fray now and again). Macc, Motz, Baldwin and Snyder routinely rack up podium finishes when the season is about.
Sadly though, we lost a major mainstay of racing, Craig Warner. Late Monday evening, Warner penned a farewell thanking his longtime sponsors, family and friends for 23 years of support. Beginning as a scrappy standup racer, the Southern California native found his stride with Kawasaki racing offshore endurance. It's in this arena that I got to know Craig. Effervescent, tactical and with a sly grin permanently etched on to his face, Warner proved himself a true waterman.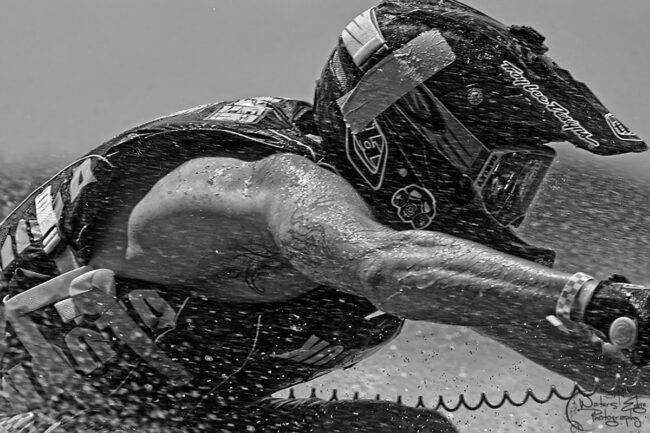 Ages ago as the Editor of Personal Watercraft Illustrated (2007-2010), I took it upon myself to try my hand at the Long Beach-to-Catalina Offshore Championship race a few times, an event Warner would dominate for a decade. His skills aboard the supercharged Ultra platform not only drove PWC sales, but gave credence to the phrase "Kawi water" implying that only a Kawasaki could navigate such rough terrain. Yet, we all knew it wasn't so much the JetSki as it was Warner's skills behind the bars.
Later, Warner would pop into the PWI offices to join us for lunch, spy the yet-to-be-released issue, and even guided our team on a journey to discover one of his preferred surf spots. PWI staffers Justin Stannard and Dave Szych rode to the secret location with surfboards wedged in their footwells. They surfed, skied and leapt from cliff faces, while I sat behind my desk planning the next month's issue. Despite being a terrible surfer myself, I was sick with jealously.
Although corporate support waned in later years, Warner's relationship with Kawasaki was almost ubiquitous, nary inseparable. Warner adorned posters, press materials, videos and even a large portion of an extreme-sports themed gas station on the way to Lake Havasu that I regularly stopped at for a photo op. Sadly, with Craig Warner's official retirement, there goes one of the last remaining champions to ride under the Kawasaki banner.
Warner wrote in a Facebook post last night (June 22nd) the following message:
I guess it is time to let all my family, racing family, and fans know that it is official: I have retired from [my] PWC racing career.
It has been the best 23 years of my life and the last 13 years with Team Kawasaki. I could not explain in words how great it has been representing the best manufacturer in the world. Many, many thanks to Joe Heim, Minouru Kanamori, Craig Boyd (aka Fuzzy), and the rest of the team.
Big thanks to my parents for allowing me to chase a dream to be a factory athlete. We did it and won so many championships. Always a team effort. It wasn't always me that did it.
Everyone that knows me and has been apart of me, I thank you for everything. I have moved on to let someone else Chase his Dreams, and that is what we are doing.
Goodbye watercraft and friends. Everyone good luck this year and the following years. I will always be watching on the cool vlogs by Dustin Motzouris.
Thanks again everyone for all the support and great sponsors I have had through my career. You will never be forgotten.