Hartwell, Georgia is special because it's the only stop on the tour that they have the unique race class of "Vintage Ski." This year, it was the second most popular class with 14 racers on the line! Josh Block returned from a 2-year hiatus, taking the overall win on a Yamaha SuperJet with a 1-2-2. Kevin Rowe finished second overall with a 2-4-1, and Gage Schoenherr finished third overall with a 5-1-3 in the 3 motos.
A familiar face on the shore is 10-year-old Kayden Baldwin, son of Brian Baldwin. Hartwell is now a memorable place for him because this was his first ever race! We asked him what it was like to race for the first time. He told us, "I was excited and a little nervous. Once I got to the starting line, I was a lot nervous and my stomach started hurting." We then asked him how he felt once the race started: "The nerves went away," Baldwin answered immediately. He was out there racing on a Kawasaki SX-R 800 saying, "She's fast and runs real good, thanks to my dad of Champion Powersports. Big thanks to Fly Racing for my cool racing gear, too!"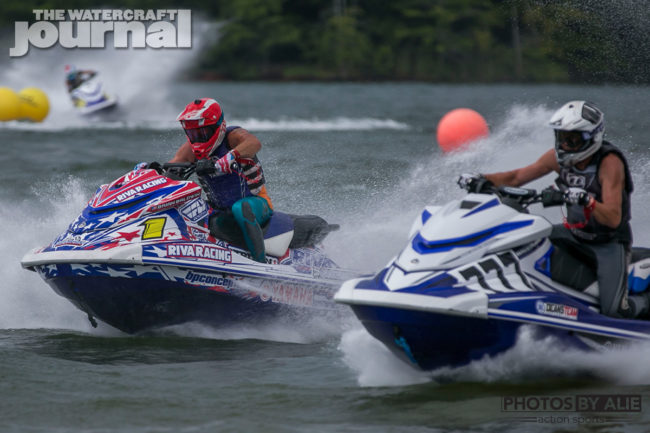 Freestyle was surely entertaining for the spectators. They got to see a wide array of tricks ranging from old-school tricks like submarines and bulldogs, to new-school tricks like backflips and 540's. We started off with Amateur Freestyle in which Michael Petro entered back into the competition scene on '98 roundnose Yamaha SuperJet with a 650 and a big 'ol Liquid Militia logo across the hood. The lack of power surely didn't stop him though, starting off with his signature Superman Rail Grab! Yes folks, Petro is back! He threw down a solid old school routine, busting out everything in the books.
Next up was Kevin Rowe on his vintage Kawasaki 550. Boy, he threw down a heck of a routine as well, starting off with his favorite 'barefooting' as he zoomed across the water with his feet skipping off the side. Mid-routine, he even threw a log roll. He ended his routine with a really deep submarine causing his ski to start sinking, but luckily there were plenty of us to swim his ski to shore and get the water out. Following Petro and Rowe was Jeb Zarzour on his 'new-school' ski, a carbon XScream Helium hull with 900cc power plant. Unfortunately for Jeb, he had mechanical issues immediately upon starting his routine and had to forfeit for the remainder of the weekend. Rowe took first on Saturday, but Petro battled back real hard on Sunday, winning Moto 2 with a flawless old-school routine, taking the overall win in Amateur Freestyle. Talk about a nice way to enter back into the competition scene after many years away!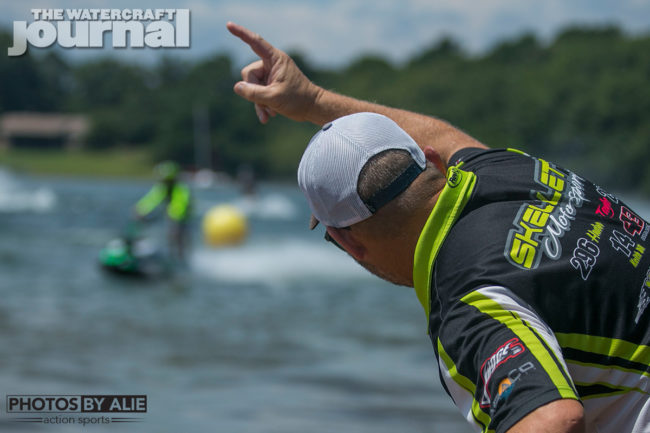 Next up was Pro Freestyle! Unfortunately, during practice in Moto 1, Gary Burtka broke his exhaust coupler on his blue Twangled Havoc. Luckily, Freestylers are supportive of each other, so Michael Petro let Burtka take his vintage 650 square nose SuperJet out for a 2-minute rip. Burtka, haven't been on a vintage ski in many years, looked right at home busting out crowd favorites like fountains and other various hood tricks. Following Burtka was Ryan Doberstein on his P&P Performance built TPE 1200cc Helium. Doberstein was on a new-school ski and gave this crowd some eye-opening amplitude on big backflips, spins, and combos!
Moto 2 in Pro Freestyle on Sunday had Gary Burtka going first on his white Twangled Havoc, which was built by Zack at Powerhouse Performance. His ski looked great as he started off his routine with a clean set of three backflips in a row and even a no-hander lander backflip. It was now up to Doberstein to defend his Moto 1 win, so Doberstein pulled out multiple technical tricks such as 1-footed 540 to backflip combos. Other combos consisted of 1-footed can backflips to multiple 1-footed 360s. Doberstein pulled out the overall win with Burtka in second.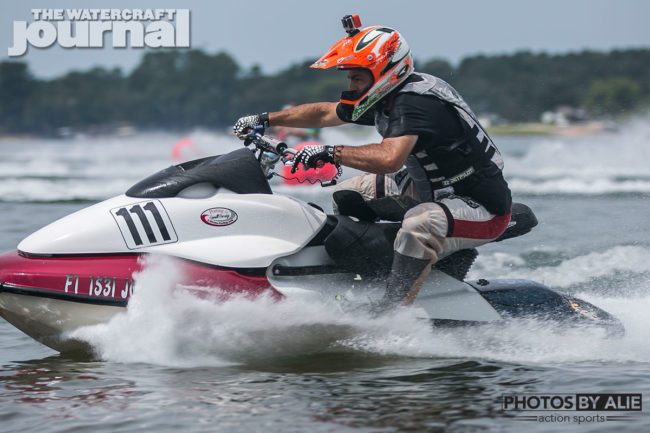 One of the big talks of the weekend was Moto 3 of Pro-Am Runabout Box Stock with 777 Tim Miller squeezing out the win from 110 Troy Snyder. Overall, Snyder took first; Brian Baldwin in second; and Miller in third, but this Moto 3 was especially entertaining as a spectator. We got a chance to catch up with both Tim Miller and Troy Snyder to see what they said.
Tim Miller told The Watercraft Journal, "Snyder was in the lead the whole race, I was in second with Baldwin on my tail the whole race. I was really working hard trying to pass Snyder. At that time I really just wanted to beat Snyder for the Moto, but knew it wouldn't help much. Baldwin is pretty far ahead in the points. Not sure if anyone can get him. I'm currently second in points after Georgia, but the win for Snyder brought us within 7 points of each other. "
We asked Miller if he had any advice for new racers in regards to finishing the race strong. He told us "The race isn't over until you cross that finish line, never give up and keep pushing. Never let off, especially at or before the finish line. It's dangerous for the racer and the ones behind them as well. Pin it to win it till the end!! Not real sure why Snyder let off that early." Well, neither did the majority of everyone on shore and even on social media afterwards. So, we wanted to get Troy Snyder's take on this race.
Troy Snyder told us, "I let off at the end for strategy for overall [points] for the year. I was holding Baldwin up on purpose trying to get Tim Miller to beat him for the weekend. You always want to push hard to the end of the course. Me, as multi-time champion, always use my head when I race. I save the boat and know where I am for overall wins. You don't have to win every moto to get the trophy."