"It's really to test the waters," RIVA Racing's Dave Bamdas confessed. "We want to see how people react." The response, by all observations was unanimous in the positive. RIVA Racing had wheeled out its one-of-none custom FX1800R prototype onto the checkered floor of its booth at the 2018 IJSBA World Finals to quite a bit of fanfare. The one-off custom build really was meant to be demonstrative of what a fully-equipped 2019 Yamaha FX SVHO could be, if outfitted with the latest in performance parts from RIVA Racing.
Unlike the company's annual Limited Edition builds, wherein RIVA Racing hand-builds an exclusive run of 25 units of a particular unit, this was only a dry run to gauge the public's reaction. For the past two years, the RIVA Racing Limited Edition watercraft have been exclusively Yamaha GP1800's. Prior to that, RIVA modified the now-retired FZR. And unique to the Limited Editions, certain performance parts were specially anodized to match the craft's new custom paint and decal package.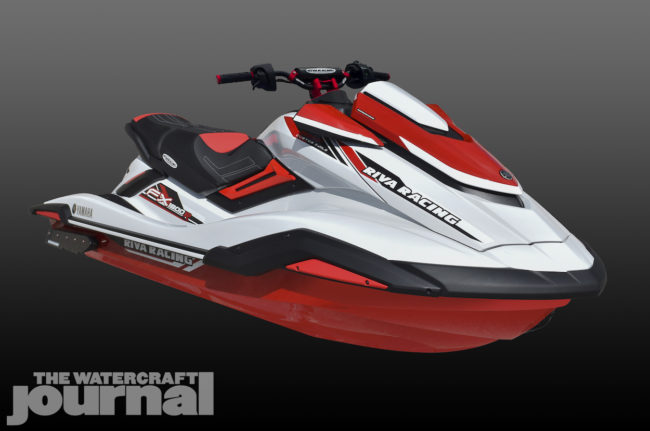 Months earlier, Dave had inquired what people might think of the Limited package being offered on the redesigned FX platform instead of the new GP1800R, a moniker which RIVA Racing used for its previous two special offerings. "I think it'd be a great fit," we encouraged. "Plus, you're not gravitating too far away from the performance parts used on the GP." As often is the case, RIVA's team had early access to the new FX full-sized runabouts and the R&D team were very confident that the new runabout could be a top performer.
Based on the standard 2019 FX SVHO in Pure White and Torch Red Metallic, RIVA did little to radically alter the Yamaha's aesthetics. In fact, RIVA's dedication to replicating the factory appearance of the graphics are enough to fool the layman as he glaces the ski over. Smartly placed "RIVA Racing" billboards adorn the hood and hull below the bondline, with a single call-out beckoning "FX1800R" below the custom-stitched grippy seat cover. Only the eagle-eyed observer will spot the radical "350 horsepower, custom build" lettering high on the fairings.
"This one's a more low-key than previous builds," Dave noted. The custom CNC-cut Hydro-Turf mats are two-toned black-and-gray, but only the slightest difference in hue. The aforementioned seat is equally subdued, making it almost appear unchanged, with two small dashes of red to break up the black-and-silver (RY5-FX19-1). The red hull is of course, factory, so the RIVA Pro Series Sponsons (RY26070) stand out particularly well. During their testing, RIVA discovered that not only does the FX share the same bolt pattern as the previous FZ models, but the 5-way adjustable blades work remarkably well for the new hull.
Observing from behind, the one-off FX1800R displays RIVA's new through-hull Rear Exhaust Kit for the 2019-up FX (RY15120). Next to that, the FX brandishes some necessary traction and handling improvements including a Solas Yamaha 160mm Concord 13/20 Impeller (YV-CD-13/20); a RIVA Yamaha FX SVHO & FX SHO/HO 2012-19 Top-Loader Intake Grate (RY22070) and accompanying RIVA Yamaha Pump Seal Kit for 2012-19 FX's equipped with the new grate (RY25070); and a RIVA Yamaha FX1800R Performance Ride Plate (RY211020) – this being a prototype, and not the final ride plate for FX's.
Aft of the new LCD full-color touch screen dashboard is RIVA's Pro-Series Steering System for the new Yamaha FX (RY20120), equipped with RIVA PRO-BAR 30-inch Runabout Bars (RY205BK-BAR-2), ODI Lock Ring End Caps (03-05-343) and ODI Ruffian Lock-On Grips, 130mm, No Flange, Black (L31RFB-S), replacing the plastic steering components with aircraft-grade billet aluminum giving the rider significantly better steering input and responsive feel.
Of course, the biggest additions to the FX1800R are found beneath the reupholstered seat; engine modifications begin with a RIVA MaptunerX Yamaha 2018-up 1.8L Bundle (RY110SC-B-1); a RIVA Yamaha SVHO Power Cooler with Free BOV (RY17080-PC-BV); a RIVA Yamaha FX SVHO 2019-up Power Filter Kit (RY13120); a RIVA Engine Breather Upgrade Kit, 2012-18 Yamaha 1.8L (RY19040-12-EBUK); a RIVA Pro Series Engine Cooling Upgrade Kit, SVHO (RY10080-ECUK-PC-2); a RIVA Yamaha Valve Retainer Upgrade Kit, 1.8L (RY19040-SRU); the RIVA Yamaha SVHO/SHO Supercharger Shaft Upgrade Kit (RY17040-UK-6S5-3); and a RIVA Yamaha 1.8L High Flow Billet Fuel Rail (RY12040-BFR).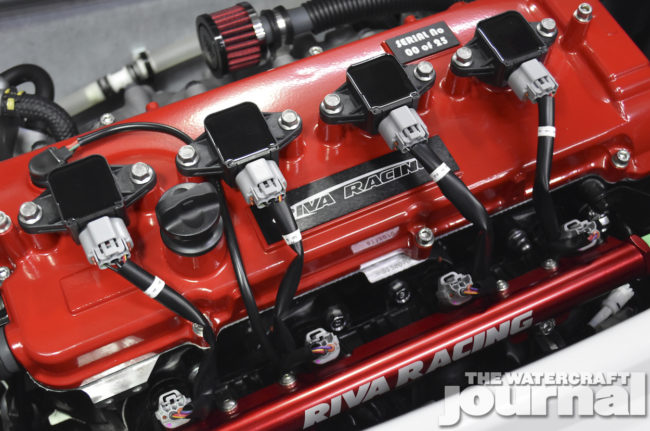 All of this adds up to a dyno-tested, proven and (most importantly) reliable 350-horsepower at the flywheel, which when tested out of RIVA's private lake, delivered a sustained top speed of 83mph at 8,600rpm. That's a considerable jump when the stock machine typically turns in a consistent 68mph at 7,500rpm. Of course, RIVA notes that all of its testing was performed with 1/3 tank of fuel, the trim set at neutral at sea level elevation, and the air temperature at 80-degrees F. We at The Watercraft Journal are eager to take this one-of-none machine out for a spin, but have been told to wait. Rats.
Until that time, it's pretty cool to know that while you might not be able to order a FX1800R from RIVA Racing, you can get pretty close to replicating the proven performance of this custom build buy purchasing a new NanoXcel2-made, 818-pound 2019 Yamaha FX SVHO WaveRunner and ordering the list of parts to either install yourself or have installed by a reputable shop. And if RIVA does in fact decide to offer it's short run Limited Edition machine as a FX1800R (or a 350-horsepower GP1800R), The Watercraft Journal will be the first to bring you pictures, information and video as we test it.