"So what's stock?" Dave Bamdas queried, already knowing the answer. "What, like 250 horsepower? Yeah, this has a hundred over that. 350." The president of RIVA Racing has seen quite a bit in his 30-plus-years helming the Pompano Beach, Florida powersports dealership. Despite his trim, youthful physique, black old skool Vans and deep-rooted dual interests in first-wave punk and skateboarding, Bamdas has seen every age of personal watercraft racing first hand – and has refrained from souring or becoming salted. "Our guys put a lot of time into getting this package right," he introduced, waving a hand over the spangled red, white and blue Yamaha resting on the floating dock. "I think you'll really enjoy it."
Standing on the newly completed seawall pavilion at RIVA's private test lake, I strapped on my Fly Racing F2 Acetylene helmet and pulled up my gloves. I had ridden last year's Limited-Edition GP1800R on the same lake, but with far better conditions. Today, steely gray skies loomed low overhead, and winds were gusting at 10mph, kicking up low chop that wasn't perilous but didn't lend itself towards top speed runs, which I had anticipated for. Nonetheless, the 2018 RIVA Racing Limited-Edition GP1800R carried over all but exactly the same components as the previous year's model, and I had confirmed RIVA's claim before with a blistering 86.2mph. Today, I wanted to test my hand at handling the beast, as the GP's Pro Series sponsons weren't ready in time for last year's review.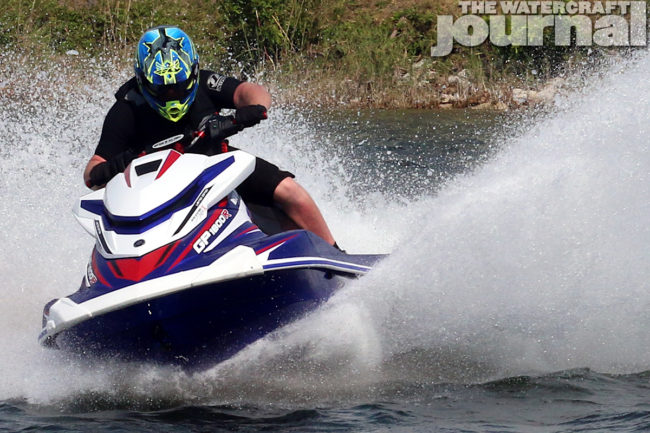 The past 18 months have been phenomenal for the Yamaha GP1800 WaveRunner. Racers piloted the machine to national and world championships in every spectrum of the sport: closed course, offshore, endurance and more. The craft's featherweight 769-pounds (in large part due to its NanoXcel2 hull and deck material), and industry-leading 1,812cc (1.8L) Super Vortex High Output (SVHO) engine made for a formidable combination, and the mountain of trophies cannot be disputed. Not surprisingly, many (if not all) of those GP's were equipped with some number of RIVA Racing performance parts. And if not, what was employed was very likely a riff on something designed and manufactured by RIVA. The connection between RIVA and the GP1800 is almost umbilical.
"The RIVA GP1800R Limited-Edition was developed for the performance enthusiast who demands the best in power and performance," Bamdas droned, almost perfectly repeating the website description. As with last year's GP1800R and the previous year's FZR 350 – the first of the modern Limited Edition Yamaha runabouts – RIVA hand-assembles only 25 units, each uniquely marked with an engraved serial number plate on the anodized red valve cover. Completing the GPR's unique look is a RIVA Limited Edition Rear Traction Mat, a RIVA Limited Edition Seat Cover and of course, the RIVA Limited Edition Graphics Package made to look as if it was designed and applied by Yamaha Motor Corp. itself. "It just didn't need to perform well, but we needed it to look great too," Bamdas added.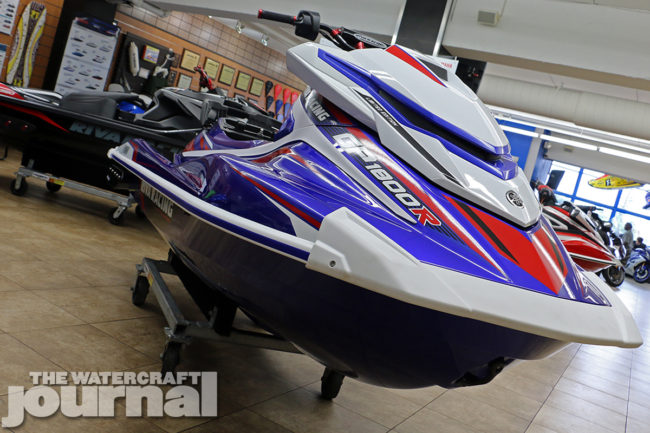 Beneath the seat is a veritable who's-who of performance parts: it all begins with a RIVA MaptunerX Yamaha License to radically "wake up" the engine's ECU tune. From there, it's all about air and exhaust flow and maintaining engine temperatures and longevity, using a RIVA SVHO Power Cooler Kit, a RIVA/HKS Yamaha Power Cooler SSQV Blow-off Valve, an RIVA Yamaha GP1800 Power Filter Kit, a RIVA Engine Breather Upgrade Kit 1.8L, RIVA's SVHO Intake Manifold Upgrade Kit, a RIVA Valve Retainer Upgrade Kit (the only "invasive" mod on the build), a RIVA Pro Series Engine Cooling Upgrade Kit, a RIVA SVHO Supercharger Shaft Upgrade Kit, and a RIVA High Flow Billet Fuel Rail. A RIVA GP1800 Rear Exhaust Kit funnels the spent gases out of the transom through a billet aluminum, red-anodized exhaust outlet.
As mentioned, amplifying the GP's handling was as important as getting it going faster; this is accomplished through the use of a RIVA Yamaha GP1800/VXR/VXS Performance Ride Plate, RIVA Yamaha GP1800/VXR/VXS Top-Loader Intake Grate, RIVA Yamaha GP1800 Pump Seal Kit, and the RIVA Yamaha GP1800/VX Pro Series Sponsons (with the sponsons' 5-position billet inserts having also been anodized red too). A Solas 160mm Concord 13/20 Impeller helps transfer all that horsepower into thrust. Atop of the GPR is the RIVA Yamaha GP1800/VXR/VXS Pro-Series Steering System, or "bundle" as they often call it. Comprised of a billet aluminum base and neck, a RIVA Pro-Bar 32-inch Runabout Bar receives the factory controls including Yamaha's electronic trim pod and RiDE braking and reverse system, and end-capped with a pair of ODI Ruffian Lock-On Grips.
Out of the gate, the GP1800R rips at a halting rate. Fighting to find traction, the ski cavitates some, permitting the engine to bounce half-a-second off of the rev limiter. (Admittedly, my weight and posture had more to do with it than the ski.) From a standstill, in just over 3-and-a-half seconds, I was at 60mph. Less than two seconds later, and I was at 80. At these speeds, the chatter of the ski ridding over chop was so rapid it felt like gripping a fully-automatic weapon at full burst. Spotting a small white buoy, I dropped my inside knee into the tray and snapped the bars hard right, praying that my grip would hold. The GP1800R responded in kind – its Pro Series sponsons biting down – and sprung out of the apex of the turn faster than I entered it.
I rode the GP1800R as hard as I dared, absolutely floored that the ski never once skipped, slid or broke free while pressing through hairpin after hairpin. No closed course would be arranged as frantically as I careened from side to side over the lake, I mused, smiling beneath my helmet. Yet weirdly, despite all its power and lazer-focused handling prowess, it never once felt unruly or that I was wrestling with it for control. This was a weapon entirely under my command. What is thy bidding, my master?, I heard the amplified baritone of Darth Vader supplicating in my mind. I snapped off another 90-degree turn at wide-open-throttle. Good. Gooood. I hissed, doing my best Emperor impression, geekily amusing myself.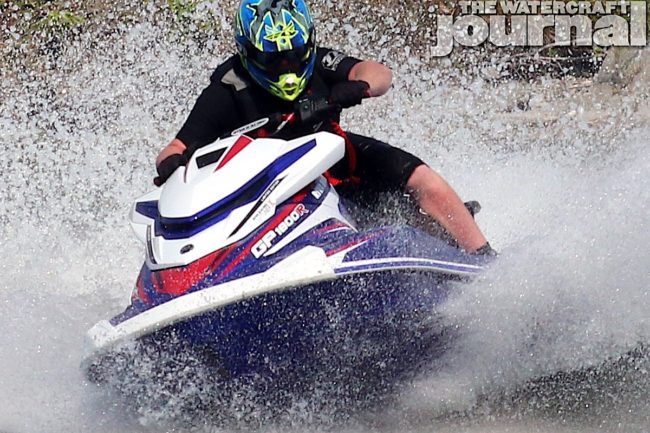 It's worth reiterating that much of the GP1800R is left stock. The ECU is merely reflashed using RIVA's MaptunerX software. The supercharger, aside from the addition of the impeller shaft upgrade kit, is stock. Internally, the SVHO engine is box stock (save, again, for the valve spring retainer upgrade). The pump and nozzle are stock too. To achieve speeds like these only a few years earlier required extensive work: high compression pistons, camshafts, wholly rebuilt or completely replaced superchargers, billet pumps and the like. That RIVA Racing is able to eke out this degree of performance (both speed and handling) with almost entirely cosmetic, non-invasive methods is truly impressive. Most impressive. 
Now for one more note: as crass as I can put this, the GP1800R is far too much machine for most people – even some of the folks who were hand-picked to test ride the GP1800R were significantly ill-prepared to handle this beast. But I guess that goes without saying. Priced at $25,995, the RIVA Racing Limited-Edition Yamaha GP1800R is surprisingly a bargain once you consider the cost of purchasing the parts at full retail, having them anodized red, having it all installed, and applying the custom graphics kit, seat cover and traction mat. Although only 25 are set to be built this year (and it's only mid-March), a scant 12 units remain – so act quickly if you find yourself licking your lips while reading this.