First, it was a handful of grainy cell phone pics hitting social media threads. Then came a few photo studio images from RIVA Racing itself. Then came a full blown feature article on The Watercraft Journal that revealed all of the details on what was at the time only thought of as a display model at the Yamaha dealer show at the Amelia Island Ritz Carlton in Florida, in late August 2015.
The ski, a modified 2015 Yamaha FZR wielded bright orange "350" emblems on its sides almost taunted onlookers. The idea of 350 dyno-proven-horsepower out of a supercharged personal watercraft was, only a scant few years earlier, the stuff of top-of-the-line Pro Open and international GP class race craft. Now, RIVA Racing – the industry's leader in developing high quality performance aftermarket race parts and accessories – was offering it in a reliable package.
Yet, this time things were different: while all of the wares listed on the RIVA-equipped WaveRunner could be purchased individually via the company's online store, the parts manufacturer was offering a nearly identical turn-key package for $25,995 through the RIVA Racing dealer network. Never before had such a modified watercraft been developed, tested and proven, and made available for general consumer interest.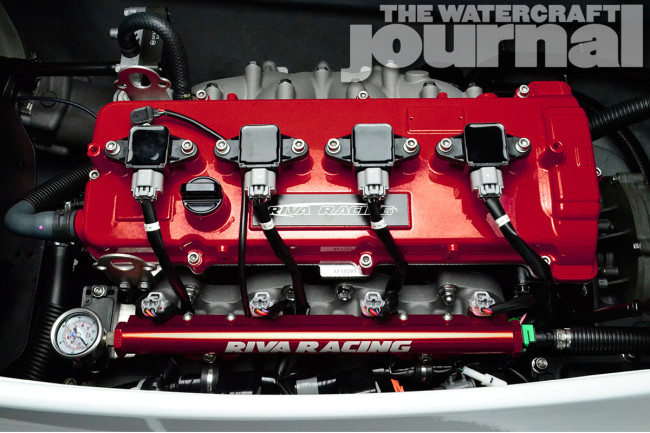 With a limited run of 25 units for the year, those who saw the immediate value in such a machine instantly committed initial payments – even before seeing the final product. As shown in the earlier article, the FZR 350 displayed was a 2015 model and changes would be made to match the 2016's aesthetics (namely the Torch Red Metallic hull). When finally (and quietly) unveiled in early December, the RIVA Racing Limited Edition 2016 Yamaha FZR 350 showed its ultimate appearance.
RIVA's Dave Bamdas told The Watercraft Journal, "Internally, we debated over the Limited Edition's look. I wanted it to look like this could've come from the factory, and made great efforts to do so. All of the orange components [from the prototype displayed in August 2015] are now anodized red, to match the factory red color scheme."
"Even the RIVA-edition Jettrim custom seat cover flows with the design," Bamdas continued. "We had all the stitching match the same red, with lots of black and satin to give it a stealthy look." The FZR also comes with special "RIVA Racing" edition Hydro-Turf traction matting. Lastly, a pair of red-anodized RIVA FZ mirror block-offs clean up the Yamaha's hood lines. But, the Limited Edition 350 is far more than just an external appearance package. To make the Limited Edition FZR's 350-horsepower a dyno-proven reality, RIVA started with their proven Stage 2 kit, and simply went on from there.
Beginning with a RIVA ECU Reprogramming Service, a SVHO Intake Manifold Upgrade Kit, Valve Retainer Upgrade Kit, and Engine Breather Upgrade Kit, the newly retuned and uncorked SVHO is force-fed added air and fuel via a Yamaha 1.8L SVHO/SHO Supercharger Shaft Upgrade Kit, a RIVA/HKS Yamaha Power Cooler SSQV Blow-Off Valve, Power Filter Kit, and a High Flow billet fuel rail. Keeping the boost charge cool and regulating the engine temperatures is a RIVA's Yamaha FZ & FX SVHO Power Cooler Kit, SVHO Pro Series Engine Cooling Upgrade Kit, and a RIVA FZR/FZS through-hull rear exhaust kit with a billet exhaust outlet.
Adding to the FZR's already impressive handling prowess is a RIVA FZR/FZS Performance Ride Plate, FZ SVHO Stainless Intake Grate and RIVA FZ SVHO Pump Seal Kit, and a pair of Pro Series sponsons, of which the 5-position sponsons' billet inserts have been specially anodized red as well. Unseen is a new Solas Yamaha 160mm Concord 13/20 Impeller that can properly process all of that extra rpm into usable thrust. This of course, not only increases the FZR's 1.8-liter SVHO 4-cylinder to produce a dyno-tested 350 horsepower (over the stock 260 horsepower at 7,500rpm), but run up to a GPS and radar-proven 80mph at 8,300rpm (with 1/3 tank of fuel, trim in neutral, sea-level elevation, air temp 80-degrees F, states RIVA Racing).
Keeping the rider in control of all that newfound power is a RIVA FZ Pro-Series steering system, Pro-Bar 32-inch runabout bar, and billet throttle lever, all sharing the same anodized red hue. Speaking of which, every Limited Edition FZR will also feature a red powder coated valve cover with a specialty-laser etched plaque noting the ski's number of the available 25 units. According to Bamdas, "Five units have already been claimed. As soon as we took possession of 2016 units we started building them. The first Limited Edition FZRs will be available in late January. People are already really excited for them."
Each of the Limited Edition FZRs are hand-assembled by RIVA's own research and development team (the same master technicians who design and test every RIVA Racing part and component prior to distribution). And while the 80mph, 350-horsepower Limited Edition FZR 350 fetches $25,995.00, RIVA Racing has also decided to offer a Limited Edition FZR (non-350) for $20,995. Spec'ed at a top speed of 74mph at 7,600rpm, the non-350 comes with all of the aesthetic graphics, handling and breathing improvements, and still delivers excellent performance.
"We found that 74 miles-per-hour is just plenty for a lot of riders," Bamdas concluded. "The lower version offers all the look, style and handling of the Limited Edition 350, but without the big boost of horsepower. The only outside difference between the two is the hood graphic leaves off the '350.' That's it."
Of course, that doesn't mean that the Limited Edition FZR can't be upgraded to 350 horsepower at a later date, as all of the parts used to make the Limited Edition 350 are available currently at RIVA Racing's web store. As Bamdas noted, the Limited Edition RIVA Racing FZRs – in either performance trim – are more than just a Stage 2-equipped FZR, as we've ridden previously. Rather, these are truly one-off custom, serial numbered machines that we hope to eventually become collector's items. That's not to say, we wouldn't ride it all the damn time, but that we probably wouldn't mess with the already proven package.