When you purchase a new personal watercraft, one of the first things you have to do is a proper engine break-in. Now there is speculation all over the internet and various forms at an engine break-in are not required. This couldn't be furthest from the truth. Completing the break-in procedure is essential for engine life and performance. This is not exclusive to the personal watercraft industry, either. It is really for internal combustion engines at large.
High-performance motors that have tight tolerances between the engine bore and the rings of the pistons must wear in properly to have correct compression and seating when it comes to intake and exhaust valves. Some manufacturers like Sea-Doo intentionally detune the ECU from full engine performance until a time threshold is reached.
Above left: Never skimp on filling your watercraft with the factory-rated octane fuel. While modern 4-stroke engines have knock sensors that can compensate for lower-quality fuel (by increasing the quantity of fuel injected at each revolution), you're not saving any money as mpg will decrease. Above right: Although not mandatory, we added a bottle of fuel additive to provide the fresh SVHO engine a little added zinc for better initial break-in.
Currently, we're in the process of going through the engine braking procedure on a 2022 Yamaha GP1800R SVHO. When we received my ski from the dealership it came with almost no fuel in it. Now, this model does require premium gasoline since it is supercharged. Depending on where you live premium is either 91 or 93 octane, either is fine. Just remember to always follow the factory octane recommendations for fuel.
Above left: All ready to begin our break-in process at the ramp, we make a final check before launch that our drain-plugs are installed and straps are unhooked. Above right: Yamaha's enjoy a very brief suggested break-in process – only 90 minutes of run time.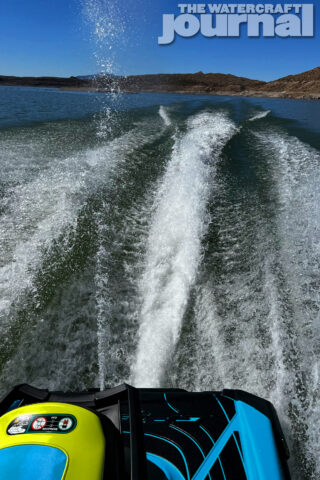 We also added an engine lubricant to the fuel that has a high concentration of zinc to help with engine break-in. This is not a mandatory step but is something we have done, and want to provide the engine that added protection from the beginning.
After our ski has reached the 90-minute threshold we will continue the same process until 120 minutes is reached. Once this is achieved, we're free to ride the ski as we so please. Once the watercraft has five hours on the engine, we will do the first oil change to remove dirty oil that has contaminants from the break-in procedure. Again, this isn't mandatory but an extra precautionary step.
After another five hours is on the motor, we will do a second oil change to make sure any breaking contaminants have been thoroughly cleared from the motor, and we will continue with oil changes every 10 hours for the life of the ski. This is what many will call "overkill" but we err on the side of caution when it comes to engine life.
We know we all want this step done as soon as possible but the engine break-in is critical to make sure the motor stays together. Because for a lot of us modifications are not a matter of if rather, a matter of when, even something as minor as a Stage 1 reflash has the potential to hurt your motor if it has not been properly broken in.
We will also not perform any engine modifications to this watercraft until 10 hours have been put on the motor. Some might say this is a little excessive, but it is what we have done in the past and it is what we are comfortable doing. At the end of the day, do what you are comfortable with because it is your money out there on the water. These steps may seem excessive to some, and that's fine. Again, it's your investment.
Above: Once we reached our hour-and-a-half mark, we were ready to enjoy our supercharged Yamaha GP1800R to its fullest.