OK, OK. Before we send you Yamaha fanatics into a frothing spasm, this deal is currently an exclusive for our Australian brothers and sisters looking to score up to $3000 of in-store credit on select Yamaha WaveRunner models. As Yamaha WaveRunners Australia's announcement states, "For a limited time only, Yamaha WaveRunners Australia is offering customers the perfect opportunity to 'Gear-Up for Good Times' with up to $3000 of in-store credit on selected WaveRunners."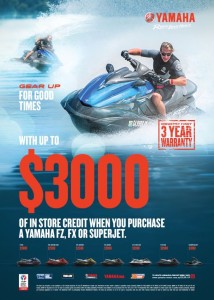 Whether you purchase a FZS, FX or SuperJet before the 12th of September 2015, customers will score an in-store credit relative to the WaveRunner purchased on products such as parts, accessories, lifejackets, services and even trailers! Yamaha WaveRunners Australia lists the credit-to-purchase scale as follows:
FZS $3000
FX SVHO Cruiser $2500
FX SVHO $2500
FX SHO $2000
FX HO Cruiser $2000
FX HO $2000
SuperJet $1000
"This sensational limited time offer of up to $3000 of in-store credit is the ideal opportunity for customers looking to purchase the complete WaveRunner package, with all of the extras. Customers can redeem their credit towards any products in-store, including accessories, services and even trailers." said Iain MacLeod, National Sales Manager for Yamaha WaveRunners in Australia. "With this offer available in dealerships nationwide, now is the perfect time for customers to purchase the complete new Yamaha WaveRunner package."
Contact your local participating Yamaha WaveRunner Dealership for further details and to secure Yamaha's limited time offer on selected WaveRunners.