Personal watercraft (PWC) trailers range from single, double and even upwards to four and six-place trailers to suit all models of PWC. Many PWC trailer options are available, beginning with a more traditional style trailer, to PWC trailers that include options such as painted or galvanized steel, alloy wheels, and torsion suspension. Whether you want a no-frills trailer or are looking for a top-of-the -line piece of equipment to haul your watercraft, it's out there!
Let's start with frames: The most common material is steel which usually comes painted or powder coated and is relatively cheap. Unfortunately, steel is prone to rust so one must take good care of it. If you aren't fond of preventative maintenance and are mostly riding in saltwater, then choose galvanized steel. It will keep the rust at a minimum because the steel is coated in hot liquid zinc which is much better than paint. The drawback is that it will lose its shine over time. Regular painted steel is fine if you're only into fresh water and on top of keeping your trailer clean.
Aluminum trailers tend to be the most preferred option because they age well and are extremely lightweight. An aluminum trailer will cost more but will last longer since it is less susceptible to corrosion so it an even better alternative for saltwater use. Moreover, an aluminum trailer is typically constructed from I-beam material rather than tubular-formed material when building the frames. The I-beam will let you hide your wiring and brake lines by running them inside, unlike the typical steel framed trailers in which the wires are attached on the outside. Stainless steel nuts and bolts should be your hardware of choice if you are of the saltwater variety, otherwise, you may spend a good part of your time replacing small parts due to the adverse effects of rust.
A trailer also needs bunks to support your personal watercraft. Carpeted bunks usually offer better support for the machine's hull, however they can scuff your hull. Carpet will suffer from wear and tear so check it often for damage. The more you use your PWC, the more often the carpet will need to be replaced or repaired. Another option for covering your bunks with PVC or plastic.
Be wary of using slick materials for covering bunks because your boat may slide too much, enabling it to wind up on the ground when unloading. One route to take is with rollers though they are more expensive than basic bunks and costly to repair when they go bad. Also, make sure your craft is tightly secured if you choose rollers. It would be terrible to see your ski in the road because it was not secured properly.
Trailers also require a suspension system like a regular vehicle, especially as today's watercraft are so heavy. The more affordable leaf spring suspension is the most common type. The springs consist of many thin steel plates stacked upon each other and their flexibility creates shock absorption. The good news about leaf springs is that they can be fixed or replaced. The bad news is that they require extra maintenance. However, leaf springs are a better choice if your trailer has more than one axle because each spring operates independently offering even wear on the trailer's extra tires.
A better and more costly option is the torsion beam suspension. Torsion axles have a straightforward attached construction with an adjustable ride height along with a rubberized suspension system. Four rubber cords located inside the axle housing handle suspension and shock absorption. When each wheel moves up and down, the cords compress, thus creating an even wheel suspension giving the trailer a smoother ride.
This system provides trailer rigidity because the axle is bolted to the trailer frame which creates a stiffness and reduces flex on rough roads and cross winds. It is less likely to corrode since each torsion axle tube is galvanized inside and out and there is no metal-to-metal contact. The bad news is that due to the axles' attachment to the frame, you can't just go and buy replacement parts like with the leaf springs; the whole torsion suspension system must be replaced. The good news is that the only maintenance required is occasional lubing.
Speaking of axles, how many do you need? Different-sized axles can be used to support varying amounts of weight, so there is more than one answer. Tandem axles are the preferred choice since they track better, have a smoother ride, and are safer. The initial cost and maintenance expenses are higher, yet they are worth it in the long run because if you decide to sell, the tandem holds it value longer than a single axle. Also, if you want to expand your collection of skis, you are good to go. A drawback to the double axle style is that your load must be level, otherwise wear and tear on the tires is increased.
Single axle trailers are easier to move around, park, and are great if you plan to stay a one ski-household and are just using one for light loads. Another question is whether to purchase straight axles or drop axles. Drop axles reduce ground clearance, which makes for better stability and easier launching. However, if you ever drive down a rutted or rough road, you'll wish you had the clearance that straight axles provide.
Moving onto tires; these should match your craft and load, otherwise trouble could arise so make sure you check out the load index, which is a number letter combination located on the sidewalls. These correspond to the tire size and diameter. The last two numbers show speed limitations. Most tires are rated R-S which is 106-112 mph which should be more than enough for safe towing.
What about brakes for your trailer? Most tow vehicles are able to stop a light load, yet brakes on a trailer are useful and a requirement in some states if a loaded trailer exceeds 3,000 pounds. Hydraulic surge brakes are most commonly used and activate when the tow vehicle slows down and the momentum of the load changes. This pushes the trailer toward the tow vehicle requiring a little more stop time. An advantage to this type of braking system is the fact that it is self-contained so it doesn't actually connect to your car.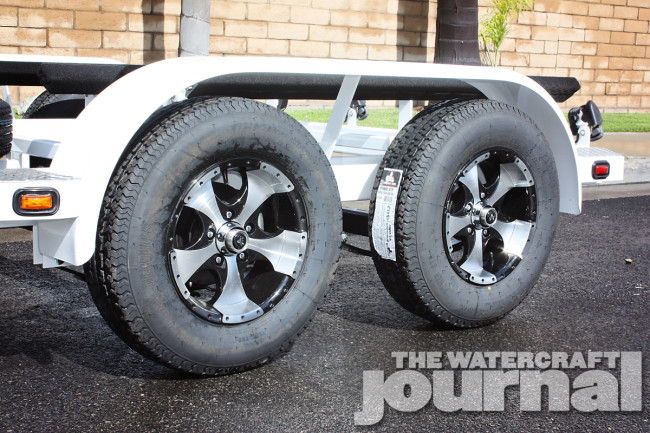 Electric brakes are another option and work in real time so there isn't a lag that surge brakes have. If you decide to select electric brakes, make sure that the system is rated for marine use and designed for saltwater submersion. Be prepared to conduct freshwater flushes after each use.
Typical drum and disc style brakes are other options. Drum brakes are inexpensive and require quite a bit of upkeep. You can't just rinse them and call it a day. The brakes have to be flushed with water and are difficult to service. Disc brakes are a little more costly, easier to maintain, and resist rust and corrosion. They also have a faster stopping time than a drum brake.
Securing your craft to the trailer is another decision one has to make when choosing a trailer. Winches are a common source of securing watercraft on boat trailers along with a strap that keeps the boat from slipping backward off the bunks. A V-shaped wheel comprised of rubber or another composite that cradles the bow of the craft is a great idea for use in order to keep the bow from getting rocked and damaged due to a sudden stop. A safety chain or strap will also provide additional security and should run from the trailer to the PWC's bow eye to act as a failsafe in case the winch breaks or fails.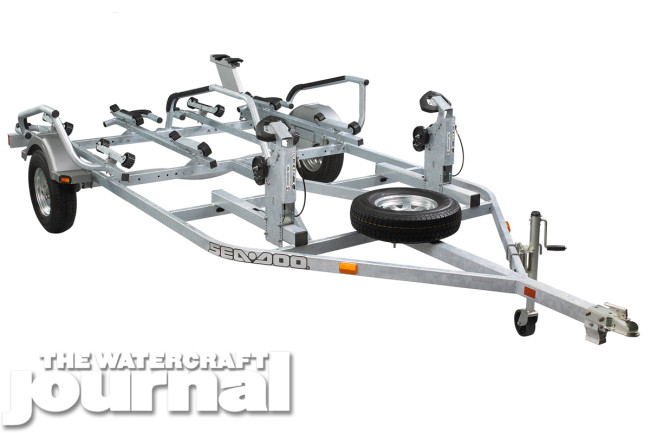 A trailer needs lights and the best choice are LEDs as opposed to incandescent bulbs. They have a much longer lifespan and are typically watertight. LEDs are extremely bright, which makes them easier to see and they use less energy.
Next, you need a way to attach your trailer to your vehicle. The trailer's coupler secures your trailer to the tow ball on your tow-vehicle hitch. The coupler lever features a hole and a cotter pin to secure the lever in the closed position. It's a good idea to swap the pin for a padlock to ensure that your trailer is better secured to your vehicle. Safety chains or cables are also a nice addition, as they add an extra layer of security in case the coupler comes off the tow ball. Some other features to consider are a tongue jack, bearing protectors, composite fenders, and a spare tire carrier. These are items that will make your life easier.
And then there is a sweet trailer-less option from TruckBoss, which sells a really cool line of easy to use personal watercraft transporters called decks. This is an awesome option to use to get your watercraft to the water with just a pick up truck. According to the TruckBoss website, they have been designing, manufacturing, selling, and installing truck decks for 15 years and recently took the plunge into the world of personal watercraft.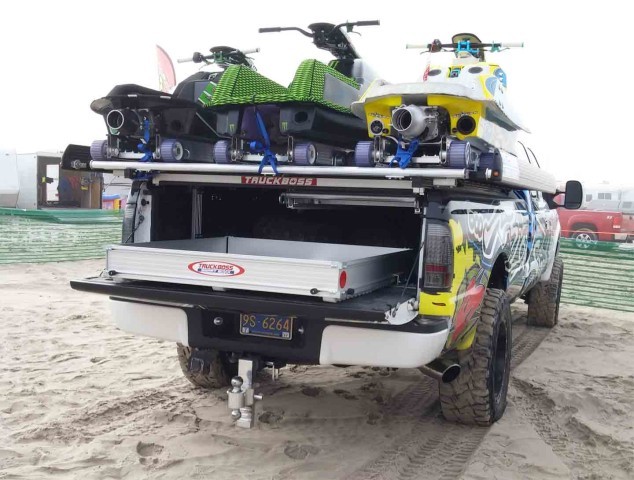 We talked to Kent Nattrass from Truckboss who explained, "When we designed TruckBoss, our goal was to create a platform to accommodate a wide range of applications and power sports. We have enjoyed a tremendous amount of success over the years, specifically in the snow and four wheel rubber tire markets. As it turns out, many of the customers who we currently sell to also ride PWC. These customers really started to pressure us to accommodate their PWC on the TruckBoss Deck System."
The American-made decks fasten to the bed of a truck and can handle up to a 2,000 pound load. They fit any truck and have the TruckBoss SuperSeal Fit which means that any goods stashed under the deck will remain dry and safe. When your tailgate is locked the TruckBoss provides a secure tamper-proof seal so your items are secure. In addition to having a 2,000-pound load capacity, the TruckBoss Deck has unlimited tie down points, and the ribbed surface prevents your load from shifting. TruckBoss is the only deck on the market to offer an optional winch loading system and the decks are stylish enough to keep your truck looking good!
So whether you're hauling a pair of lightweight standups, a single full-sized runabout, or four of your local club's cruisers to the lake, it's best to pick the right trailer and towing equipment for the job. Prior to purchasing a new trailer, consider what kind of riding you regularly do, how many skis you bring with you, and be honest with your comfort level pertaining to regular upkeep. All of this will steer you towards the right trailer for you.