The 2015/16 AquaX Championship, hosted by NSWPWC was a four round club series in Sydney, Australia. The series was designed to allow new riders to join and start racing and for more experienced riders to hone their skills out on the track. The NSWPWC has a strong contingent of loyal local riders who come down each and every time to battle it out against their friends.
This year's season saw a lot of interest from Queensland riders and even an international guest, AJ Luinstra from Wichita, Kansas. AJ traveled out to Australia to compete in three rounds of the AquaX Series and explore what Sydney had to offer.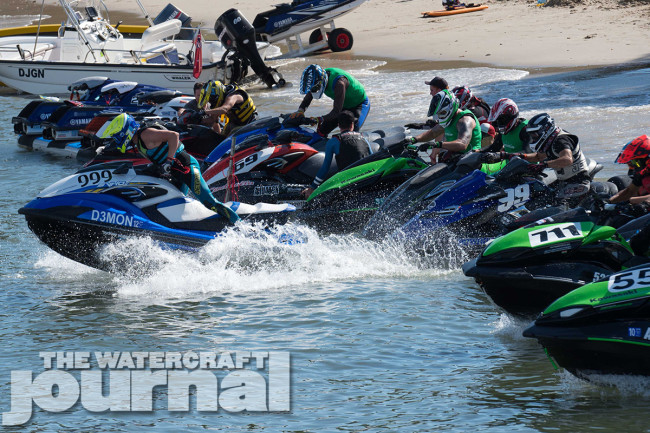 Round One held on the 8th of November saw a smaller number of entries to our following rounds but still kicked off the season with a strong showing from NSWPWC regulars Corey Styles, Nick Pilgrim, Paul Leven and Enduro rider Chinni Rao. Ski class had some familiar faces of James Xuer,eb, Michael Stevens Tom Aiken and master rider Michael McMillan, however it was junior rider Jett Cavanagh who showed nothing is impossible and topped the podium for the round against an array of older riders, some by a few years and others by a generation.
The strong presence on social media attracted some new riders to the fold, including Ash Deadman, Stuart Fell, Mick Butler and Nik Pazanin. All raced in the endurance in their first race meet to understand the lay of the track and the close quarters of racing.
Round Two on the 31st January 2016 rang in the new year with almost doubled in entrants with many riders cross entering in many classes to start gaining those valuable points. Showroom Stock and Lites ski proved to be the pick of the classes, proving you don't have to spend a fortune to race jet skis. Round Two also saw a large Queensland contingent travel down across state lines including Yamaha Waverunner rider Mitch Wayt and determined racer Brett Douglas.
Brendan Boyd and Sam Barratt are always faithful to making the trip down and we appreciate your efforts boys! Lites Ski saw a huge twelve entries, biggest we have seen in a few seasons and the addition of a few more juniors including Jason Moujally, Jordan Farrow and AJ Luinstra. Sydney Sea-Doo also sponsored a first ever Spark class putting up prize money for the podium finishers. This class continued to grow over the season and was a great addition to race day.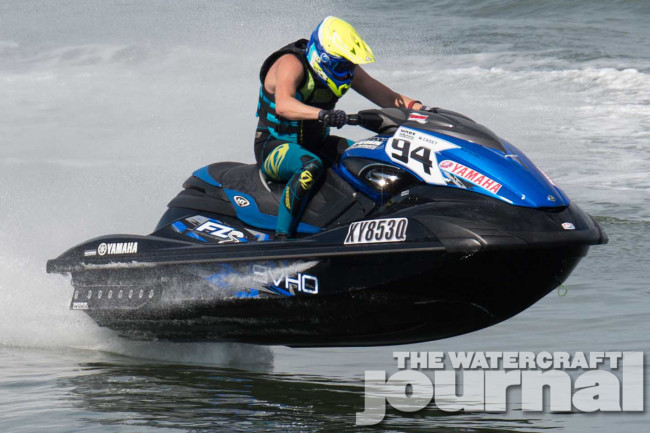 Round Three, a month later, on 28th February saw another big collection from Queensland again making the trip down south showing real commitment to jetski racing in Australia. This time everyone was in for a real treat with a Vintage class being run. Some awesome vintage 550's standups were raring to go with nine on the line, all skis stickered up and adding some real colour to the day. Yet another new junior was added to the starting line with Austin O Halloran, coming in and dominating his first race coming third in Lites and first in junior ski.
Showroom Stock continued to grow in both the enduro and circuit, with the new riders starting to gain on the seasoned riders with their consistency in placing. Stock class was also biggest in Round Three with Mitch Wayt proving that although he is the current Australian Champion there are many including Mark Quitadamo, Adam Wildin, and Sam Barratt biting at his heels if he makes one wrong move.
The fourth and final round held on the 10th April 2016, unfortunately saw a clash with QPWC's Second Tropical Heat round. However this did not stop another huge round with big classes across the field. Ski class again proved popular with 15 skis on the line including 3 open skis. Once a junior not too long ago, Tom Aiken proved too good, claiming the top prize, followed closely by Jett Cavanagh and Austin O Halloran.
An eleventh hour entry by Kylie Ellmers was also great to see, debuting the Sea-Doo Centre's SD Trak, jumping into Lites class to give it a run around the track. Sport class exploded back on the scene, doubling round three's entries to six on the line including James Xuereb on his Yamaha Waveblaster and Richard Holmes on his Naturally Aspirated Sea-Doo. Junior ski class followed a similar pattern with now a huge six skis on the line. Jett Cavanagh took out first, Austin O Halloran in second and US junior AJ Luinstra rounding out his Australian trip with a well deserved third.
Showroom Stock class proved popular once again, with Corey Styles proving too good for the rest of the field. Stock class would not be the same without Mitch Wayt, managing to secure first place on a borrowed Showroom Stock Ski. Open Runabout seems to always be a battle between Brendan Boyd and Paul Leven, however Leven proved too quick for the ski they call "The Incredible Hulk" and took out first place.
The AquaX Championship was a huge success for the NSWPWC and it is a credit to all of the volunteers that make race day go ahead each and every round. A big congratulations goes out to Nick Pilgrim who was awarded Most Improved Runabout Rider and Jordan Farrow who was awarded the Most Improved Ski Rider for the 2015/16 Season. However the racing season isn't quite over yet! We are very excited to announce the National Endurance Titles hosted by the NSWPWC on 21st May 2016. Keep your eyes peeled for information being released very soon!
Lites: 1. Jett Cavanagh, 2. Michael McMillan, 3. Tom Aiken; Juniors: 1. Jett Cavanagh, 2. AJ Luinstra, 3. Jordan Farrow; Open: 1. Michael Stevens, 2. James Xuereb, 3. Tom Aiken; Showroom Stock: 1. Corey Styles, 2. Nicholas Pilgrim, 3. Mick Butler; Stock: 1. Mitch Wayt, 2. Sam Barratt, 3. Mark Quitadamo; Open: 1. Paul Leven, 2. Brendan Boyd, 3. Mitch Wayt; Enduro – Showroom Stock: 1. Nick Pilgrim, 2. Stuart Fell, 3. Nikolas Pazanin; Enduro – Stock: 1. Chinni Rao, 2. Sam Barratt, 3. Mitch Wayt; Enduro – Open: 1. Chinni Rao, 2. Dany Moujally, 3. Mitch Wayt