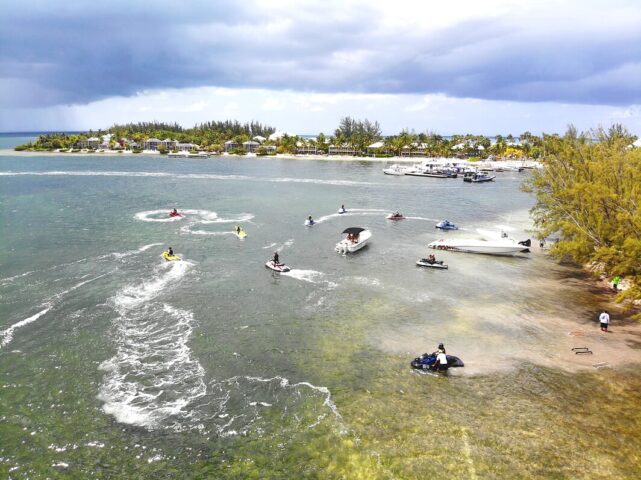 April 21st, 2019 saw "The Challenge" go down in the Grand Cayman Islands on Kaibo Beach. The venue was packed with spectators and pwc racers alike. Racers competed on Easter Sunday for a sweet pot totaling $10,000 worth of cash and prizes. "The Challenge" brings together high-speed personal watercraft and powerboats. It's an exciting event with everyone raring to go and kick some butt to get those bragging rights!
Endurance racing consisted of three motos with Amateur and Pro Open Classes. Teammates, Gary "GJ" Whitaker and Matthew Panton of Nuttin' 2 Lose Racing and Nathan Ebanks of Tony's Toys Watercraft Racing each took 1st, 2cd, and 3rd respectively in the Pro Open Class.
Anthony Logan, "The Mean Machine", couldn't be stopped in the Amateur Open Class. He picked up all three wins. Chris Bodden grabbed 2cd and Dylan McLaughlin came out of retirement and took 3rd, blowing away all the other guys.
Mark "Tony" Hydes picked up 1st in the power boat class. It was an easy win because his competition literally blew up on the way to the start of the first of five drag races. Ouch!
This entertaining event was sponsored by MARMEE, Captain Eugene Ebanks, JP, MLA-Councilor of Environment, Culture and Housing and elected member for West Bay Central of the Cayman Islands, Hurley's Media, Irie 98.9 FM, Hydro-Turf, and Jet Pilot.
The event was a huge success with awesome people in attendance, entertainment, and a host of other activities to keep the fun going. Cay Jet Watersports put on a fly board show. Lotus cars were on display from Cayman Islands Motorsports Association. The adults even had an Easter Egg Hunt. Food was provided by Island Bites and the Cayman Islands Imperial Beauties.
MARMEE Entertainment has big plans to grow "The Challenge". One step in that direction is to invite international riders and attendees to future events. This was the first event produced at the new race site and it was a success.
Expect more exciting events to come out the Cayman Islands. Check out the Cayman Island Watercraft Association Facebook page to keep up with what's happening on the island.