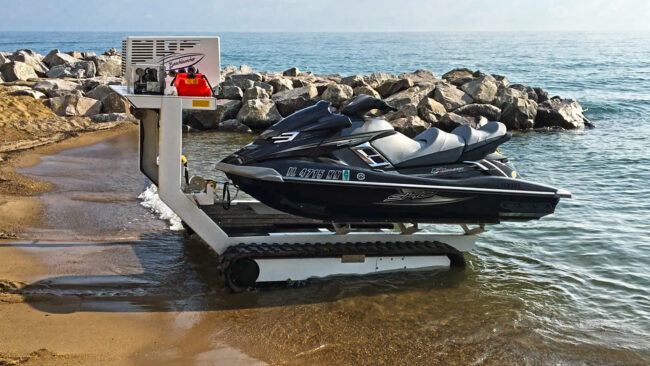 Not everyone has the luxury of having a beautifully paved boat launch with ample room to back up your truck and trailer into the water. Some boat launches are in need of major repairs but the funds are not available. Well, there is a new and exciting device that is proven to simplify the process of launching your personal watercraft.
Introducing the Beachlauncher PWC-H, a beast in its self. This remote controlled, any terrain device gives you the ease of launching and loading your personal watercraft in any climate and terrain. Whether you live on a steep hill or restricted to a narrow pathway, the Beachlauncher PWC-H is up to the challenge. Boasting a strong 26.6hp Kohler engine, it is capable of holding up to two full size personal watercrafts for a total payload of 3,000 lbs. A 2019 Sea-Doo RXP-X 300 has a dry weight of 847lbs! So load up the watercrafts, connect the remote control to the launcher and make your way down to the water.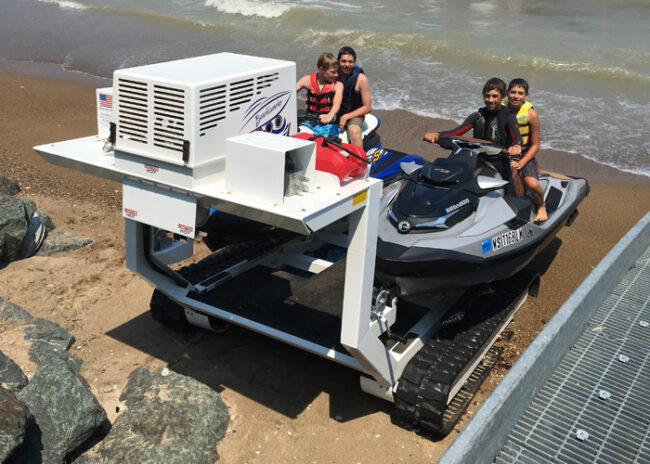 The remote control is a KART-TECT wireless remote control that has the ability to give you full control up to 600' away. This range is perfect if the body of water you are launching into is shallow and you need to get out further to launch the watercrafts. The Beachlauncher PWC-H is able to travel into 4'6'' of water. Once you watercrafts are launch you can either keep the Beachlauncher where it is or have it returned to its "home" on the shore.
While there are many ways to launch a personal watercraft, the Beachlauncher PWC-H is a way for you to keep your feet kicked back and let it do all of the work. For more information and pictures check out the Beachlauncher websitetoday. They offer launchers for watercrafts, boats and will build custom launches to fulfill your needs!