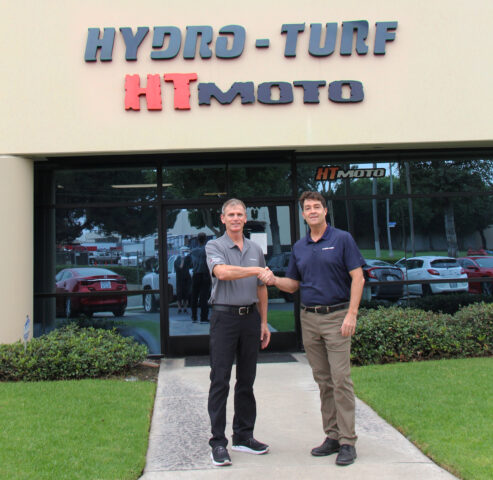 One of the personal watercraft industry's most respected brands – Hydro-Turf – has just been acquired by Greg Pickren, owner of SBT, Inc., BlackTip Jetsports and the Watercraft Superstore, among other brands. The move absolves founder Arno Olbricht of his position as CEO, and will relocate the company from its Anaheim, California headquarters to the Clearwater, Florida campus for the aforementioned brands.
Per the press release included below, this move promises to keep the highly-valued Hydro-Turf name and level of quality EVA-foam traction mats and products. To those familiar, Hydro-Turf also supplied traction mats for factory-built Yamaha WaveRunners and Kawasaki JetSkis, as well as many offerings for standup paddle boards, surf boards, and other boats.
What questions remain is the impact on the world of racing. Hydro-Turf regularly supported local and regional racing, offshore events, and more importantly, budding racers. In fact, there are few jet ski racers who weren't at one time sponsored by Hydro-Turf. With 30 years of history, it's hard to argue the importance of Hydro-Turf to our sport – something that cannot be done away with. Here's the original press release:
Marine and powersports entrepreneur, Greg Pickren, has acquired Hydro-Turf from founder, Arno Olbricht. "Hydro-Turf has been for over thirty years and still is the leader in watercraft traction mats and seat covers, and we are extremely excited about this acquisition.  Mr. Olbricht certainly deserves a lifetime achievement award for his contributions to the industry," says Mr. Pickren. 
"Founding and growing Hydro-Turf to the company that it is today has been my passion for most of my adult life.  I will miss the daily challenges of running the business, but I am confident that the company has a bright future under the direction of Mr. Pickren," says Mr. Olbricht.
The company will be relocated to a new, larger manufacturing facility in Clearwater, Florida during the first quarter of 2021.  "Hydro-Turf will continue to provide the same outstanding level of customer service and product quality, something for which the company has been known for over the last thirty years," added Mr. Pickren.