Today I was reminded of the simple bliss of the ride. Jetski Junkies member Travis Powers called an impromptu ride on the Peace River and both my wife and I were able to attend along with Travis' fiancee Carli and Rich Decker.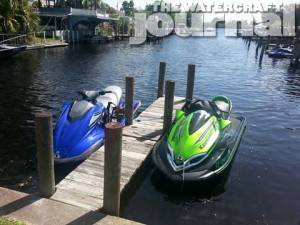 The ride was simple in nature, about 60 miles or so round trip from fresh water to salt and back without hardly any real need for planning, spare fuel and as luck would have it, the need to carry lunch.
The ride took us southwest from Nocatee to Charlotte Harbor in Port Charlotte, FL. The river is mostly a 25mph zone that twists and turns from narrow to wide at ease, with some minor dead fall, debris and shallows to lookout for, mainly in the upper section as it narrows.
The water level was about nine inches below normal, some tidal influence in the lower part of the river below the local hotspot called Nav-A-Gators Bar & Grill, where we were able to stop for lunch and fuel as well.
The river was flat with some chop from airboat traffic. There seemed to be quite a bit of river side swimming, relaxing and BBQ'n going on. We also saw quite a bit of tubing, wake- and knee-boarding, which we don't normally come across. I guess these folks are just use to swimming with those pesky green lizards with teeth [chuckle].
Taking our time and enjoying the scenery with friends and outstanding conditions surely made this ride very enjoyable.
Rides like these aren't as common for me; most of the riding the Club has been doing are long tours and even recently a once an a lifetime jet ski ride out to the Bahamas, so this ride really allowed my wife and I to step back, take it slow and really enjoy.
Don't get me wrong, I enjoy it all, but today was a reminder of why we love this sport so much, and it's because of the riding. I
t's coming together, putting fiberglass (or plastic if a Spark) in the water, soaking in the sun, breathing the fresh air and carving up some water. When you are out there, nothing else matters, no stress, no bills, no college plan, no government intervention, just you, friends and the ride. I don't care what your excuse is, what your afflictions are, what group you are with, what race is coming up and what ski you own or ride, because at the end of the day, if you aren't stepping back to simply ride, then you may have forgotten what it is that truly ignited your passion in the first place.