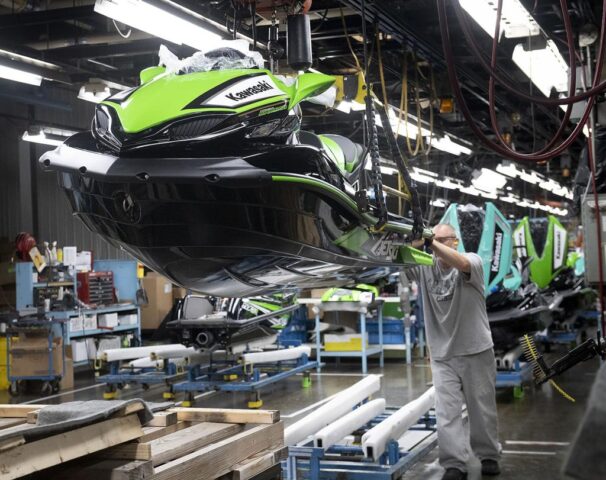 Kawasaki Heavy Industries (KHI) announced that construction will begin on a new production facility in Mexico. As a subsidiary company Kawasaki Motores de Mexico S.A de C.V. This new production facility will be added to the current Kawasaki Motors Manufacturing (KMM) corporation. This new facility will help enhance production capabilities of the Lincoln, Nebraska manufacturing facility.
The North American market has an ever-growing demand for off-road type vehicles. From side-by-sides to dirt bikes and quads, along with small engine manufacturing for a variety of applications. To meet this increase in demand Kawasaki, move some product lines from the from sport recreation division to the new manufacturing plant.
This will allow Kawasaki to expand production capabilities for off-road and vehicles along with expand production for personal watercraft and general-purpose gasoline engines at the Lincoln, Nebraska plant and the Maryville, Missouri plant. This expansion of both product lines will allow all three-manufacturing facilities room to grow as demand increases along with the addition of new product lines to come.
Here is the original press release from Kawasaki:
Kawasaki Heavy Industries, Ltd. announced today that construction will begin on new production facilities at its Mexican subsidiary Kawasaki Motores de México S.A. de C.V. (KMX). These new production facilities will be added to the current Kawasaki Motors Manufacturing Corp. (KMM) facilities which will also build new, enhanced production capabilities in Lincoln, Nebraska.
In North America, the side x side market for off-road four-wheeled vehicles continues to expand in all categories from utility to sport recreation. In order to meet the increasing demand, Kawasaki will invest a total of approximately $265 Million for production facilities at KMX and KMM. KMX will expand Kawasaki's production capacity and start producing off-road vehicles in fiscal 2023. In addition, KMM also plans to increase its production capacity for new models by March of 2023.
In addition to off-road vehicles, KMM's production for consumer products such as personal watercraft (Jet Ski®) and general-purpose gasoline engines includes Lincoln, NE, Maryville, MO as well as the Boonville, MO plant scheduled to start operation and production of general-purpose gasoline engines in 2022. The new KMX plant will bring the number of Kawasaki production facilities in North America to a total of four.
By strengthening its business foundation in the North American market and by organically utilizing the four production facilities, Kawasaki will further enhance the Kawasaki brand, customer satisfaction, and aggressively expand its business.