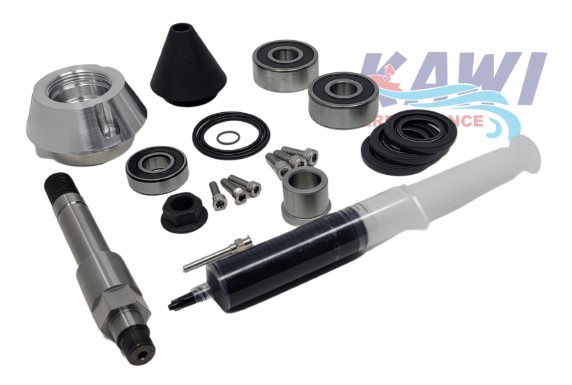 Kawi Performance out of Long Island, NY offers some of the most innovative aftermarket products for Kawasaki Jet Skis, and their 148mm Jet Pump Upgrade Kits are no exception. These kits are designed for for the STX-12F, STX-15F, STX 160 and SXR 160 JetSkis, model years 2003 to present.
Designed, engineered, and manufactured in-house, Kawi Performance's innovative design prevents the pump shaft from being forced forward into the engine, wrecking the thrust bearing and crank. The Kawi Performance Jet Pump Upgrade kits provide peace-of-mind by improving both reliability and performance.
While the stock Kawasaki design is good, there is no fail-safe to prevent the pump shaft from walking forward into the engine if the jet pump fails. The KP Jet Pump Upgrade Kits will not only protect your engine from pump failure, they also include an integrated one-step hex nut that allows the impeller to be removed and installed with ease!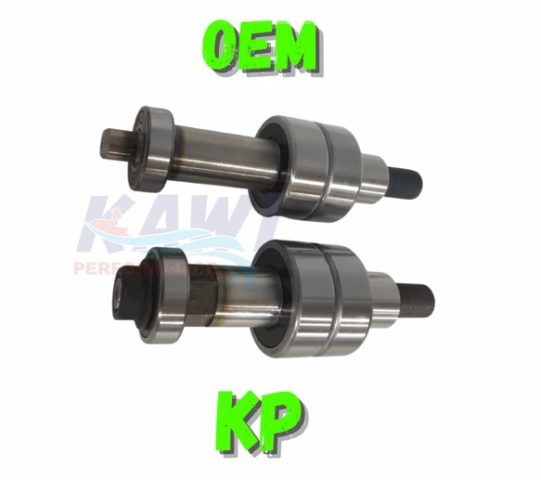 The KP kits include premium Japanese bearings, a precision cone, premium o-rings, grade 8 nuts, and to tie it together- a custom designed, heat-treated pump shaft with dipped and rolled moly threads- making KP Pump Shafts more than twice as strong as OEM ones! The precision cone included in these kits is also redesigned to give riders additional RPM and less cavitation.
The basic kit comes with just the shaft, bearing, o-rings and cones. The full kit comes with everything to upgrade and rebuild the pump- including all required bearings and oil seals, and a syringe of synthetic grease
Riders that have pre-2003 STX models with a Kawasaki 148mm pump should contact Kawi Performance via email to determine if an upgrade/rebuild kit is available. KP's detailed product installation tutorial and product comparison and overview video here.
Check out the Kawi Performance website for more innovative products and services, as well as some great maintenance tips and tutorial videos. Stay tuned for KP's all-new redesigned website which will be launching soon.