If you're watching this because you're in the market for one of Yamaha's best-selling personal watercraft from 2020, you're gonna want to start looking at Craigslist and Facebook Marketplace. That's because Yamaha literally sold out of every single 2020 VX Deluxe WaveRunner. Offered in either Yamaha Blue and Yellow, or Ebony and Lime Green – like the unit we got to test ride today – Yamaha dealers across the globe ran out of these family-budget friendly watercraft well before the end of last summer.
And frankly, there's little wonder why. Priced with an MSRP of $10,699, the VX Deluxe provides a stable-yet-playful platform to accompany 3-riders (although a trio of adults might be a little too close for comfort) that's good for a spirited cruise around the lake, and plenty of built-in creature comforts to make the first-time buyer feel they're getting much more than what they paid for. Toss in some pretty stellar fuel economy and Yamaha's super-easy-to-operate RiDE dual throttle brake & reverse system, and you've got a tidy little package.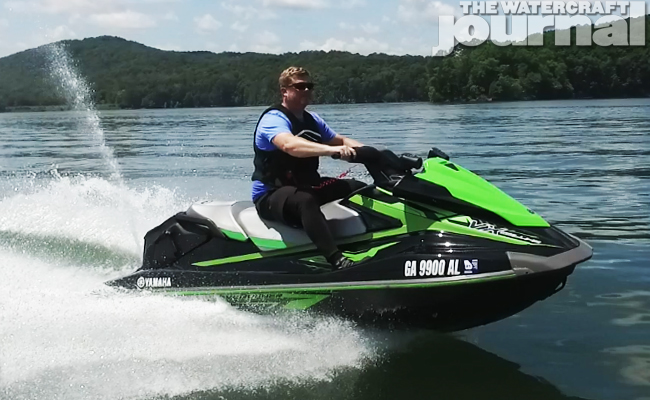 Beneath the tiered, two-tone sectional bench seat is a 1049cc 3-cylinder, 4-stroke TR-1 High Output Yamaha Marine Engine producing 125-horsepower on 87 octane. That might not sound like a heck of a lot, but when paired to its featherweight 664-pound dry weight, it makes for very responsive power-to-weight ratio. Yamaha shaves down the heft by using its proprietary NanoXcel material to provide a durable-yet-lightweight hull and deck.
Feeding the VX is an impressive 18.5 gallon gas tank, ensuring that you won't be stopping at the fuel dock anytime soon. And to make sure you get the most mileage from that big tank, the VX Deluxe comes equipped with Cruise Assist and No Wake Mode, meaning you can find the perfect towing speed and easily navigate "No Wake" zones. Lastly, RiDE permits drivers to switch from forward to neutral to reverse with one pull of the left throttle for easier deceleration, reversing and docking.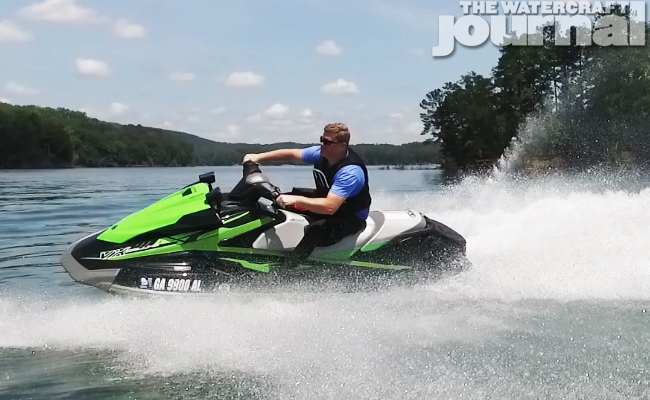 Although phased out for 2021, the 2020 VX Deluxe came equipped with Yamaha's Remote Transmitter, a small key fob that controls Low RPM Mode and Security Mode. Whether you use it to increase fuel-efficiency or disable the engine to prevent unauthorized use, this feature has since been integrated into the Yamaha Connext digital dashboard on the current models.
Storage capacity is a respectable 24.6 gallons split up between the bow, glove box (with two molded-in cup holders) and the screw-top rear storage bin beneath the rear passenger. A folding reboarding step is also standard, conveniently tucking up and away when not in use. Additionally, our VX Deluxe came to us with a couple of not-so-standard features that are available through Yamaha's Parts & Accessories Catalog: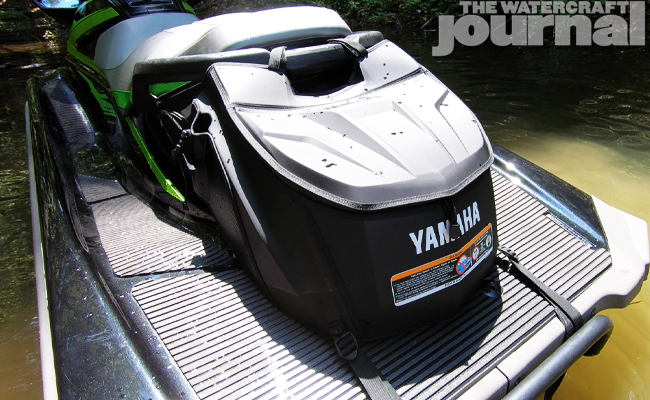 Namely, the VX Stern Mounted Storage bag and RAM-mounted EcoXGear Bluetooth speakers. The rear bag adds an extra 10.5-gallons of storage with zero drilling, and happens to be made from durable, weather resistant compression-molded black EVA foam – and even includes two side-mounted rod holders. The bag is handy but at $249.99 is pretty pricey, particularly as the drop-in cooler is sold separately for $129.99.
The dual 15-watt speakers easily pair to your smartphone, offer over 15 hours of playtime on a single charge, and are entirely waterproof! Heck, they even float! During testing, we found the sound quality to be pretty good but tends to drown out above 45mph. Priced at $349.99 the WaveRunner EX/VX Audio Package makes a decent option, particularly as factory-installed integrated sound systems weren't made available on the VX series until the 2021 model line.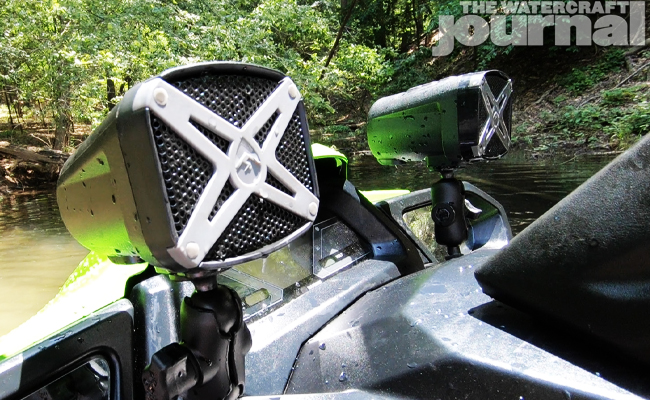 On the water, the VX Deluxe didn't disappoint. The little 1-liter TR-1 HO has enough low-end grunt to pull a tube or wakeboarder at a progressive rate; for today and just having a single rider, it was enough to sprint up to plane with little trouble at all. Top speeds were in the low-50's (52mph at 7,900rpm, to be exact). Sharing the same mold as the racy GP1800R, the VX's hull is immensely predictable, tracking straight in choppier water, and going exactly where you point it without a lot of driver input.
Fit and finish is good, with doors and latches padded to keep panels from chattering too bad. The lighter panels feel a bit thin, but that's too keep weight down. The rear view mirrors are fixed (really just reflective pieces that've been glued down) and the LCD dash cluster is spartan. No extra frills here. Again, with a redesigned successor already hitting dealerships as of this recording, and all current 2020 models being already snatched up, you're going to have to scour the trade-ins and bulletin boards for your shot at one of these. But if you're in the market, the 2020 VX Deluxe is definitely a smart purchase.