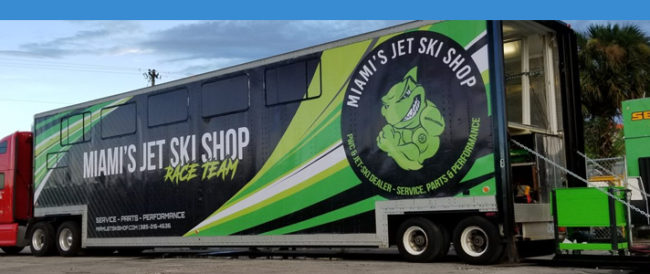 Here's a piece of news from the IJSBA that may be of interest to those racing in the 2018 Blowsion World Finals. Miami Jet Ski Shop is making its second Blowsion World Finals appearance.
The shop has plans to be bigger and better for 2018 and is returning with its giant race trailer stocked with used and remanufactured parts. Engines, pumps, and complete watercraft will be available as well. An onboard service shop is on site to care of any emergency needs.
You can count on Miami Jet Ski Shop for support when it comes to racing. The crew is reliable and dependable and will be there for you. Make arrangements with them and you're set for the 2018 Blowsion World Finals.
Check out the official press release below:
Miami Jet Ski shop is pleased to announce that we will be back at the IJSBA 2018 World Finals! We will be bigger, better and more prepared to meet all your needs!
Our 53-foot Race trailer will be fully stocked with Race rental Jet skis for different classes, remanufactured Engines , performance parts, OEM parts, and a friendly onboard shop!
We also will have our Sea-Doo and Yamaha diagnostic software which allows us to tune, flash and reprogrammed your jet-ski.
Our pilots are extremely excited to be a part of the Championship this year. We will also be bringing 8 different Race ready Jet skis to Lake Havasu! Contact us or check our website for more information.
Miami Jet-ski Shop is psyched to be headed to Lake Havasu this year and we hope you are too! Cant wait to see you all!