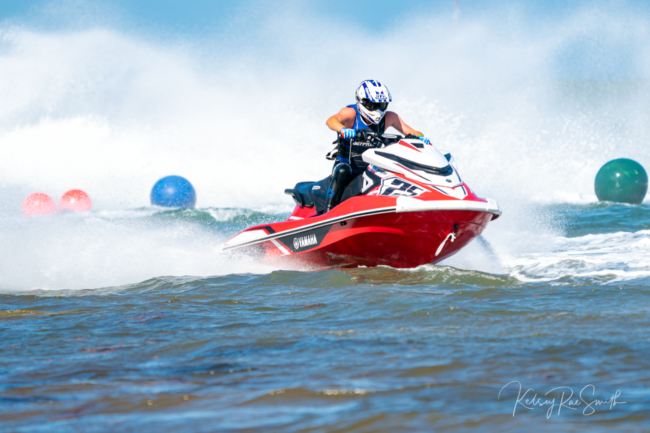 P1 AquaX and the Cayman Islands Watercraft announced a new partnership and will stage three round race series on Grand Cayman that begins this weekend. The tour includes stops on South Sound Beach and Seven Mile Beach. The 2022 National Tour will include two classes of P1 AquaX racing, which are the P1 AquaX Pro and AM Endurance.
The P1 AquaX Cayman Islands National Tour opens the door for two riders out of the series to qualify for the P1 AquaX World Championship in the Bahamas. This is great news for the growing P1 AquaX race community.
Read the complete news release below:
P1 AquaX, the leading personal watercraft racing (pwc) promoter, and the Cayman Islands Watercraft Association (CIWA) have jointly announced that they are partnering to stage a three-round race series on Grand Cayman that will kick off this weekend (May 29).The P1 AquaX Cayman Islands National Tour 2022 will feature P1 AquaX Pro and Am Endurance classes with events at South Sound Beach at the southwestern tip of the island and Seven Mile Beach just north of George Town.
Launched in the UK in 2011 and then in the United States two years later as part of the Powerboat P1 family of marine motorsport brands, P1 AquaX has introduced qualifying series to provide riders in regions not currently hosting AquaX events with the opportunity to qualify for its World Championship. After establishing and growing its national championship in the USA, AquaX expanded to Malaysia and Western Europe was then added to the international race calendar.
By 2017 the promoter announced its first World Championship level event in Key West, drawing participants from its five qualifying series, and in 2019 the Atlantis Paradise Island resort hosted the P1 AquaX Bahamas World Championship in a two-year deal that will see the event return to Nassau in November this year. CIWA provides the opportunity for personal pwc riders to compete both locally and internationally, and the new partnership with P1 AquaX will enable one Pro rider and one Am rider in this year's National Tour to qualify for the World Championship in the Bahamas.
CIWA President Chris Bodden said: "This new partnership is very exciting and is a significant achievement for motorsports in the Cayman Islands. We began discussions with P1 AquaX in 2019 but unfortunately Covid put everything on pause. That's why we're so delighted to be unveiling plans for this year's National Tour in partnership with them. We have a superb season lined up at our two venues and we know that personal watercraft racing has a bright future in Cayman."
Speaking from Powerboat P1's headquarters in London, its CEO Azam Rangoonwala commented: "Strategic partnerships are at the heart of our business and when we launched AquaX more than a decade ago the aim was to appeal to recreational riders and attract new racers by making the racing affordable and east to enter. We are delighted that the Cayman Islands will become part of our international schedule and we look forward to welcoming two riders from the National Tour to our World Championship at the Atlantis later this year. We very much hope that this is just the start of our new relationship with CIWA."
Acting Minister for Youth, Sports, Culture and Heritage, Mr. Isaac Rankine is delighted with the news that one of our national sporting bodies is partnering with an international sports promoter: "We look forward to watching our local jet ski riders compete in the P1 AquaX racing as part of our National Tour," he added.
As many as 30 riders are expected to compete in the National Tour, including the defending Pro and Am champions. Yamaha GP1800R rider Matthew Panton will face tough competition in the Pro class with former national champions returning to racing, and reigning Am champion Tyler Watler on his Yamaha FX SVHO will need to demonstrate the determination and consistency that brought him success last year.
South Sound, the home of pwc racing in the Cayman Islands, with a designated watersports zone within the reef, will host two National Tour events. "It's an ideal venue for pwc racing with a beautiful beach and boardwalk that is easily accessible to spectators," added Bodden. "Our Tour sponsors are extremely important and will include Cayman Islands Ministry of Youth, Sports, Culture and Heritage, Health City Cayman Islands, Car City Cayman Islands, JNM Equipment, AI Rentals and National Logistics."