In June, the third round of P1 AquaX USA Championship was held in St. Pete Beach. The venue was held to announce the latest rankings of the Lucas Oil P1 AquaX World Rankings. For the American riders, it was a terrific event as the top four spots are now held by Americans. But the man who was the most excited was Brian Baldwin as he was given the #1 Jersey. Brian Baldwin has been a racer for many years and continues to improve his skills and find ways to keep ending up on the podium, no matter the race or conditions. Baldwin says that it has been his life long dream to race jet ski and be able to ranked #1 in the world. To find the list of the top 50 ranked riders, click here.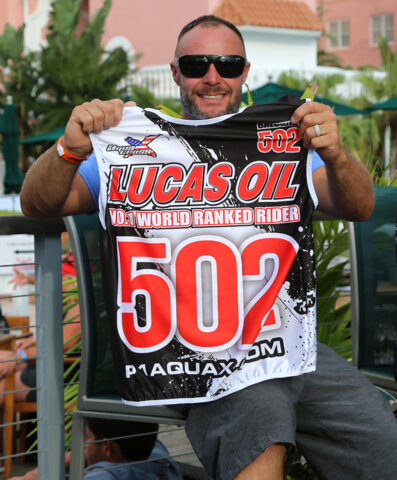 Just behind Brian Baldwin is Eric Francis and then Chris MacClugage. You have probably heard of these names as they truly are some of the best riders in the sport. The  P1 AquaX World Rankings was created in 2014 as a way to compile each riders profile and rank them on their consistency and talent they offer.
Lisa Barsby who is the Global Head of P1 AquaX says, "They have become an established and valued part of our racing and we are delighted to welcome on board Lucas Oil as the new title sponsor." The World Rankings are concluded by using two years' worth of data to evaluate each rider. The reason they use a two year mark is to ensure that a rider is continuing to race and prove they can perform at the top of their class.
Lucas Oil has long been involved in the automotive and marine racing industry. Lately they have been getting much more involved into personal watercraft races which has allowed many of these events to be held. Whether it be title sponsorships or sponsoring specific racers, Lucas Oil is helping the sport of personal watercraft racing grow.
In other rankings, Christian Daly earned the P1 AquaX Pro Rookie of the Year last year and was able to break through the barrier to be in the top 10 rankings. Among those top 10 riders are Phil Pope and Joe Harvey. Harvey is the only Kawasaki rider in the Top 10. Erminio Iantosca who is the only Sea-Doo rider is having a tough year and as a result has dropped from fourth to tenth place. The important thing is to never let one race determine your talent. These racers work hard on and off the water and you can expect them to be challenging everyone to get to the top.
Be sure to check out our coverage of the new Lucas Oil P1 AquaX World Ranking that come out in September!