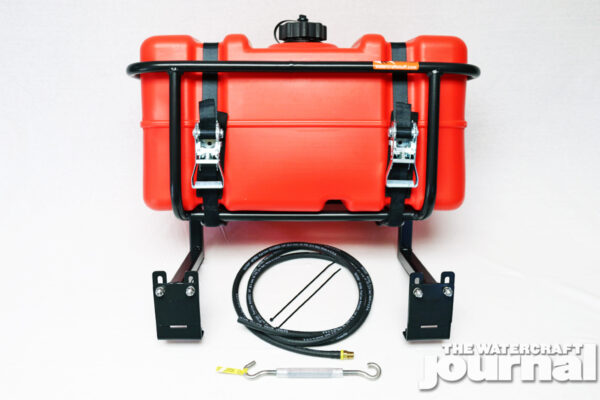 The northern hemisphere is thawing. The roads are clear. The ice covering the lakes has melted. Heck, in many spots, the grass is growing. And then there's Florida. Yeah, we know. It's like, a tropical paradise 24/7. Either way, folks are just preparing their personal watercraft for a much deserved season of fun on the water. And of all of the accessories that you could buy to increase the smiles-per-gallon that your PWC can offer, there's no better than the Long Hauler Auxiliary Fuel System Kit from The Watercraft Journal.
Increasing the fuel capacity of your 4-stroke Yamaha WaveRunner, Kawasaki JetSki or pre-2012 Sea-Doo by over 12-gallons, the Long Hauler Auxiliary Fuel System Kit automatically siphons fuel from the rear-mounted tank all without any cutting, drilling or permanent modifications. It's super-simple, designed for even the least mechanically-savvy to install, and has been proven over some seriously grueling testing.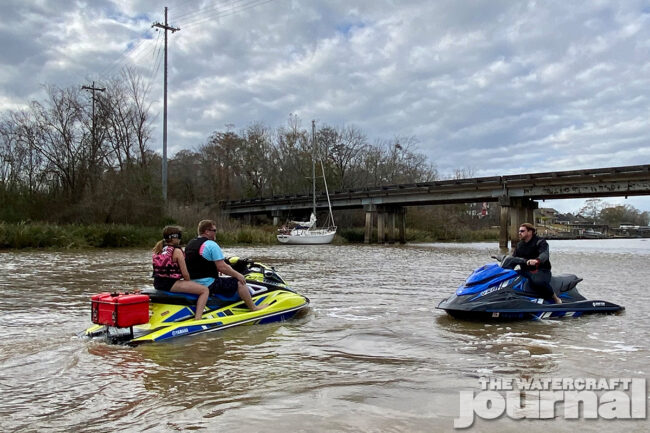 The kit consists of  9 pieces: A special-designed stainless steel, powder-coated rack from Kool PWC Stuff; a stainless steel double-hooked turnbuckle; a USCG-certified 12-gallon auxiliary fuel tank featuring a ventilated locking gas cap, internal pickup and fuel level gauge; two ratchet straps; 11-feet of non-EFI 50psi-rated fuel line fitted with a brass 5/16-inch hose barb; and two zip-ties to secure the fuel line.
Florida resident and FL Ski Riders club member Mike Hall recently installed a Long Hauler Kit on his 2021 Yamaha FX Limited SVHO and had this to say, "I found this to be extremely easy to install and probably took me about half an hour to install. Once installed, I follow the directions as far as filling it and opening the vent. I took it out on the water and it worked exactly as it was supposed to. This is a awesome product. I also did some hot doggin' around and it never moved a bit."
Above: FL Ski Rider member Mike Hall was one of the first to purchase the Long Hauler Auxiliary Fuel System Kit, installing it to his red-and-black '21 Yamaha FX Limited SVHO. Adding over 13-gallons (when filled to the brim), Mike had more than enough fuel to allow him a full day's worth of riding on the open ocean.
And as Spring Break is a couple of weeks away, The Watercraft Journal just dropped the price of the Long Hauler Auxiliary Fuel System Kit by $50, effectively saving many within the continental United States the cost of shipping! Please click this link to go to The Watercraft Journal's online store to purchase the Long Hauler Auxiliary Fuel System Kit today and increase your PWC's fuel range by upwards of 85-percent in a matter of minutes! And also make sure to check out this tutorial on how to install your Long Hauler kit with a how-to video as well!