It's been what? At least a year since the folks at Strapinno reached out to The Watercraft Journal to have us test out a pair of their trailer-mounted ratchet straps. With a little bit of elbow grease we got those installed and frankly, have used them without fail for the year. Obviously, salt water can play hell even on stainless steel, so we're pretty good on keeping them well-oiled. Anyways…
Around the same time that we were drilling into our Magic Tilt aluminum trailer, Strapinno introduced its Jetski Trailer Retractable Ratchet Straps to the market ($52.80 each). Almost immediately, Strapinno asked that I give them a "go" but frankly, we really had no idea what to do with them. The ratchets we installed were working flawlessly and the last thing we thought we needed was another set of loose ratchet straps!
So as we hem and hawed over them, Strapinno had a few outlets crank out some pretty basic "live unboxing" videos. After the fifth or sixth of these, we said "That's it!" and decided to put Strapinno's claim of "the world's strongest ratchet straps" with an ultimate durability test! It's not the sort of thing we'd expect anyone in their right mind to do, but we thought it'd make for a fun visual.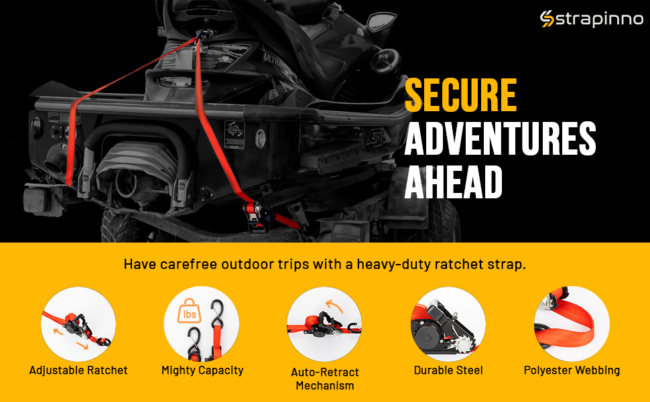 But before we get to the video below, it's important to understand how Strapinno can make such a claim. First, the Jetski Trailer Retractable Ratchet Straps are made using a laser-cut, powder coated alloy steel housing with a 15-foot by 1-inch Polyester strap; three rubberized hooks with strung keepers, and a pliable grip for easy ratcheting. The star gear, keepers and hardware are all polished stainless.
Unique to these is the auto retracting "rewind mechanism" that coils the excess length before tightening down your load. No more excess length of line flapping in the wind or dragging on the ground! Per Strapinno's website, these straps carry a breaking strength of 3,000 lbs. and a working load limit of 1,000 lbs. For today's test, we went well beyond that.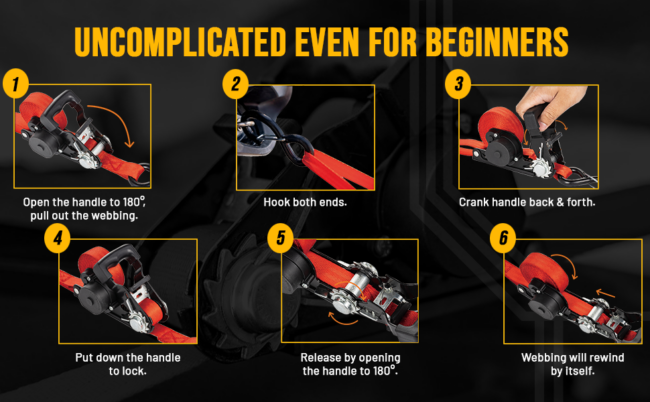 Perched on an 8º grade while on wet grass, we dangled our 2006 Jeep Wrangler Rubicon 4×4 (3,438 lbs.) from the back of our 2005 Dodge Ram 1500's trailer hitch by one single Strapinno strap. We then cinched up a second strap until we could pull the Jeep up the hill half an inch at a time, alternating tension between the two straps. We also fully released one strap, shocking the single strap with the Jeep's full weight. And all without failure.
While not used as advertised, we proved that the Strapinno Jetski Trailer Retractable Ratchet Straps truly are the toughest ratchet straps available today. We've snapped lesser straps' mechanisms with far, far less effort and yet, these managed to pull a 4×4 up a wet, muddy grade inches at a time. If they can do this, they can certainly keep your jet ski tethered to a trailer without a concern in the world.