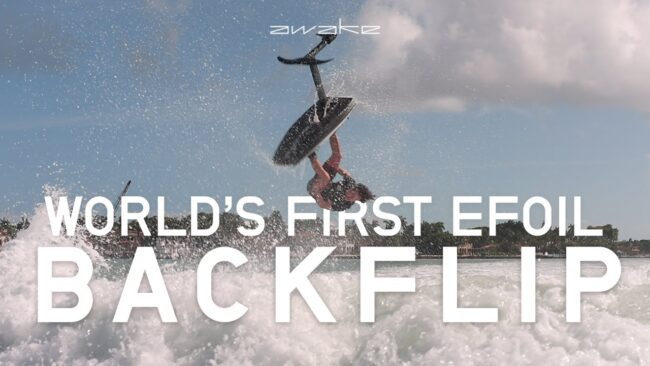 Awake is back on the scene with pro-rider Flo Garbaccio landing a backflip on the Awake VINGA S eFoil. Garbaccio pulled off the first ever backflip on an eFoil. The Awake crew were in Miami filming a movie featuring extreme athletes pushing the limits on the Awake S series eFoil's. Garbaccio was warming up on the VINGA S eFoil, equipped with FLUID 1000 wings when he spotted a boat wake that he liked. He cranked the throttle, hit the wake, launched, and fully committed to landing a back flip. Garbaccio pulled it off and rode out of it cleanly.
Garbaccio describes the flip- "I took slightly too much speed before the jump, so I was late sending the rotation, so I tried to spin fast. When I felt the board passing over my head with lots of motion, I kept my body fully compressed until I could see the landing point."
The VINGA S is a compact eFoil, which provides the rider with a lot of freedom to go big. Even though Garbaccio had too much speed on take-off, the addition of the high-aspect wings made for a smooth and controlled landing. Pulling off a backflip and landing it is a big deal when it comes to extreme sports.
Here's what you need to get it done on an Awake VINGA S. The board is a stout thin 4'6" carbon composite hull with an aluminum mast and Awake's powerful linear jet propulsion system.
The unit is outfitted with Awake FLUID 1000 Wings, which were designed for big tricks with their low drag. The craft has step in bindings and a lightweight Standard Range Flex Battery to help you land those big airs!
Check out the Awake website for their complete lineup of eFoils and high-performance electric surfboards.