Remember the first car you ever owned? It probably had crank windows, or you at least know somebody that had crank windows. I used to think, who needs electric windows? Cranks are just fine. That's until your next car had electric windows and you thought, "How did I ever do without electric windows, never again with the cranks!" Well, floating docks are the same animal. Once you have one you just can't imagine how you ever got by without them in the first place.
For the PWC enthusiast that likes to tour and hit different spots all the time, a floating dock might not be tops on their list of must haves, but for the PWC rider that likes to get out on the lake or river after work for a couple hours to get an adrenaline fix, it's an unbelievably good value. Leaving work, heading down to the marina, walking your gear out to your floating staging area is priceless. The floating dock puts you at level with the machine so when loading your bags, drinks, net and poles etc. it's a snap. Your feet are dry, no bending over, no loading and unloading in the parking lot…need I say more? Some marinas might not like you installing a floating dock, so check first, but I have never met a marina that said no to my business.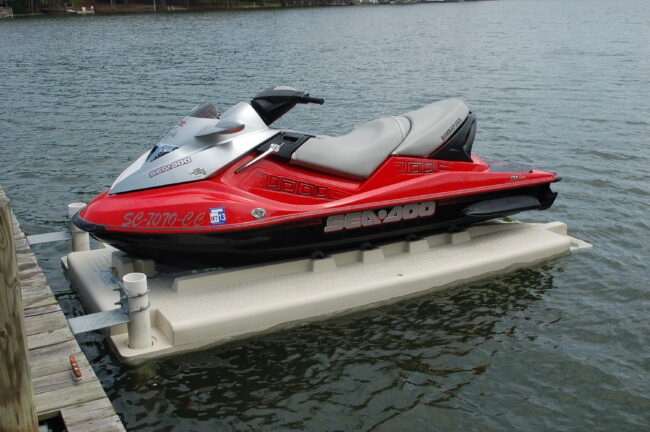 There are two main types of floating docks that you should be aware of, the one piece and the modular, they both have their advantages and disadvantages. Let's have a look at the one piece first. This is the first type of floating dock I ever got into. They are the least expensive, fastest to install and give you a good solid feel under your feet. The disadvantage is, they are heavy and in the first year I had to get three of my friends to help lift and carry these one piece docks out of the water and into my cargo trailer, honestly I felt bad for putting my friends though that.
Adversity is the mother of invention so they say, so now I load and unload this extra-large one piece Carolina floating dock by towing it from my slip over to the ramp with my ski, I then put in my double wide PWC trailer at the ramp, float the dock over to the trailer, I then use the two winches from the trailer to pull the dock up onto the trailer, strap the back two corners down and off to the races, I miss my friends, but at least I'm not paying for chiropractic sessions. One of the best one piece floating docks is from Carolina Docks, I have used this brand for years and have had zero problems with them.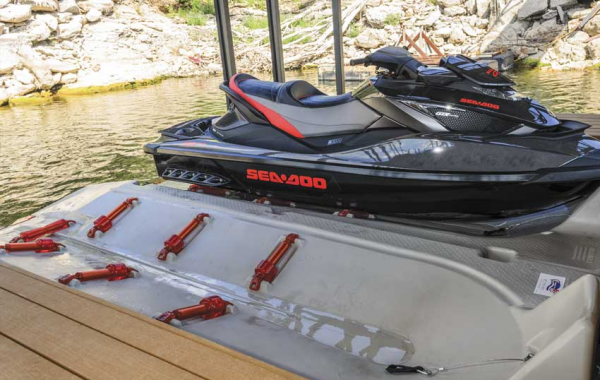 The other manufacturer I really like is Connect-A-Dock. These are well made and thought out PWC floating dock designs. I got a hold of John Krogman at Connect-A-Port and asked him what a good over all description was of their product line, "The Connect-A-Port 2XL adds a safe harbor for your one, two or three person watercraft. Specially designed for the newer deep-V hulled jet skis, it provides easy access and launching of your personal watercraft. The Connect-A-Port 2XL easily connects to both floating and fixed docks. It's build in bow stop provides added protection to the front of our jet ski. Available in 5 colors it comes with a 5-year warranty," I'd say that is a pretty good description.
The second type of floating dock is the modular floating dock. The advantage to this type is the flexibility you get by being able to design your own configuration and the ability to set these up by yourself. The disadvantages are they are generally more time consuming to assemble, they are more expensive of the two options per square footage and loosing parts during assembly is a reality. One thing I have noticed is that the modular docks are generally supplied with more options like poles, chairs, bumpers and cleats. One of the best in the business is Candock.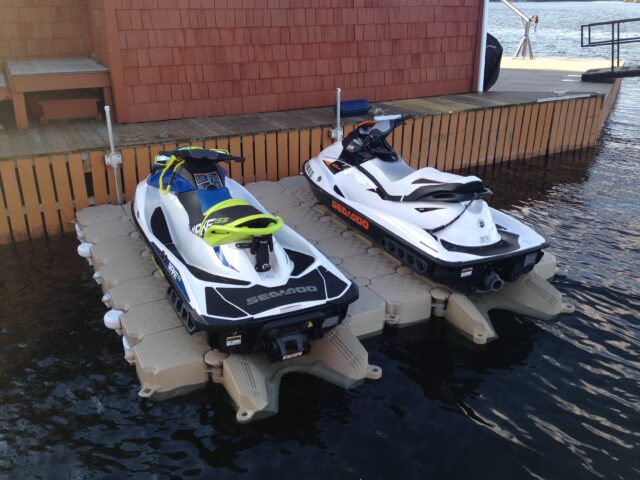 Both the one piece and modular dock styles come with rollers and with solid skids. I would suggest getting the rollers if you have the bigger three seat skis, it is just allot easier to manage getting on and off the dock. In the beginning when rollers first came out they had some problems breaking and not rolling properly, but that is mostly a thing of the past as reliability has become a standard over time. Both roller and skid types come with a lubricant that should be regularly used for proper use and longer lasting equipment.
Bottom line, for a couple grand, these conveniences of the modern day world are invaluable and if you are on the water all the time like me, or wish you were on the water more, consider some floating docks, and bring some deck chairs so you can hang out with the marina boaters and tell them how much you saved by running skis, they'll love you for it.