Remember when all jet skiers wore Oakley Razor Blades? Back in the 1980s and throughout much of the 1990's, Razor Blades were almost mandatory. The brightly hued single-piece lens, splatter-paint neon frames and matching nose piece were just so…so…1990s. Brandishing these bad boys and a pair of shorty OP swim trunks was a quick way to score yourself a Kelly LeBrock lookalike over a couple Bahama Mamas at Señor Frogs.
While Barz Optics' Cabo Polycarbonate Polarized sunglasses won't take you back to the heydays of 1992, they do carry enough stylized DNA to tickle your nostalgia itch, all while offering you far better protection, comfort and features than those old retro Oakleys could ever dish out (and for a fraction of the cost, no less).
While the Cabo frames come available matte carbon fibre, matte white with blue temples or matte black with grey temples, ours were a little special. The Cabos we were provided came in Barz Optics' gloss grey and red floating frames with grey polycarbonate polarized lenses. (Grey mirror, grey or amber are lens color choices.)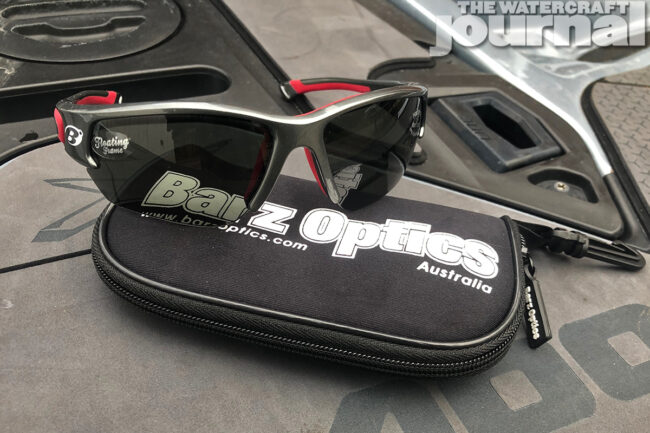 Interestingly, Barz Optics also has a second lens size. As they describe, "one to fit Caucasian face shapes and one that is shallower 'low profile' to fit Asian face shapes." The "wrap" style is frameless on the bottom, similar to those "old school" Razor Blades from 30 years ago. All frames feature non-slip temples and nose piece.
We had the chance to wear the Cabos several times over the tail end of Summer and into our Fall riding. The lenses are singularly the Barz Optics' best feature, as they're durable and offer superior polarization on particularly sunny days. The frames felt natural and hugged our face comfortably (credit to the large pad for the nose and brow), but felt a little heavy at times, as the thick arms encased the floating foam.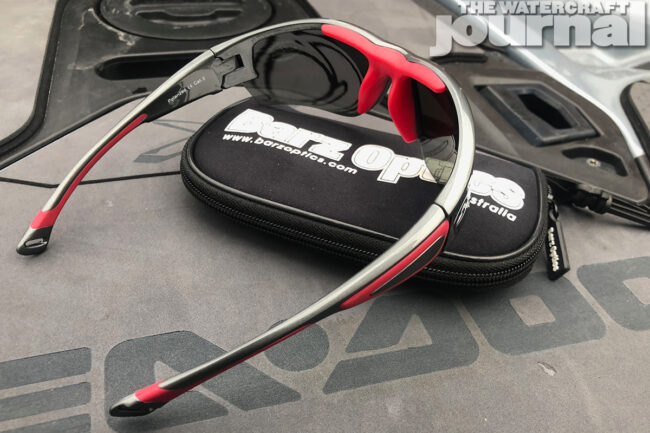 In our floating test, they don't break the surface but reside just below, which can be an issue with darker-colored frames. We did particularly like the lanyard loops pre-molded into the arms. It's a small detail that many would overlook. We didn't. We also liked the supplied semi-rigid neoprene case and retainer that came with each pair.
So yeah, you can still purchase a new set of 'Blades from Oakley, but from their "Heritage" collection and for no less than $300 a pop. They don't have the features of the Cabo Polycarbonate Polarized sunglasses do, or do they float either. Plus, the Cabos come in at $170, far below the cost of your need for nostalgia. We say ditch the Oaks' and the Magnum P.I. shorts and grab a pair of Cabo's from Barz Optics instead.