In the physically demanding sport of jet ski racing and riding a quality helmet is a must. Not only does the water become "harder" at 70 mph, other racers are charging around you with 400-800 lb fiberglass missiles, and hitting your own ski from jumps and cornering g-force is a real possibility. Even regular spirited riding should merit wearing a helmet, just look at what happened to this rider whose head slammed into his ski and was knocked unconscious HERE.
Our skulls are hard, but jet ski parts are more resilient. Best not to test either!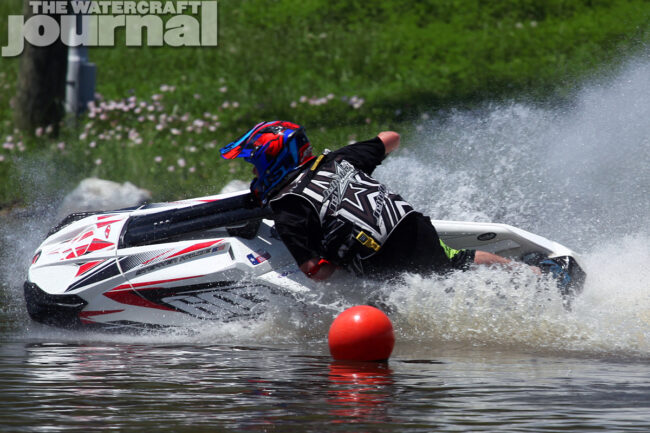 In my stand up riding and racing career I've worn many great motocross style helmets from manufacturers such as Fox Racing, Troy Lee Designs, Fly Racing, Suomy, plus a few mountain bike helmets thrown into the mix by various manufacturers. I was pleased with most of the helmet options until I discovered the Just 1 J12 Dominator. As the saying goes, "You don't know what you are missing out on until you try it."
Quality, weight, airflow, wind resistance, viewing area, padding, drainage, and looks – the eight categories in which I judge a helmet.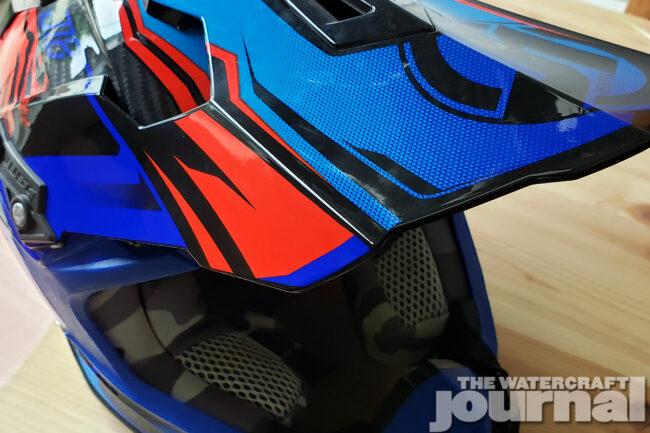 The J12 Dominator has this in spades! This helmet features a full carbon fiber shell available in two base sizes with fitted EPS foam and pads filling out the rest for a variety of sizes XS through XXL. Safety rating is the highest available with ECE Homologation, surpassing DOT and Snell certifications. ECE includes drop testing, strap tension failure with over 670 lbs of force, crush deformity, abrasion, and even the visor is tested as an integral part of the helmet.
Speaking of the visor – one of the things I love about this helmet is the visor is fixed. So no more readjusting of the visor when the adjuster inevitably gets loose and bumped or catches air. As jet ski riders we really don't use neck braces, however if you do use a neck brace or use your helmets for dual purposes – the chin bar and lower design of the helmet is made to integrate seamlessly with a neck brace. More on that below.
The light weight of this helmet was originally what caught my attention at 2.42lb (small shell size) to 2.75lb (large shell size). A full carbon fiber shell provides lightweight yet rigid protection. Some people put weight lower on their list of priorities when looking at a helmet, but after riding with heavier options on the market – let me tell you right here and now that lighter weight makes a big difference with rider fatigue. Whether long motos on the buoy course or a full day on the lake or surf, the less your muscles have to resist holding up the 'brain bucket' around your head the more you can focus energy on your riding.
Physical exertion make heat and that needs to go somewhere! The J12 Dominator includes 9 intake vents and 10 exhaust vents. The intake vents are large for more airflow, and the exhaust vents are placed in strategic locations to draw out the heat. Once again, a big factor with rider fatigue is heat exhaustion – even in a watersport!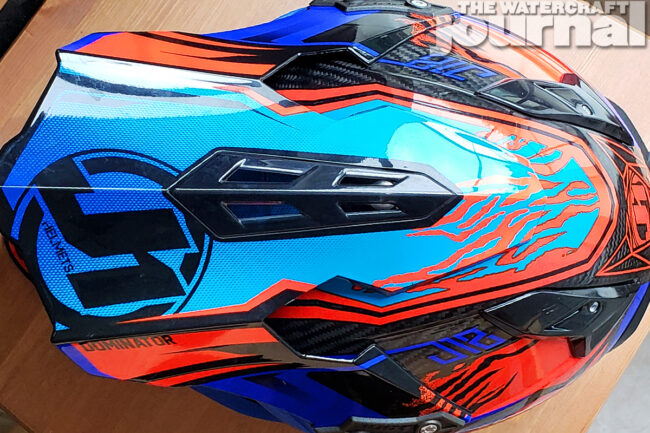 On a similar thread to airflow, wind resistance is something often overlooked. A helmet's wind resistance plays in to a lot of factors like rider back and neck muscle fatigue and perhaps even top speed (hey I know from experience on an underpowered vintage stand up everything counts). A bulky helmet worn over many hours can really drain your energy. The Dominator's aggressive, yet slim visor design catches less air while still being effective at shading your eyes.
This might be a shock, but seeing where you are going is probably the most important part of riding! Freeriders often do not wear goggles due to the fact that aerial tricks on small, lightweight hulls often leave the ski and rider under water on landing. These riders will relish the fact that this Just 1 helmet has a wide opening to help see what is happening in your peripheral view either upside down or right side up!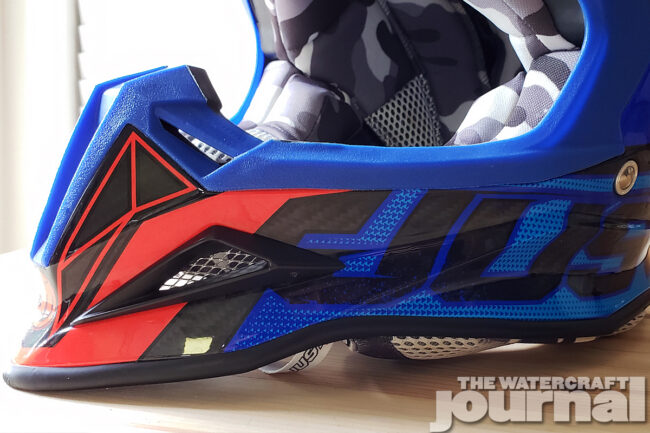 Racers and weekend warriors are not left out of enjoying such a wide view though, because large goggles are easy to fit in this helmet to enjoy a bit more eye protection with larger goggle visibility. Another important factor to viewing area is the ability to look around, and is often not something people realize when just looking at a helmet rather than trying on. Instead of neck braces, we wear life vests that can be bulky and catch on some helmet designs. Fortunately because this helmet features neck brace integration for motocross, the lower design allows for free movement looking up, down, and side to side even when wearing a life vest.
Would you rather rub a burlap sack against your skin, or some felt? Most of us would probably prefer the latter option, unless you are attempting to exfoliate or remove your skin entirely, but I'll leave that subject for other magazines. The padding in this helmet is superb! I'll even go out on a limb to say better than the Fly Racing suede-like cheek pads that are oh-so-soft, but not as long lasting for watersports.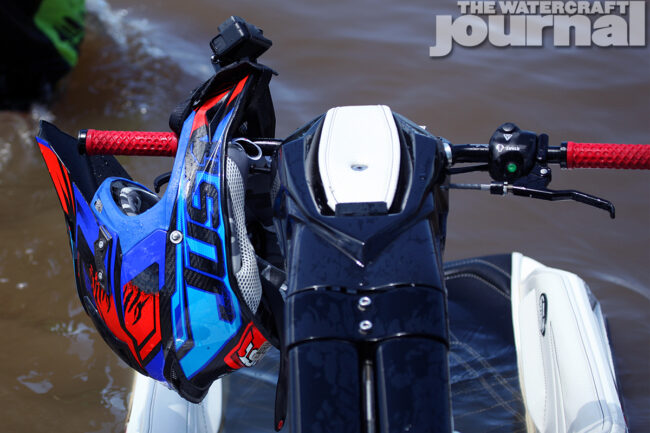 Using smooth antimicrobial fabric, the helmet slides on with ease, yet the pads provide a comfortable pressure all around the head (as long as you've correctly chosen the proper fitting helmet). Features emergency pad removal in the event of an injury where others might have to take off your helmet. The padding is easily removable to wash and dry from all the lake funk, not to mention sweat, that might accrue over your time on the water.
A unique category partial to watersports, drainage plays an important role in the decision to shell out hard earned money for one helmet over another. Unfortunately it is not factored in to most motocross or mountain bike helmet reviews because, well, if you are going underwater in either of those sports – something is most likely terribly wrong. That is why you are here on The Watercraft Journal getting your information from fellow riders!
The J12 Dominator flushes water out quickly and efficiently due to the large and numerous intake and exhaust vent holes. The vent sizes and ducts are balanced so water is not stuck in the shell for long. Cheek pads do retain some water as with any helmet that goes underwater, but high airflow quickly dries your head and pads. Unless of course you either voluntarily or involuntarily keep exiting your ski and going underwater.
Racing is all about looking better than the next guy on the line right?! I kid, but whether we like it or not, humans are selfish creatures and looking good is usually pretty high on the list of things we want. Not only is this helmet safe and comfortable, it has aggressive, aerodynamic looks that have other helmets quaking in their shells. There are a number of color options to choose from to match your wetsuit or riding outfit.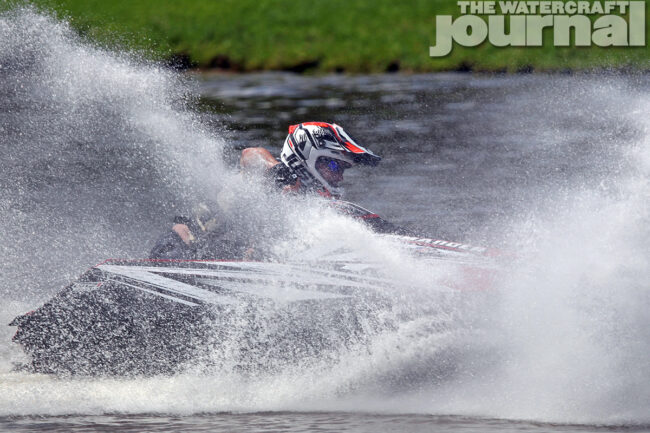 You are here doing your research online (great idea by the way) and it can be difficult to decide on one helmet over another. After reading reviews on the helmets that interest you, my best suggestion would be to try them on. I did not have that luxury with a few helmets over the years and just went off of measurements. Sure they did their job, but honestly had I tried them on and worn them around for a while I probably would not have purchased them. Every head shape and preference is unique so choose what is best for you. This review is just to point you in the right direction.
In the end, protect your right to keep living and enjoying racing and riding skis. Wear a quality helmet. It is your brain after all.