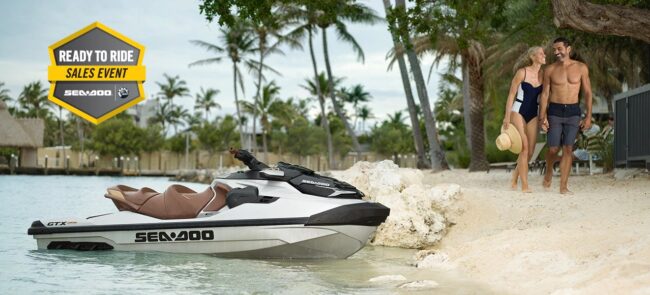 There's still time to secure a great deal on a new Sea-Doo during the Ready to Ride Sales Event happening now at America's Motor Sports! The promotion ends May 31st so don't wait too long to grab your new Sea-Doo.
Here's a quick rundown of what's on offer. Get a new 2018 Spark for as low as $89 per month! This offer applies to select 2018 Sea Spark models and per usual other terms and conditions apply. We'll let you read the fine print.
Sea-Doo's 2-Year B.E.S.T. Coverage with a $500 rebate is also available for the 2018 Spark and Spark Trixx 2up and 3up watercraft. Florida residents receive a 36-month BRP Limited Warranty.
Two Year B.E.S.T. Coverage is also a perk for new and unused 2019 and prior Sea-Doo watercraft models. Purchase an eligible model and receive a 12-month BRP Limited Warranty plus up to 12-months of B.E.S.T. Coverage. That's a nice deal!
Another deal to sweeten the pot is the rebate offer of up to $800 on select 2018 Sea-Doo models. The Spark and Spark Trixx are eligible for 2 years Coverage or $200-$300 rebates. The purchase of a GTS gives you the options of 3 years Coverage or $400 rebate. Certain GTI models offer the $800 rebate.
Several options of mix and match rebates with B.E.S.T Coverage are available for buyers to choose. Check out America's Motorsports and select which offer suits you best and work it out. The crew will be stoked to help get you Ready to Ride!