A few months back, we found ourselves in a conversation with Nelson at PWC Super Rack, LLC. We at The Watercraft Journal were toying with the idea of a "carry as much gas as you can" endurance ride, and they were manufacturer we wanted most to speak with, especially as the ride was set for either the Panama Beach, Florida area or the Intracoastal Waterway up Florida's eastern shore, and PWC Super Rack calls South Florida home.
For those uninitiated, PWC Super Rack is quickly becoming the single-most popular storage accessory for watercraft enthusiasts in Florida, the Gulf and up the Atlantic Coast. In one of those "Five-Year-Overnight-Success" stories, PWC Super Rack built its business upon the credo that there is always room for someone who offers either a superior product or is easier to work with. It just so happens that PWC Super Rack offers both.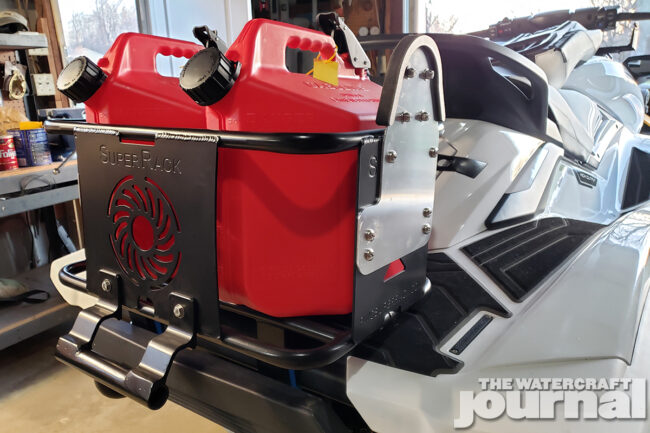 Nelson happily obliged to provide us with one of their racks to test. The problem was that the runabout we had planned to use – a 2019 Yamaha FX Cruiser HO – was required back at Yamaha, and the rack that was sent was specifically designed to match the Yamaha's swim platform. Needing someone with such a machine who could rightly tally up as many miles as possible, we turned to Tom Hill, who many will remember from our tutorial on installing a Raymarine Axiom 7 Chartplotter and Transducer on a '19 Yamaha FX HO.
After several months of cold weather testing, Tom came back all smiles. "After looking this Super Rack all over before install I was impressed with the build quality. The fit and finish are excellent." All PWC Super Racks are hand-fabricated to exacting specifications in the United States. More importantly, PWC Super Racks offers an array of sizes, shapes, applications and fitments to precisely fit both your PWC and your intended use (gas cans, coolers, fishing gear, etc.).
"Sliding the rack on from the rear of my Yamaha FX Cruiser was pretty straightforward," Tom began. "I liked the way Super Rack [lines the transom hooks with foam] making sure it was centered. [It] shows that someone took their time with an actual 2019 Yamaha FX to get the fit perfect. Hooking the stainless steel turnbuckle to the ski's tow hook was a little time consuming – not bad – but not bolt on and go."
Tom continues, "I removed the rear seat first. Then had to unscrew the turnbuckle to get the end out so I could turn it at a 45-degree angle to get the bolt to go through the tow hook. Once the bolt was in I screwed the turnbuckle back together." The stainless bolt has a small hole drilled in the bottom for a safety ring so there's no chance of the nut coming off. The hole is pretty small, so Tom used a small screwdriver to pry open the ring so it would slide through.
We also supplied Tom with a pair of 5-gallon SureCan jerry cans to try out. "Perfect fit, very nice. The two SureCan's extra 5-gallons [added up to an] extra 10-gallons, which is about [an added] 170-mile range [on the FX]. I like to ride hundreds of miles so this is a win for me. I also tried my two 6-gallon moto-style tanks and they fit nicely with room to spare. The SureCans fit perfectly and have a lower center of gravity than the moto tanks, but they both worked well. I also tried my Yeti 20 roadie cooler and it fit perfectly too.
"My hat's off to Super Rack for making this size as it's not too big and not too small. Like I said, someone put a lot of thought into the rack." Tom noted the accessory hand hold for reboarding. "You gotta have this as the factory handle is a little longer stretch with the rack on, and that handle [made with] the same great quality as the [rest of the] rack." He continued, "Out on the water, the Super Rack is superb. You don't even know it's back there. [The] weight and balance [is perfect.] I had this rack on 2-3 foot solid chop at speed and it doesn't move."
Again, PWC Super Rack, LLC makes all of their racks to fit your model PWC, all without using straps, bungees or rope. It's a hard-mount system every time. Because of the unique fabrication and application options, it does mean that prices tend to vary pretty extremely. Just perusing the website, we see prices beginning at $299.99 and going as far as $749.99; so it's important to reach out and let PWC Super Rack know exactly what you're planning on doing. Finally Tom concluded, "I am very impressed with this Super Rack. I don't believe you could buy a better rack than this. Yes, it's that good. Thank you Super Rack for making a excellent product that's nothing but quality."