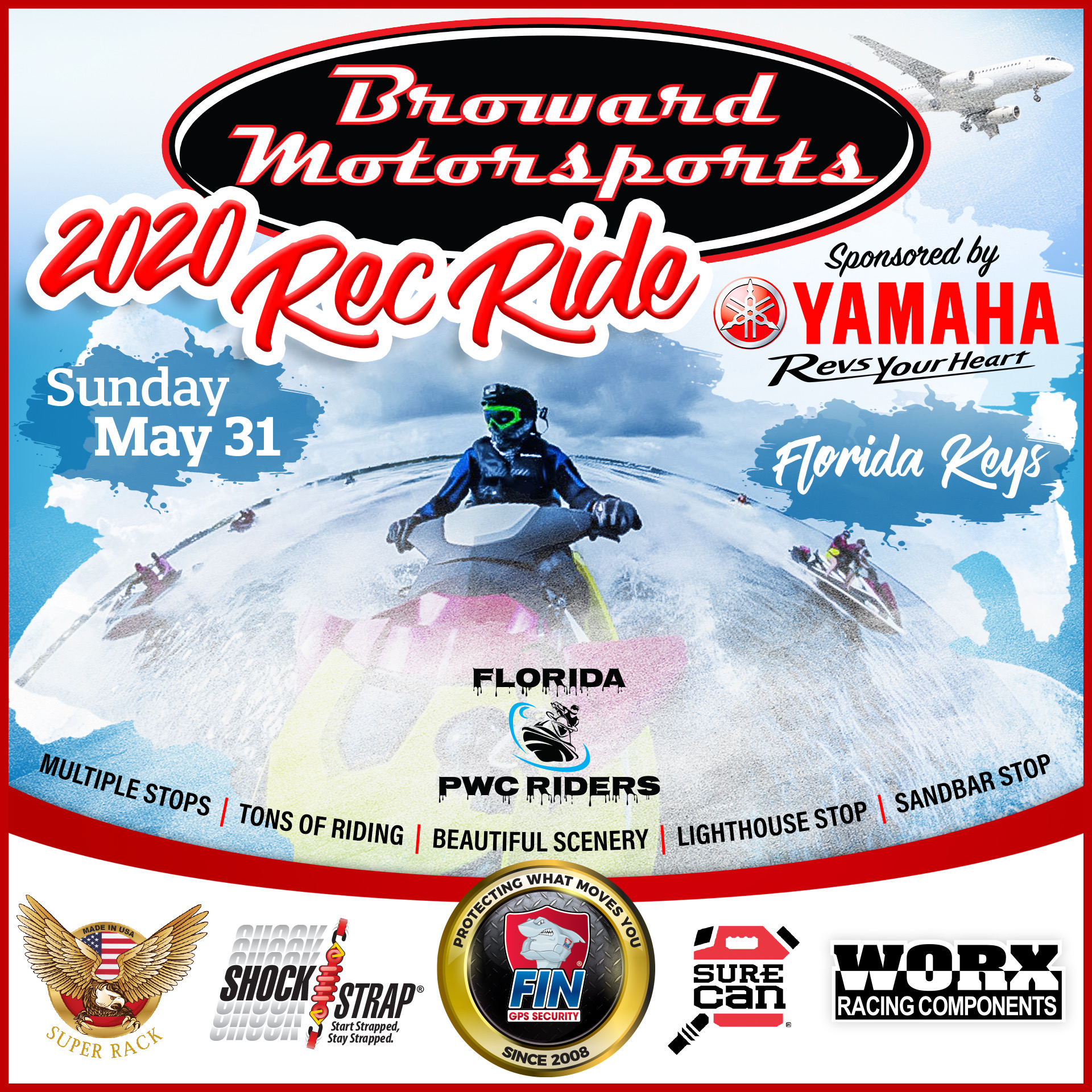 For those in the northern hemisphere, it's time to start planning your big trips – and Broward Motorsports just announced a doozy: its 2020 Key Largo to Alligator Reef Lighthouse Rec Ride, Sponsored By Yamaha WaveRunners. Set for Sunday, May 31st, the Rec Ride will have three launches set for everyone to meet up. The map has been set and there's a lot of fun to be had, so check out the full announcement below:
Join us on Sunday May 31st for the experience of a lifetime as we visit Key Largo, Alligator Reef Lighthouse. This ride will take us through the Florida Keys and out to visit the beautiful and popular Alligator Reef Lighthouse for some exploring and snorkeling. This area is spectacular!
We will be at Alligator Reef Lighthouse for roughly 1-2 hours. We will then head to Islamorada Sandbar to relax, eat and enjoy the area. This will also be the time to fuel up if necessary. We will make our way back to our respective launch locations around 5:30 PM.
*We will be departing the boat ramps at 10am. Please arrive 1.5 Hours to 2 Hours prior to the 10am launch time.
BOAT LAUNCH LOCATIONS
• Caribbean Club-104080 Overseas Hwy, Key Largo, FL 33037
• Yacht Club Drive Marina-107690 Overseas Hwy, Key Largo, FL
• John Pennekamp State Park- 102601 Overseas Hwy, Key Largo, FL
FUEL
• TBA
FOOD
• Please pack a lunch. There will be a food barge at the Islamorada Sandbar as well.
WHAT TO BRING
• Lunch
• Your anchor(s)
• Snorkeling gear: fins, goggles, etc.
• Sun block for the entire family
• Plenty of fluids
• Pack a lunch
SPECIAL INSTRUCTIONS
• Listen for the Air horns to identify launch times at each stop
• After the Air horn, you have 10 minutes to load and prep your
Ski(s)
• Please follow the lead skis and do not pass them
• With many out-of-town riders, it's imperative we ride together
RIDE GROUPS: Florida PWC Riders
SPONSORS: Yamaha WaveRunners, Finn GPS, Worx Racing, PWC Super Rack, SureCan USA, and ShockStrap
Marketing and flyer designed by Beyond Creative