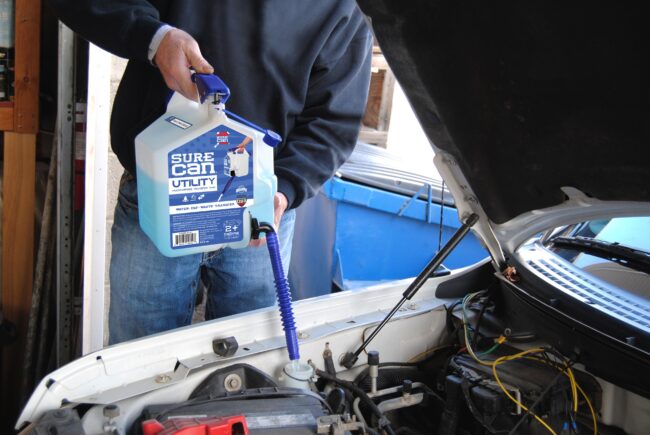 We have seen a rise in the market for portable fuel cans.  Various companies as well as watercraft manufacturers have come up with ways to allow riders to carry extra fuel for those long trips.
But how about the market for carrying and transferring other types of fluid.  Maybe you want to carry water for those beach trips, top off your closed-loop cooling system without risk of spilling coolant everywhere, or simply perform yard tasks like watering plants.
Well SureCan USA has come out with a multi-purpose utility transfer tank to perform those various tasks.  Now with the push of a button you can easily transfer other common fluids from their two- or five-gallon cans.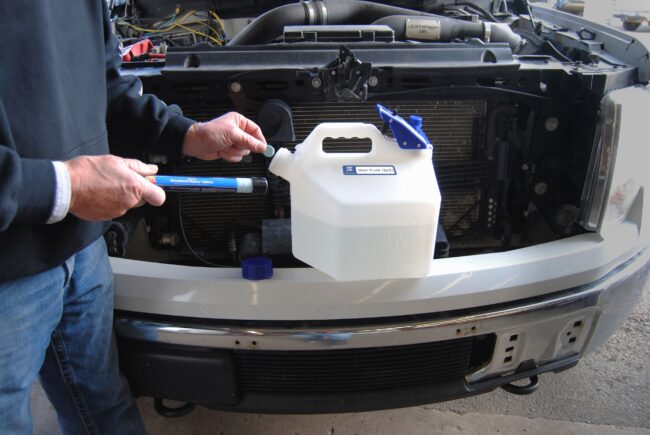 For more information on these new products, visit the link above and check out the full press release below.
SURECAN ANNOUNCES NEW PRODUCT FOR DISPENSING WATER, (DEF) DIESEL EXHAUST FLUID, & OTHER NON-FUEL-BASED LIQUIDS.
SURECAN is stepping outside the fuel can sphere of product applications and entering new markets geared towards dispensing water, (DEF) diesel exhaust fluid, and other non-fuel-based liquids. This new Multipurpose Utility Transfer Tank opens the door to vast new markets and makes performing daily tasks much easier! From watering plants, washing your hands/dishes while camping, to filling up the dog's water bowl, these are just three simple things made easier by SureCan's new Utility Tank. Other applications include but are not limited to:
DEF (Diesel Exhaust Fluid)
Windshield wiper fluid
Coolant
And many more!
Trent Woolsey, Director of Marketing for SureCan said, "It's a no-brainer when you think about it. The technology built into our products allows you to press a button with your thumb and dispense the liquid contents from the bottom of the SureCan. This simple process makes dispensing liquid, so much easier and less strenuous on the user." SureCan's flagship gas cans have already revolutionized the portable fuel can industry, through innovation into a market that has not seen anything like it in decades. SureCan is doing it again by bringing this same concept to other markets. "We see a huge opportunity to expand our brand offering by producing products that makes life a whole lot easier!" continues Trent.
The SureCan Multipurpose Utility Transfer Tank comes in both 2+ Gallon & 5 Gallon capacities and will be introduced into the market on Wednesday February 19th, 2020. You can purchase the Utility Transfer Can directly on SureCan's website at www.surecanusa.com/utility. Look for the SureCan Utility Transfer Can to be in stores near you, this Spring. 
SureCan Incorporated is headquartered in Ogden, Utah. SureCan manufactures the world's best and most innovative fuel cans, and "now", a functional and usable utility can, will soon be in the market.  Winner of many national awards such as the Most Innovative New Product Award and Retailers Choice Award at the National Hardware show, as well as a global Edison Award Silver Winner.  SureCan is changing the way one may dispense fuel and other liquids from a Portable Can.