The key to being superior than your competition isn't always having the flashiest, most cutting-edge features; but rather, doing the simple things really, really well. For many in the riding gear trade, stitching together a tour coat is often an afterthought. Tour coats, for as long as I've known them, were a pretty simple affair. Two slabs of neoprene stitched up the sides and big, heavy duty zipper. Well, that's at least how most folks chose to make 'em. It's not often that a tour coat comes along that really knocks your socks off, and frankly, writing that sentence alone was pretty preposterous. Yet, here we are, and yes, we're pretty darn impressed with what we're looking at.
Slippery Wetsuits has been, in our view, the single-best when it comes to comfort. The brand's dedication to making its lifevests and wetsuits the most natural-fitting, soft-to-the-touch and conservatively styled as made them a favorite among The Watercraft Journal staff, and far, far beyond. So when we were provided with their latest take on a tour coat, we were curious to see what Slippery has been up to. The 2019 Slippery Tour Coat came to us in Black and Lime, and incorporates a myriad of small touches and "no duh" common sense innovations, that it makes all other coats pale in comparison.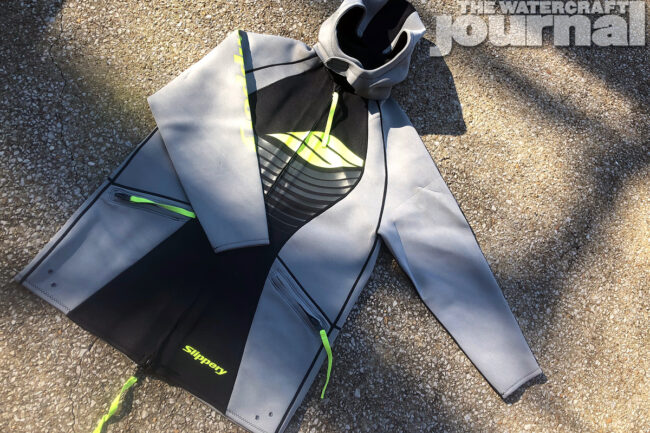 Slippery's new coat begins with the brand's 2mm neoprene material, all held together with flat-stitched seams. The front features a heavy-duty, two-way front zipper allowing for the lower zipper to be opened for improved comfort while sitting or simply greater flexibility while moving around. Equally, a 3/4 zipper runs up the seat and lower back for the same purpose. All zippers are blocked from making skin contact by 2mm neoprene protective liners. The front panels also include two deep, mesh-lined pockets that too are zippered closed with dual drainage ports and long tethers to easily open/close the zippers (even with gloves).
Atop the coat is a removable hood with Velcro straps that can tighten around the collar to keep cold air out, as well as draw string at the back to close the hood around your exposed face. And yes, the hood does unzip from the coat, leaving a semi-mock collar similar to Slippery's PFD jacket in both softness and design. Again, the hood zipper is sandwiched in a protective flap so long hair or skin can't get pinched or tangled up. Smartly, the hood isn't so large that it'll annoyingly parachute or flap while riding at speed either. It was a welcome change.
The Tour Coat is cut generously oversized intentionally so that you wear it over your PFD. We've seen folks wear them beneath a lifevest, and we can't imagine how uncomfortable that must be. Breathability and ventilation is good (better than others) and dries reasonably quick. The sleeves are equally cut larger to accommodate for wearing a wetsuit or other multiple layers as well. The cuffs are also cut smartly as to allow putting on gloves without restriction while not being so big that air shoots up the sleeves while riding. Frankly, there were just so many "little touches" to elevated the quality of this tour coat.
Priced at $89.90, Slippery's Tour Coat is one of the better buys especially for you daring types looking to keep riding all winter long. We recently published a Facebook Live video directly from behind the handle bars of our RIVA Racing Pro Series Sponons-equipped 2018 Sea-Doo RXT-X 300, and received a handful of inquires about the tour coat we were wearing – so here it is! Again, almost everyone makes a tour coat, but not all coats are created equal. We gotta give it to Slippery for finding so many points to perfect on something so often overlooked. Great work!