We've noted that side-entry life vests aren't necessarily our most preferred form of personal flotation device. Oftentimes, the range of motion is limiting, they're cut too high making it feel like your midriff is exposed, or simply getting in and out of them can be a chore. Thankfully, many of The Watercraft Journal's readers have echoed the same thoughts, so we've tried to keep our life vest reviews mainly on more popular front-entry vests. Yet, that policy changed for the good when Slippery Wetsuits redesigned its Array Side-Entry Neo Vest a couple of years ago.
We had gotten our hands on their Array Side-Entry Neo Vest last year and quickly discovered how a side-entry should be made. The problem was that the red-and-silver camouflage was just a little to flashy for our personal tastes. Of course, that was purely subjective on our end as the vest itself absolutely uprooted our previous bias towards the side-entry platform. The two biggest issues we voiced with the previous vest was how easily it showed dirt and the heavy layer of silk screening coating the front and back panels, that began cracking after a year of use.
Thankfully, these notes didn't fall on deaf ears, and Slippery has revised its Array Side Entry Black Neo Vest for 2019. Made from a super-comfortable stretchy neoprene construction had plenty of give and was comfortable on bare skin. Surprisingly, being a USCG-approved Type 3 vest – meaning its required to provide sufficient flotation to keep an unconscious person's head above water – you'd expect the Array Side-Entry to be far bulkier than it is. Rather, it's surprisingly slim and smartly cut to make even the huskier rider feel more svelte than he actually is.
This trait is accomplished through the use of multiple hinges designed into the EV foam panels. By breaking up the larger panels, Slippery was able to design a vest that looks more like body armor than two slabs of foam strapped to your torso. The segmentation also provides the Array Side-Entry fantastic flexibility. Doubling over the handlebars to reach inside the front storage bin isn't nearly the same ordeal as other, more cumbersome vests make it. Slippery also limited the design at the sides, to assign the thicker portions to the upper body – again, adding to the vest's superhero-padding effect.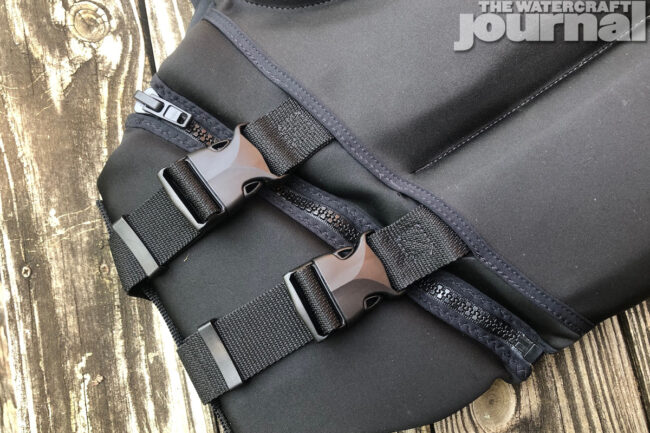 The Array features generously-cut armholes and narrowed shoulder straps for the widest range of motion yet. A wide neckline is slightly flared at the collar giving the head and neck a similarly wide range of motion. Gone is the thick silk screened pattern, replaced instead with a modest logo across the chest. Large 1-and-a-half-inch wide belts are hidden within the soft neoprene carapace ending with buckle closure that cinch tight. These snap atop a thick-toothed zipper opening the side for easy on and off. Slippery includes the same D-ring sown into the net webbing, and has included a tethered emergency rescue whistle for 2019, which is a nice added touch.
A final improvement over conventional side-entry vests is that the Array Side-Entry is cut long, meaning it reached your waistline, providing sufficient coverage. It might sound a little ridiculous, but understand that this means no more silly sunburn lines on your lower back or flanks! Priced at $99.95, the Slippery Array Side-Entry Neo Vest offers a far superior fit and feel than the itchy bargain-priced nylon vests, is far less cumbersome and fells surprisingly natural – all adjectives we never thought we'd ever use to describe a life vest, we know. The Array has quickly become our favorite go-to vest for use on the water, and we're sure it'll become yours.