For those paying close attention to The Watercraft Journal, you will have recalled a similar article to this was published a several weeks ago only to be pulled down a few hours later. It turns out that we might've been a little too good at our jobs and spied Sea-Doo clandestinely filming and photographing their 2020 lineup in real time. While leaked spy shots are all part of the game, publishing the article while Sea-Doo was in the act would've likely caused a stampede of lookie-loos wanting to see the newest machines in the flesh.
And because it's not our intent to cause a major manufacturer to possibly loose thousands of dollars in hotel bookings, staffing, scheduling and other logistics, just to uproot camp and find a new secret location, we opted to pull the story down post haste. And it worked out for the better too, as we've managed to gather quite a bit more intel on the latest crop of Sea-Doos intended for a 2020 release. To reiterate, much of what we have here is unconfirmed, and we're going to lean hard into some informed speculation, so again, take what you will with a grain of salt.
Shortly after the first article was published and then promptly redacted, one of our readers alerted us to his presence in Querétaro's Industrial Park. For those unfamiliar, Santiago De Querétaro, Mexico is home to BRP's second manufacturing facility where all Sea-Doo watercraft are assembled (as well as all Rotax engines for Can-Am off-road vehicles). The facility employs over 1,100 line workers, manufacturers, managers, and many more.
Our spy noted that the nearby staging lot was already packed with assembled models, preparing to ship to distribution centers across the globe. This massive surplus struck us as odd considering that these shouldn't be 2019 models, and that most dealers have already collected their current models. Rather, we surmised these to be assembled 2020 units prepared for the final reveal later this season. And as it turns out, several of these 2020 units were already in the States…
The above undoctored image is what sparked the original article: a cell phone picture of a closed off pebbled parking lot with several skis on trailers, smartly covered up with a box trailer behind it. Our eagle-eyed informant wrote, "I think I saw what looked like a 2020 GTX Limited (either a 230 or 300). The seat was off at the time and looked to be two-tone gray, not the brown like the previous two years. All of the other skis were covered up." The other units present remained covered up and out of sight, leaving the rest for us to speculate as best as we could.
Yet, what we see in this image is, as described, a new silver-hulled GTX Limited. To the right of the GTX are a pair of other ST3-hulled machines, one with a blue hull (with Neon Yellow graphic highlights, which may be a new Wake Pro, given the current color combo is two years old) and a RXT-X 300. Deducing the green-hulled ST3 as a RXT-X was obvious given the use of the same "down arrow" decal over the larger sponson, which is unique to the RXT-X. This appears to be the same hue of green that we've seen used on the GTR-X. The runabout behind the presumed Wake Pro is identified as a RXP-X 300 given the louvered hood design. So yeah, no new RXP-X for 2020, guys.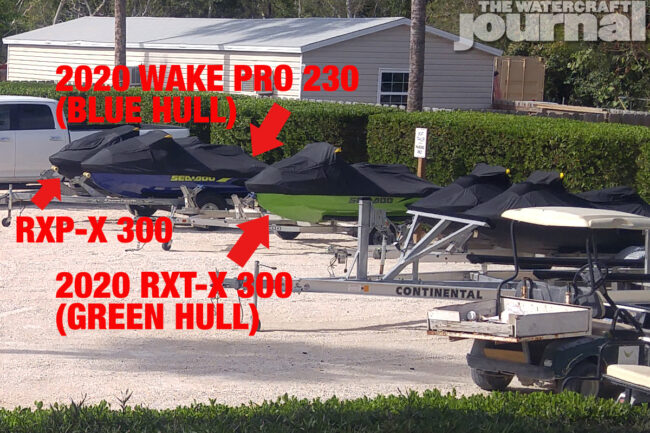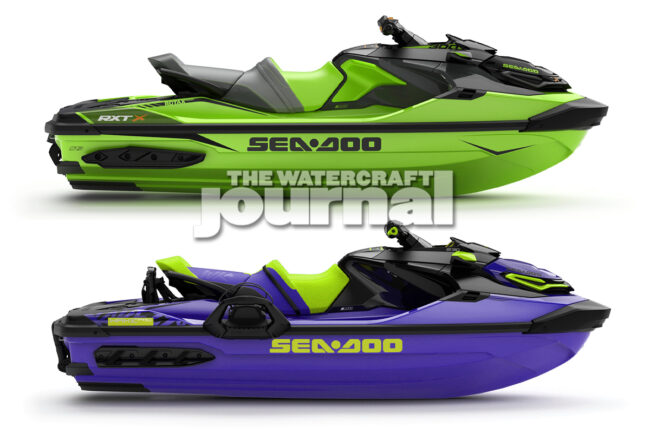 Above: This is a quick-and-dirty photoshop rendering of what we could see as the 2020 RXT-X 300 and Wake Pro 230 when color matched to the spy photograph we received.
A new part number for all 2019 models revealed a slight redesign in the central storage tub, allowing for the installation of the Fish Pro's 18.5-gallon tank. Whether all ST3-based runabouts (GTX, GTX Limited, RXT, RXT-X, Wake Pro) get the larger tank is unconfirmed. Any other changes to the full-sized models are entirely speculative (ex. footwell drains).
Absent were any Recreation-segment models. The GTI has been expected to receive a redesign for 2020 given the craft's current 9-year run. From it, the commercial rental GTI Pro (introduced last year), as well as the GTS, GTI, GTI SE and even the GTR 230 and GTR-X 230 are based. While in the image below we identified the two PWC in the forefront as low-optioned GTX or RXT models, given their lack of folding swim steps, these very well may be new redesigned GTI's considering their possible deviation in design from the ST3. Again, it's hard to tell for sure.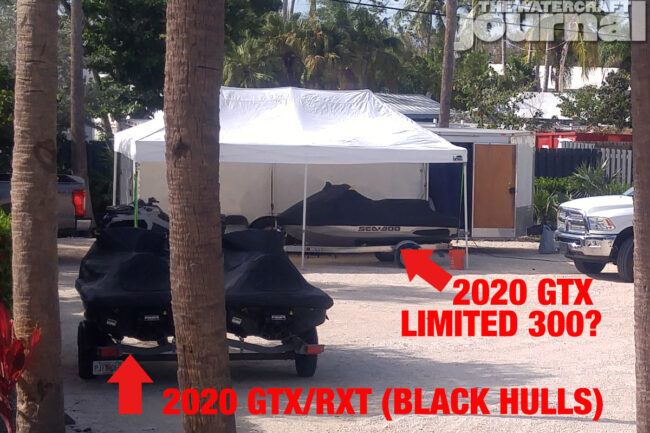 Finally, the two Sparks to the extreme right of the original image appear to be unchanged – again from what little we can extrapolate from the image. Normally, we would say that was all we could offer in the way of spoilers for 2020, but a second tidbit of information came in shortly thereafter; the dealer order list.
Last year, the order list revealed the Fish Pro as a certainty, and was such a big deal that Sea-Doo scoured the internet looking to quiet the ski's reveal.
This year, the list reveals no new models (apologies to those anticipating a turbocharged Spark X 130 or a supercharged 230-horsepower Fish Pro) but is oddly missing the RXT and GTR-X.
We're almost certain Sea-Doo wouldn't terminate these two performance models given their popularity, which leads us to believe that either the list itself is incomplete or only part of a larger list.
Equally, the list doesn't distinguish the Spark 2-up, 3-up and Trixx models; the GTX 155 from the 230; as well as the GTX Limited 230 and GTX Limited 300.
Of course, Sea-Doo has a strong habit of surprising us each season, so it's too early to say if there is a trick or two still up their sleeve. Regardless, we're all excited to see how 2019 shapes up for the industry leader and what new and exciting things they've got planned for the future.