Back in April, The Watercraft Journal let loose a salvo of information and spy photographs revealing that Kawasaki has given the now 17-year-old STX-15F a slight redesign for 2020. We say "slight" only because by examining the profile of the hull and lower deck, it appears that only the upper deck (fairings, hood, seat and steering configuration) have been updated – at least from outward appearances.
Thankfully, an insider informed us late in 2018 that the new STX-15F will receive quite a few goodies from the full-sized Ultra LX, including the craft's fly-by-wire engine control and management system, which also permits for the use of Kawasaki's digital Cruise Control, Eco mode setting and electronic trim. While we couldn't confirm which of these additional features would come on the redesigned STX, we also learned that there would not be just one STX anymore.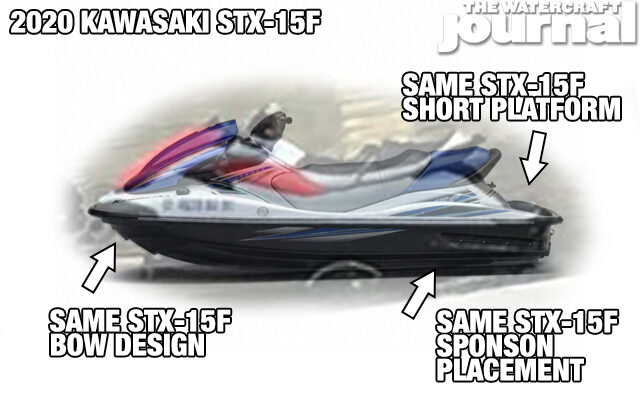 Initial reports had it that there would be two trim levels of the new 2020 Kawasaki STX-15F; a basic, low trim edition similar to the current STX-15F and a more luxury-equipped STX (likely equipped with the features listed above).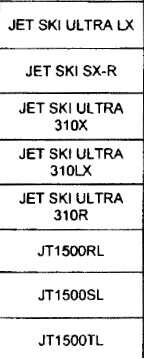 Now, with a copy of the 2020 model listings in hand – thankfully provided to The Watercraft Journal by a faithful reader – we have hard confirmation that a third trim level is to arrive this Fall.
According to the official model listing, the three tiers of the STX are labeled as "JT1500RL," "JT1500SL" and "JT1500TL". These codes are clearly not the JetSki's official names, but rather a sequential list that are not specific to their respective trim offerings.
Per our existing information, we understand that there will be a stripped-down, bare-bone STX-15F equipped with likely nothing but the superior engine management hardware.
We also know that a "luxury-edition" of the STX will be made available; but now we have to believe that there will be two versions of this luxury craft. In our previous article, we surmised that the top tier craft could feature the industry's first factory-installed sound system, Jetsounds. Now it appears more likely than ever. Whether other luxury items carry over from the Ultra 310LX, like the heat-resistant seat cover and superior paint, we simply don't know yet.