You might not believe it, but the VX Cruiser High Output, Yamaha's mild-mannered varsity player in its Recreation segment of WaveRunners is the single-best selling personal watercraft for two years running (2018 and 2019). Yes, you read that right. This nicely-optioned, fun-yet-well balanced 3-seater beat out all of the lightweight entry-level Rec Lites, all of the high-horsepower supercharged race-ready machines, and basically every other watercraft available today for two years in a row.
So, you might be asking, what makes the VX Cruiser High Output so dang appealing? Like we said just before, balance. The VX Cruiser HO hits the sweet spot of fun and sporty handling thanks to its use of Yamaha's first-generation NanoXcel lightweight material on the hull and deck, dropping the craft's dry weight down to 767-pounds.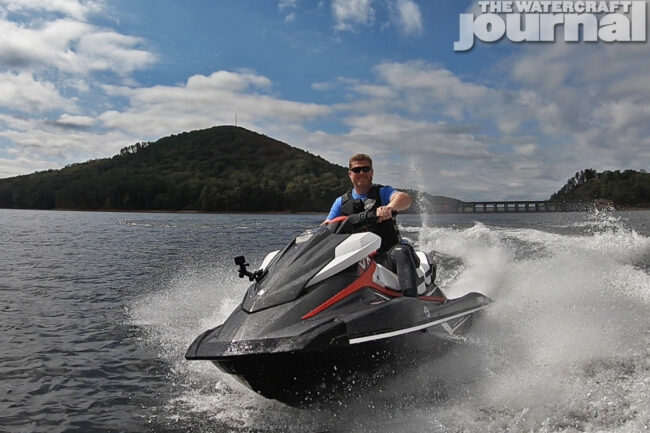 Next, toss in Yamaha's tried-and-true and darn-near bulletproof 1,812cc High Output Yamaha Marine Engine producing a class-leading 180-horsepower; and the fact that it rides on the exact same hull design as the GP1800R – y'know, the same WaveRunner that has dominated pretty much every level of professional racing – and its no wonder folks are all smiles when they hit the throttle.
But again, we're talking about balance here. So while it's a lotta fun to hot rod around the lake, the low-end grunt of the 1.8 Liter and fixed tow eye lets mom or dad tow the kids on a raft or towable with little effort. Plus, since the engine is breathing naturally – meaning without the aid of a forced-induction supercharger – fuel economy is one of the Yamaha's mainstays. In fact, draining the VX Cruiser HO's 18-and-a-half fuel tank will likely take you all day.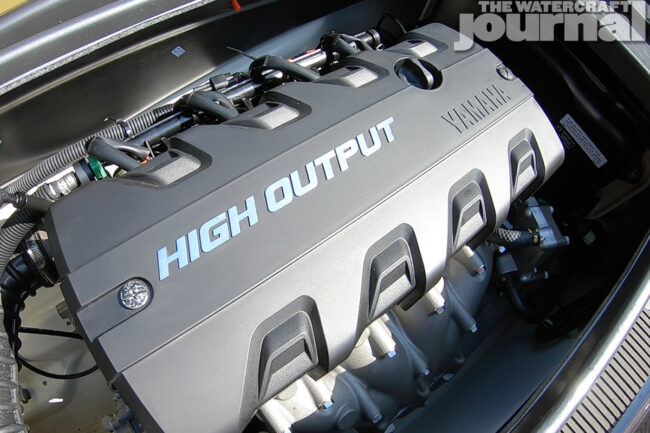 Attributing the VX's namesake is the 3-person Cruiser Seat designed to provide comfort for all-day touring. The seat is tiered, giving passengers an elevated view over the driver's shoulders, with raised bolsters for a little extra support. And the VX Cruiser HO comes equipped with Yamaha's easy-to-operate Cruise Assist and No Wake Mode features, making long distance rides or simply navigating through prolonged slow speed sections a breeze.
Of course, the WaveRunner also comes equipped with Yamaha's dual throttle RiDE system, giving the driver immediate and super-responsive reverse thrust for negotiating tight spaces, unloading off of the trailer, or coming to complete stop while under throttle. Onboard braking has become a new standard in the personal watercraft industry and Yamaha's RiDE is the latest to fine tune the process.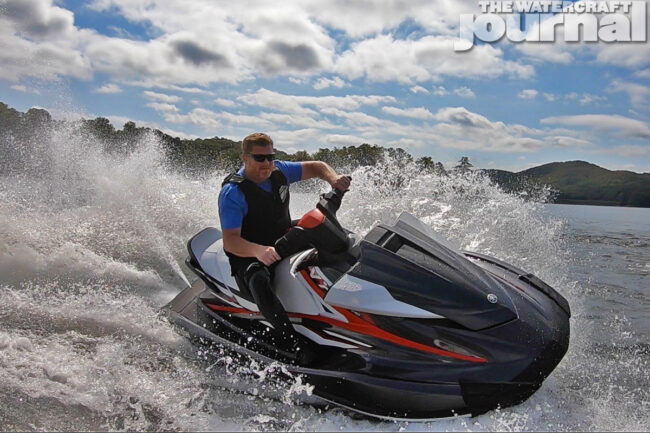 The nimble craft is light on its feet, but stable when using the wide, spring-loaded folding swim step while reboarding. When folded down, the step is deep, dropping below the pump and ride plate allowing you to step up without having to reach too far. Storage comes in at a respectable 24.6 gallons, with a deep glove box featuring molded-in dual cupholders, and a removable watertight bin beneath the rear seat with a screw-top lid.
Although not standard equipment, the VX platform welcomed a bevy of optional accessories: Earlier in the year we were introduced to Yamaha's exclusive ECOXGEAR Bluetooth speakers for the VX Series. These little waterproof wireless Bluetooth-operated speakers allows you to take your music with you wherever you go, whether riding across the water or lounging on the beach. (Suggested Retail Price of $349)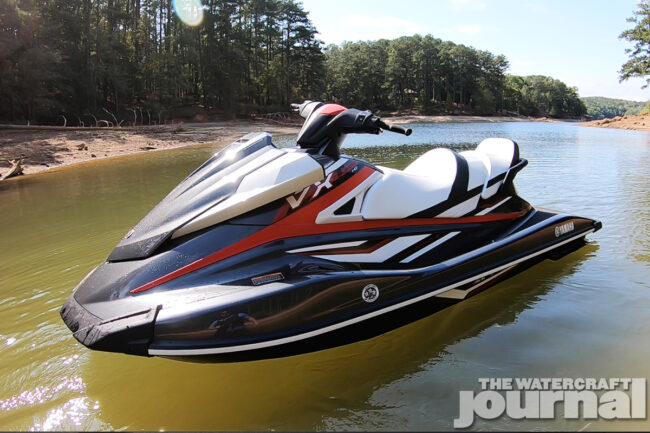 Two really neat options were Yamaha's new VX Stern Storage, and VX Cooler. The first is a large 40-liter stern-mounted storage compartment made out of durable, weather-resistant and compression-molded black EVA Foam. (Suggested Retail Price of $249.99)
The VX Cooler is great for keeping drinks and snacks cool while out for the day and fits nicely inside of the Stern Storage container, or can be strapped down to the rear passenger hand grips. Yamaha says the cooler alone can easily holds 18 cans of soda plus ice. (Suggested Retail Price of $129.99)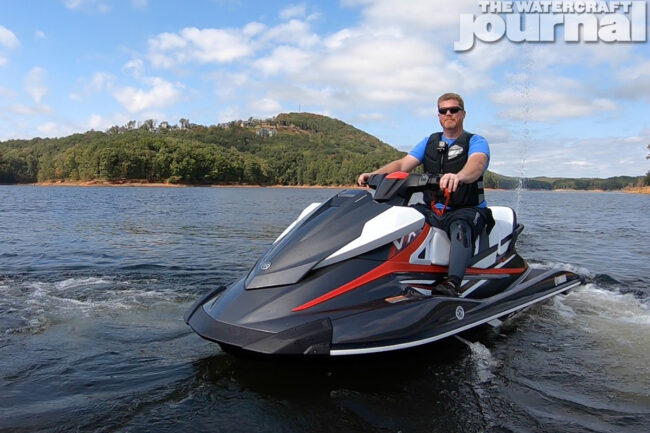 On the water, we managed a respectable 62 miles per hour at 7500rpm. Doing a little "fuzzy math" that equaled roughly about 13.5 gallons per hour at wide-open-throttle. When not clamping the throttle to its stop, the VX Cruiser HO is torquey, responsive and generally rather playful without feeling too loose. It's fun enough for dad to come back smiling, with enough intuitive stability for mom to feel confident piloting on her own. Again, well-balanced.
For 2019, the Yamaha VX Cruiser HO comes in two color variants – Carbon Metallic and Red, or Yacht Blue and White – were available with coordinated two-tone Hydro-Turf deck mats. Given the audience this WaveRunner is aimed at, the livery features some rich automotive-level metallics that deserve a second glance, especially when the sun hits it "just right."
Starting at $11,799, the VX Cruiser High Output is definitely not some stripped-down plain-Jane either. That's what makes its success so impressive. The appeal of this machine isn't some bargain-basement price, but rather that its loaded with the right amount of features that people can appreciate its value. It hits all the right spots, making it one of the best, most well-balanced packages available today.