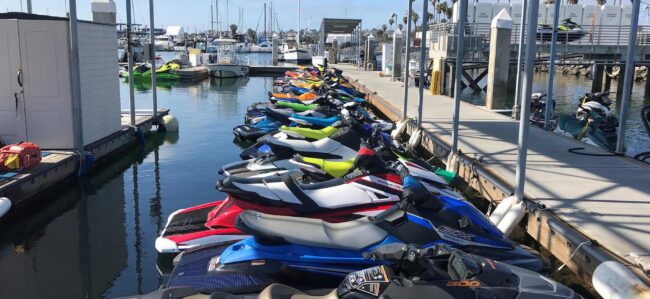 Check this out; on July 4th San Diego Fire Rescue Department's (SDFR) lifeguards and the San Diego Police Department impounded more than 30 boats. Most of the impounded vessels were PWC.
According to SDFR, most of the taken watercraft were rented illegally within Mission Bay, making them fair game. A business must be licensed and be brick and mortar, according to the San Diego Fire-Rescue Department's social media pages. They even went as far as saying that an unlicensed rental place doesn't have insurance.
Andy, the owner of Seaforth Boat Rentals in Mission Bay has a $5 million dollar insurance policy on his rental equipment. He claims that if there are any issues with his equipment, customers can call him. He has people on standby for emergencies and ways to make to make riding safe and enjoyable. He has several brick-and-mortar locations.
Andy also took a dig at jet ski rental operators who don't have storefronts. He blamed a couple of jet ski related deaths on rentals from illegal operators. One local commented that the business owners with actual storefronts, have it in for the guys who don't have physical business locations. That seems obvious with the comments that Andy made.
Furthermore, the police department announced that people under 40 operating a boat or PWC, must have a California Boater Card. Once again, statistics prove that PWC aren't the dangerous and deadly vessels that many claim them to be: According to a U.S. Coast Guard report released on June 29, "there were 767 boating fatalities nationwide in 2020, a 25.1 percent increase from 2019." Of the boating fatalities in 2020, 66 were attained to personal watercraft.