Sea-Doo recently wanted to ask the question 'what happens when you take a bunch of Redbull athletes and put them to work using Sea-Doo Wake Pro's?'
Well not only did they ask that question but they answered it in reality. Sea-Doo recently teamed up with some professional athletes including wake skaters and skateboarders and went out for an awesome day in Miami.
The experience was nothing short of amazing so keep reading the below Sea-Doo content alert to find out what happened and to check out a link to the video.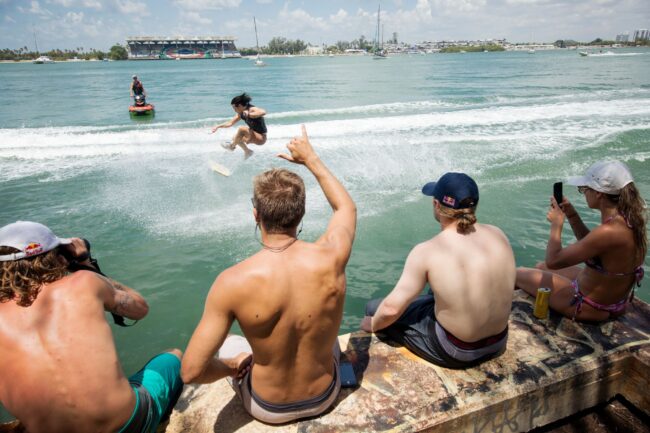 What do you get when you give some professional skaters and wake skaters a new Sea-Doo Wake Pro in Miami? You get an amazing day filled with incredible tricks and a great time living the Sea-Doo Life!
Professional Wake Skater and Sea-Doo Ambassador Nick Taylor recently met up a star-studded crew of Redbull athletes for an adventure in Miami, Florida. The crew was a mixture of athletes from different sports are here to see what the Sea-Doo Life is all about. Professional skateboarders Leticia Bufoni and Jamie Foy were among the athletes who were stoked to cool off and give wake skating a try behind the 2020 Sea-Doo Wake Pro. With natural board sport talents, the pro skaters learned quick with the help of the Sea-Doo Wake Pro pulling them with Ski Mode. Ski Mode allows the riders to set a preprogrammed acceleration and speed to keep perfect for the individual getting pulled.
Next stop on the adventure was a short Sea-Doo cruise over to a local skate spot right in the heart of Miami Beach. The crew pulled up to the skate ledge on water, hopped off the Sea-Doo's and went to business. Both skaters got a trick then jumped back on the Sea-Doo's to head to lunch. The accessibility and ease of operation of the Sea-Doo's made this unique quick stop possible. The day was epic to say the least.
Check out the full adventure video at the link below: