Sea-Doo paves the way for the first ever PWC division in Florida's prestigious saltwater fishing tournament, The Central Florida Shootout. This year's Central Florida Shootout is sure to be extra special with the announcement of the new PWC division. The Shootout crew is excited about welcoming personal watercraft to participate in the fishing tournament for the first time.
PWC fishermen will have their own division and will also be eligible to win the overall categories against conventional boats. The tournament will be held May 12th, beginning with the Captains Party at Space Coast Harley Davidson. The official start time of the tournament is lines in the water 9PM on May 12th, with scales opening at noon on May 13th and closing at 5Pm.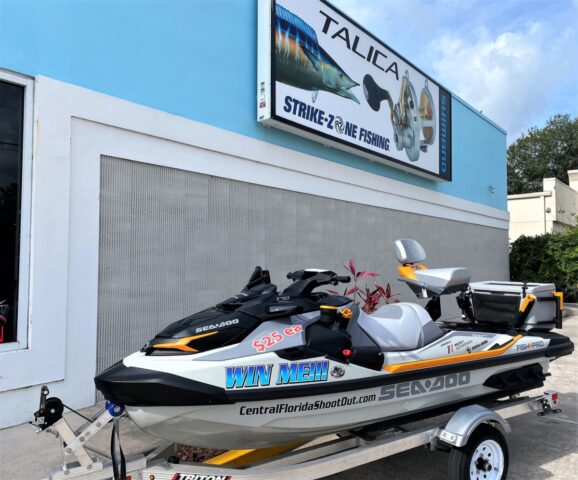 Anglers will depart from Sebastian Inlet or Port Canaveral. All participants are expected to abide by safe boating practices. This is a catch, document, and release fish caught style tournament with over $20,000 in prizes to be paid out to the winners. Categories include 10 different species, general entry, entry categories for Lady Anglers, and Juniors.
The entry fee for personal watercraft anglers is $25 and a cash payout will go to the first-place winner. Second and third places will receive cash and prizes. Register and pay for your PWC entry here and carefully read and sign off on the rules. There will also be a drawing for a chance to win a 2023 Sea-Doo FishPro Trophy 170.
Enter for a chance to take your fishing to the next level! Tickets are $25 and all proceeds benefit several local charity organizations. The 2023 Central Florida Shootout is sure to be a good time, so register now!