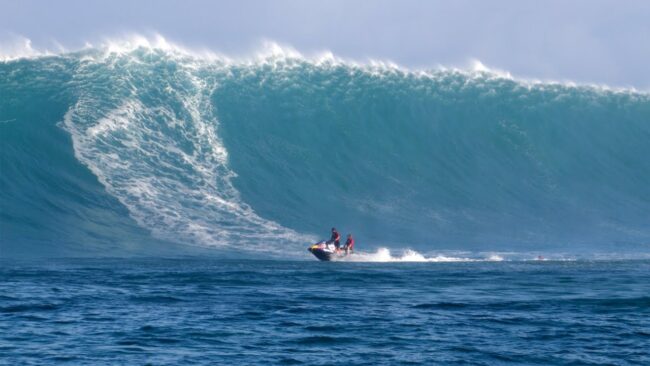 Once again, Sea-Doo is part of the support team in a partnership with Surfline and Red Bull. The Sea-Doo PWC are being used by some of the Hawaiian Water Patrol to lead rescue operations for the big wave series Twenty Foot Plus.
The series was put together by Jamie Mitchell and Zack Porter, two big wave surfers who started Heavy Water Surf Group. With the help of Surfline and Red Bull they were able to launch Twenty Foot Plus, a big wave surfing extravaganza that will showcase big wave surfers and their lives. Surfline will livestream all the events.
"Big wave surfing has always played a special role in surf culture, and Twenty Foot Plus will help give it the attention and respect it deserves," says Kyle Laughlin of Surfline. "This series is without precedent and designed to recognize and champion the big wave community in an all-new, engaging format."
The inaugural 20 Foot Plus event featured surfers riding waves in two different big wave locations, one being Waimea and the other, the fickle Cortes Banks. There aren't many big wave surfing events, so what these guys are doing will fill the gap and enable these elite riders to garner exposure and to tell their stories. Twenty foot is where big waves begin, which is why 20 Foot Plus was the chosen name.
With Surfline at the helm forecasting the surf, Red Bull running a huge media campaign, and Sea-Doo to the rescue, this series will be one to watch!