Is it possible to set up a personal watercraft for both drag racing and closed course and remain competitive in both schools? If not, what's needed to be competitive in either genres? And, what are the outlying differences between either setups? These questions served as the perimeters for our initial exploration into this investigation.
Stepping back to observe the whole picture, we realized that delving as deep as we could go would take us way too far down the rabbit hole in either category, so we opted to narrow our search to participating in the Stock Runabout class. Although highly competitive and rife with some of the most talented racers and tuners in our sport, the limitations of the Stock class rules would dramatically reduce how far afield from the everyday performance enthusiast would dare to go with their own craft.
And in deciding on this focused field of view, provided us access to not only one of the most accomplished racers in personal watercraft racing today, but a standing champion in both genres of racing: Troy Snyder. The 43-year-old RIVA Yamaha racer has racked up a career's worth of IJSBA National and World Championships, along with several podiums in both the UWP (now Pro Watercross) and AquaX series, not to mention World Championships in Hydro Spec, Hydro Super Stock, and Hydro Unlimited drag classes.
Because of Snyder's long list of championships in both schools of racing, there was really no-one more qualified to offer any reliable advice and know-how in regards to the steps necessary to build both a successful closed course as well as that for drag racing (meaning not a ski that will compete in both simultaneously, but modifications needed to build successful skis for both genres).
We first asked Snyder what attributes he looked for in selecting a craft; Snyder said, "I look for reliability first, then you need the speed to get holeshot but still be able to turn it. Holeshot means a lot these days! In Pro Stock there is around 6 guys that can win in the world. So holeshot means the difference. The last two years my team has chosen the Yamaha FZR with the quality parts from RIVA Racing."
But for drag racing? Snyder confessed, "Honestly, you guys might think I'm pulling your leg but the only difference in my [drag boat versus my] closed course boat is I change my modified RIVA ride plate I use in closed course to a stock out-of-the-box RIVA plate with a few shims depending on water conditions on that day."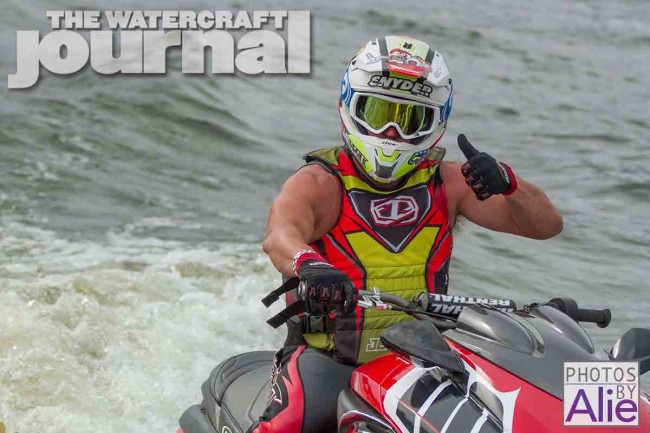 Of those craft available, Snyder marked on several characteristics he looks for in hull design: "For closed course, I like a hull that when I come off the throttle the PWC will still turn, and when I get back in the gas it won't what I call 'wheelie out of the turn.' If the hull has too much keel in the front it can be bad news on the back straight of Havasu (which can be rough as hell)."
"When the hull re-enters in with too much keel it gets too unpredictable, which tends to make you back off the gas. The Yamaha FZR has a great keel and ride plate system that allows easing shimming up and down. I have tried all the plates on the market but my Bo Dupriest-modified RIVA plate always is my go-to plate."
In respect to drag racing, the answer might surprise you: "In my opinion, you need a fast hull with not much keel. I watch these guy with big horsepower just bounce half way down the track. They are just always looking for pure speed with no handling. That's why my drag boat is almost identical to my closed course set up. I won three world titles at the HydroDrags with a in-the-water closed course setup. That same boat won two world titles in Havasu in 2014 and went and won 3 drag titles two weeks later."
Although Stock class limits heavily modifying a watercraft, many mods to improve handling are allowed. Snyder expanded on his closed course combination: "My handling set up is a Bo Dupriest modified RIVA ride plate and stock modified grate. I run RIVA sponsons that have had the backing plates angled to help take some of the bite out on the sweepers. We also blueprint the hull and sharpen some chines. [I find that] every hull comes out of the mold a little different so I go ride them first before touching them to see where I massage them."
But what of his drag racing setup? Snyder laughed, "It's just a ride plate change from closed course to drag racing." So we thought, how about any pump/prop modifications? His answer was equally as straight-forward: "For closed course racing, I run a stock pump with Solas props bent by Tim Judge. This is my secret to winning so I'll leave it at that! But for drag racing I run the same set up, but a different Solas prop, single at some or doubles at other sites. They get bent for every race. The water density, weather, my body weight, how well the motor is running for the day all comes into play when we bend a prop."
But what of under the hood? Surely Snyder and his team are building an insane powerplant to outrun the competition, right? Not so. "My main class has always been Pro Stock, so we follow the rules," he continued. "But in 2014, we built a Limited class ski that we won in Havasu and at the drags with. In that boat, we ran a stock motor with RIVA spring retainers and a Engine Tech (ET) supercharger wheel with a RIVA intercooler, and of course the RIVA Vi-Pec ECU was the brains behind it. For the drags, the only thing we change is the tune in the Vi-Pec."
In our conversation, it didn't take much to learn the differences between a Troy Snyder-built Stock class closed course ski and a drag ski, except for a change of ride plate, how much shimming of the plate and the RIVA Vi-Pec tune.
Snyder stopped and took a moment to elaborate: The ultimate goal for building a closed course race ski is [finding the right] handling-to-speed ratio. The ski and rider have to be able to use the horsepower to win. If the boat is so fast the rider can't use it then it's useless. The same goes for drag racing. I watch these guys with giant power just pogo stick and bang the rev limiter for a 1/8th mile and say to myself, 'Wow, if they would just set that thing up it could win.'"
For somebody looking to enter (for the first time) either types of racing, Snyder concluded, "Get the correct handling set up so the PWC goes around the track straight and smooth. Then start making it go faster. The manufacturers make great products right out of the box these days. A lot of guys make the biggest mistake of buying every part off the internet and go slower. Racing is about the correct combination of parts working together."