It was the shot heard around the world; the fastest personal watercraft record had been broken. Not just broken, but wholly smashed and ground into fine dust. A heavily tuned, but surprisingly stock (at least pertaining to the hull and deck) Yamaha GP1800R built by Brian Kirchberger and piloted by Jose Hernandez had hit 135 miles per hour. The Watercraft Journal had an opportunity to sit down with Fizzle Factory's James Blanch, who played a major role in this project's development, to get an inside look at how this world record-holding machine came to be.
The Watercraft Journal: For those readers unfamiliar with you, please tell our audience about you, what you do and your prior experience with PWC racing/performance.
James Blanch: My name is James and I own and operate a company called Fizzle Factory. We specialize in performance upgrades for 4-stroke Yamaha and Sea-Doo watercraft. My PWC performance days started in the summer of 2005 when I bought a 2005 Sea-Doo RXP and started modifying it with the help of Jerry Gaddis and some other members on his GreenHulk.net forum.
I started buying and selling used parts to help fund my new top speed addiction. A few years later I saw a market opportunity to start selling a budget friendly intercooler kit for the Sea-Doo platform and seized the opportunity. A couple years after that we ventured into the Yamaha intercooler market. Now we're expanding the product line into parts like blow off valves, air intakes, ECU tunes, and supercharger upgrades.
WCJ: How you got involved with this project? Where did this begin?
JB: I got involved with this project starting in December 2019, when the owner/driver of the now world record ski, Jose Hernandez, contacted me about buying a Fizzle intercooler to use on his turbo Yamaha GP1800 project. A couple months earlier he had decided he wanted to start pushing the GP1800 platform to see what it could do for competitive drag racing and top speed numbers.
He already had a taste of a world speed record when he captured the fastest supercharged PWC title (108 MPH) on a Yamaha FZR, during the November 2018 IJSBA sanctioned Hydrodrags World Finals. Jose already had the right man for the job in his corner, Brian Kirchberger a.k.a. BK Built, the mastermind behind the fastest PWC in the world, dating all the way back to November 2016.
WCJ: Why did you choose a Yamaha GP1800? What did the GP1800 have that others didn't?
JB: Brian and Jose chose the Yamaha GP1800 because it was a challenge, plain and simple. Brian had already played a major role in making the Yamaha FZ, a hull people doubted could reach speeds beyond 110 MPH, the fastest PWC in the world at 127.7 MPH. Now it was time for history to repeat itself and to hopefully shock the world again with a new platform that nobody saw coming.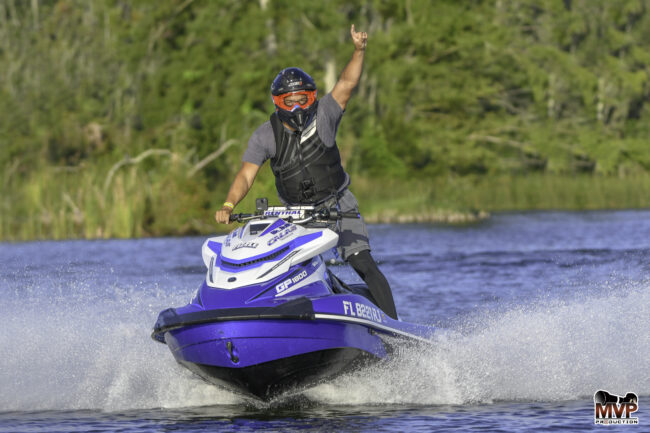 WCJ: What modifications were made to the hull/handling components (if any)?
JB: What's perhaps the most surprising about this particular ski is what has NOT been modified. Most notably, the hull has not been lightened. In an era where hulls get gutted of the inner layer to tilt the power-to-weight ratio to the rider's speed advantage, this one has been left remarkably factory. It even retains the stock sponsons, fuel tank, and fire extinguisher.
WCJ: What modifications were made to the SVHO engine and pump (that you're willing to share)?
JB: This SVHO engine has upgraded internals for increased strength and performance. The valve springs, retainers, pistons, and rods have all been upgraded. The build features a 72mm Precision Turbocharger, advertised as having a 1300 HP capacity. The ski boosts 60-plus PSI with this turbo!
WCJ: How long did the build take (from project inception until the 135mph run)?
JB: The progression from basically a 117 MPH grudge racing ski to an all out 135 MPH speed monster unfolded relatively quickly. From late May 2020 up until testing was complete in early July, the ski was ready to make a run to overtake the previous world speed record well ahead of the July 26th Hydrodrags Speed Alley event.
WCJ: What was the biggest unforeseen challenge or hurdle that the project faced?
JB: The biggest hurdle in this process was keeping the factory crankshafts from breaking during testing. The amount of torque this motor produces with a big enough turbo and the right tuner is nothing short of incredible. Repeated full power test hits will eventually reveal the weak links in the SVHO motor, or any motor for that matter, one component at a time.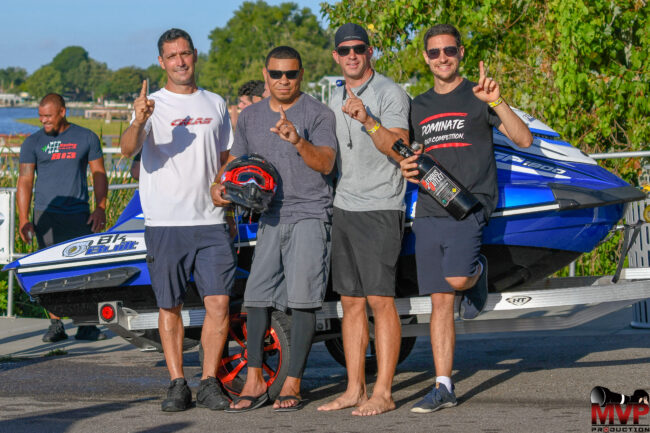 WCJ: Did the build have any surprises? How did the actual top speed run go? Did the ski work as planned?
JB: How quickly it came together was a surprise. I guess when you have the recipe for success, it makes it that much quicker and easier to duplicate the results. That's exactly what Brian and Jose were able to do! Everything went according to plan with the ski. The weather was looking a little shaky in the days leading up to the event and even the morning of the run, but we planned for the rougher water conditions ahead of time.
WCJ: Who would you like to thank for helping make this achievement possible?
Brian Kirchberger: First I need to thank my wife, Melissa, for putting up with all the late nights and weekends spent building and tuning engines. Then I have to thank the main guys involved with the project – Jose, Fizzle, and Elliot Rivera. I'd also like to thank Bill Schimmel from Schimmel Performance. Back in my car racing days he taught me about engines, how to understand engine tuning, and the fundamentals of how to build an engine to handle the most power possible. I wouldn't have been able to accomplish something like this without the knowledge he passed along to me.
All photography courtesy of MVP Production, with all trademarks respected. For more photography from this event or any others, please visit www.mvpproduction.net
130 MPH warm up video from the champ @joseluis_gp69 built by Brian Kirchberger @bk_built cooled by Fizzle Factory

Posted by Fiz Zle on Sunday, July 26, 2020
Come along for the ride that shocked the world! 135 MPH Yamaha GP1800. The fastest jetski on the planet! @bk_built @joseluis_gp69 and a special thank you to @thatracingchannel and @mvp_production for all their hard work

Posted by Fiz Zle on Wednesday, July 29, 2020