The Watercraft Journal: You've enjoyed an action-packed riding career for sure. Tell us a little about it; when you first started riding stand ups, and what prompted you to try racing over other riding styles?
Mark McQueen: It was around 1990. I was tired of playing golf and wanted to do something physical. My best friend, Tom Arthur, had a JS550 and a KX250. He recommended the jet ski and he helped me pick one out the next day. It was difficult to stand at first because I was leaning over like I was water skiing. After a few sessions with Tom, I was hooked. I really enjoyed freestyle and wave jumping, but someone insisted I try and race. I was 2 years into skiing and raced on the River in Beaumont. I still remember the feeling of being on the line for my first race. I was addicted.
WCJ: Once you were hooked what would you consider your greatest accomplishments in racing stand ups?
MM: Great friends. Won some local overall titles in Expert and Ski GP, but The World Finals is the real test. I only raced there twice. Took 7th in Novice Vet Ski, 2nd overall in Expert Vet Ski, 10th overall in Expert Ski. (93-94 I think) I was not as fast as Texans Rusty Wilson or Chris Hagest.
WCJ: Let's move on to some favorites! What is your favorite part about riding stand ups and what is you favorite ski?
MM: Adrenaline rush of taking turns at high speeds, low to the water. Great physical conditioning. The technology gets better every year and my Kommander GP1- 1500 is my current favorite. Although, my SXR with the 1105cc Mel Miller Seadoo motor won a lot of races.
WCJ: What do you currently ride, and what are your future riding goals?
Kommander GP1-1500. At 59 and chasing 30 the goal is to continue to chase my younger friends around the buoys and get faster 2-3 times/week.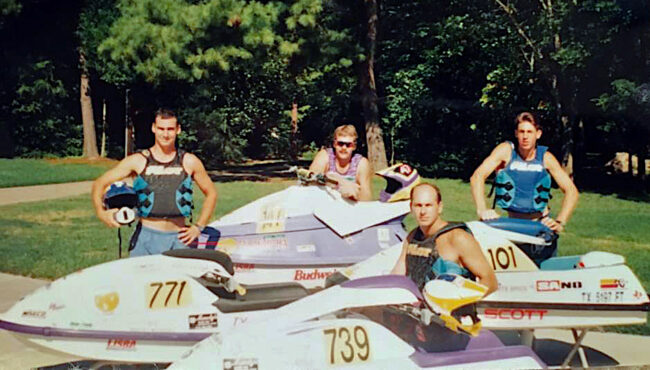 WCJ: With wins and experience under your belt, how do you train/practice?
MM: Ride buoys, mountain bike. All about " time on boat."
WCJ: Is there anything you would like to see done differently/add to in the ski industry/racing world?
MM: Racers need to be easier to identify during a race for fans and announcers. Something must be done that allows the opportunity for more passing. Introduce a friend to riding jet skis. Only one rule book.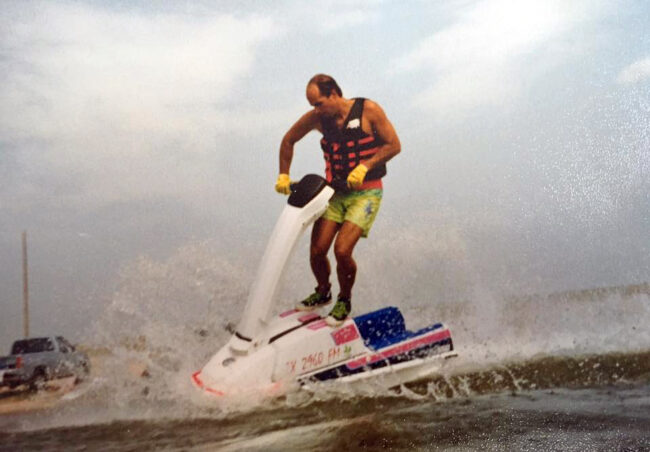 WCJ: With your experience, we'd love to hear how is today's racing scene different from years ago?
MM: Years ago the manufacturers were competing for share so national and regional teams were sponsored by the jet ski makers. Qualification for the World Finals meant going to 3 qualifiers with 30+ people trying to qualify for 1-3 spots per class per region. Today seems more family oriented which is a great thing.
WCJ: So we've got to know – who is your greatest role model?
MM: In life, my family shaped me. In the sports world- Roger Staubach, Tom Brady, Jack Nicklaus. I tried to ride like Victor Sheldon ( liked the leg drag).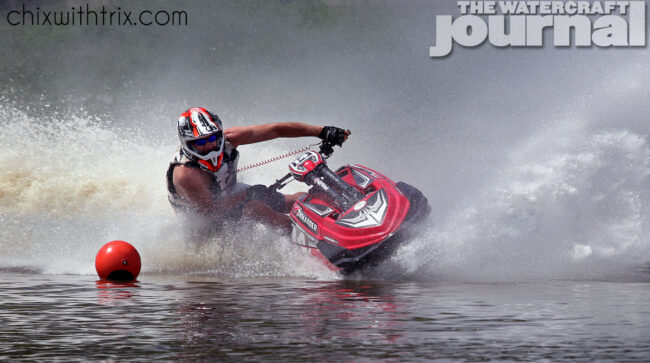 WCJ: Outside of skis, what other things do you like to do?
MM: I love to fish, hunt, be outside. My son and I played football at Texas A&M. QB, DB. My father is in the Texas Sports hall of fame as a football coach. So we have some good football conversations at Holidays.
WCJ: Mark, thank you for sharing your story with us! In closing, is there anything else you'd like to share, and what advice do you have for fellow racers and people interested in learning how to ride stand ups?
MM: Just to thank all my friends that I ride skis with every week. Travis Thompson and I have been pushing each other for many years. Great journey. Racers – Set goals, plan needed steps to reach the goals, be relentless in your pursuit of your goals. Have some fun every day. If you have not ridden a ski and want to – great family sport and excellent for keeping you in good physical condition.