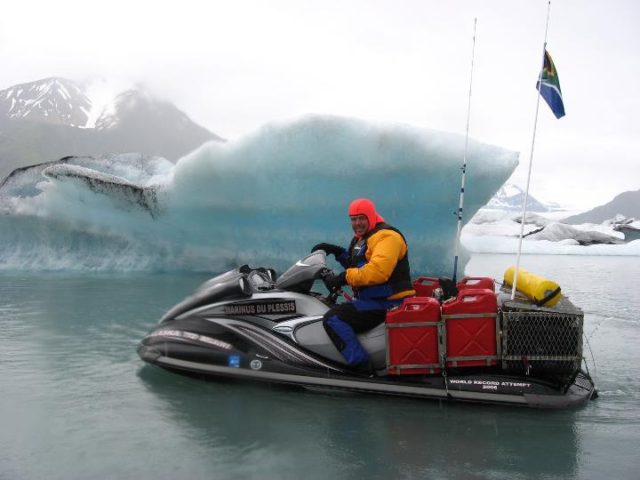 It was September 19, 2006 when South Africans Adriaan Marais and Marinus du Plessis succeeded in completing the longest journey ever recorded on personal watercraft. They rode 10,729 miles in 95 days after leaving the west coast of Alaska and motoring south toward the Panama Canal and faced many hardships along the way. Guinness World Records confirmed the amazing feat on their website.
Marais and Plessis rode their skis ten hours a day averaging a speed of 40 mph. The two faced many challenges including rough seas, frigid waters, engine failures, and the awful feeling of dehydration. None of this stopped them because it was important to finish the task at hand.
A personal Facebook Page  provided a fairly simple report of the successful world record achieved by South African's Marais and Plessis. The two men arrived in Alaska to challenge the Australian world record for the furthest distance traveled on a jet-ski. Unlike the Australian's, these two men had no support crew or knowledge of navigating the route from Anchorage to Panama. It's amazing that they made it!
After installing fuel racks on their Yamaha FX Cruisers, they got underway and quickly realized how the Alaskan coast obtained its dangerous reputation. The men camped along the beaches at night where brown bears lurked and a sea lion startled them awake one evening. Another incident occurred when the guys ran aground and wrecked their skis. After repairing them with scrap metal and fiberglass, the anguish continued with the Coast Guard having to rescue them due to a damaged fuel pump that left them at the mercy of the sea.
Central America offered no joy either, except for the fact it would be less likely for them to become hypothermic in the area. The pirate activity, on the other hand, was gnarly! The guys covered distance more quickly with armed pirates chasing them!
Ultimately, Plessis and Marais met some awesome people at every destination and saw many whales, dolphins, and sharks. They were not only stoked about completing the longest ride on personal watercraft, they also enjoyed experiencing nature in this style.