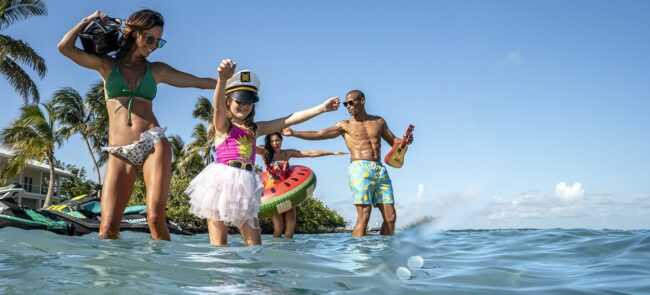 With Summer officially here, many of you are getting on the water, school will be letting out, and it's time to start living summer and why not in Sea-Doo style!
Sea-Doo wants you to know that "Living the Sea-Doo Life is about more than the ride. With so many ways to customize your Sea-Doo experience, we've compiled our list of must-haves to create your ultimate Sea-Doo adventure this summer season. You'll be making waves with your crew by living the Sea-Doo Life the best way we know how – your way!"
So check out Sea-Doo's list of must-haves this season below and start living the Sea-Doo life.
The party doesn't start until the music starts bumping! With Sea-Doo's exclusive BRP Audio – Portable System you can add to your SPARK, you can take the party wherever you want. From poolside to the beach, out on the water, and back for a sunset toast on the balcony, you'll bring the party wherever you go. With 50 watt and Bluetooth connectivity, it's a good time just waiting to happen.
From relaxation to wet 'n wild, Sea-Doo's newest line of inflatables amps up enjoyment on the water to suit your mood. With relaxation stations featuring built-in Bluetooth sound systems and a variety of towables, there's a fun-soaked adventure ahead the whole family can get on board with.

That seaside table for two is closer than you think – and can be anywhere you want – with the Sea-Doo LinQ Cooler options. Available in 4.2-gal or 13.5-gal configurations, you're now able to refuel with refreshments on the go or set your sights on meal with an ocean view. It gives a family picnic at the beach or dinner for two in your favorite lagoon no just a possibility, but a reality ready for your own personal touch.
You may not always know what the day has in store for you, but you'll be prepared for any adventure the Sea-Doo Life throws at you with the latest LinQ storage accessories. With enough room to pack for an all-day outing or even an overnight excursion, there's no end to the Sea-Doo adventure in sight. Choose from 4.2 gal up to 5.5 gal of hard sided or semi-rigid cargo solutions that easily mount on the back of your Sea-Doo thanks to the exclusive LinQ mounting system. Or really go the distance with the LinQ Stackable Fuel Caddy that allows you to carry up to 4 additional gallons of fuel, plus, still stack your LinQ storage bag or box on top. Suddenly your days on the water just got a lot longer!