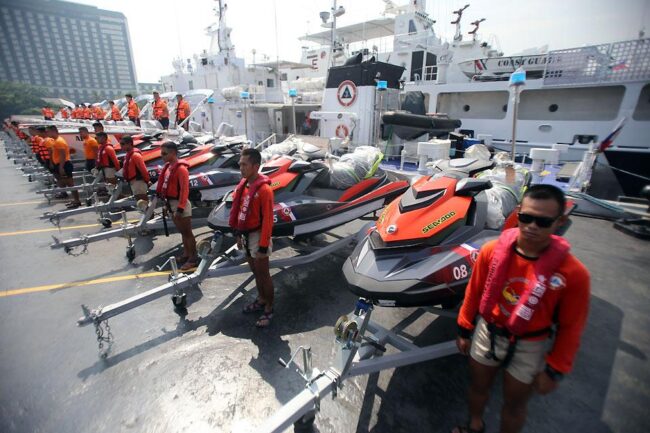 Last month, the Philippine Coast Guard (PCG) showed-off their 20 new rescue watercraft and equipment as they prepare for the upcoming typhoon season. Typhoons have been known to cause devastating damage and leave many people out of their homes. With Tsunamis, floods and heavy rain as an aftershock, it is important to have trained personnel willing to help save people. While boats are able to carry many people and equipment, personal watercraft are an unsung hero. Their ability to navigate through shallow waters and around tight obstacles makes it a perfect rescue vehicle.
For those of you that do not know, a hurricane is the term that is used in the North Atlantic, Central North Pacific and Eastern North Pacific. In the Northwest Pacific, they use the term "typhoon." Typhoons are usually accompanied with heavy rain that makes a tropical storm even worse. Nevertheless, both leave devastating impacts. The Philippine Coast Guard is much like the United States Coast Guard as they have trained personnel who are able to save lives.
In an article from Philstar they say, "The Philippine Atmospheric, Geophysical and Astronomical Services Administration (PAGASA) had earlier said that the rainy season might begin the first or second week of June." This make the delivery of the new watercrafts that much better. With brand-new equipment and training, they are going to exhaust every effort they have to make sure they are able to save as many people as they can.