Cycle Springs Power Sports, located in Clearwater, FL is looking for hard-working motivated people to fill lot positions. Cycle Springs is a family owned franchise and a nice benefit package is offered to employees. Competitive wages, health insurance, and a 401k are some of the perks. Those benefits are hard to come by in today's job market.
The above incentives are available to those who meet the requirements for employment. If you are motivated, have a clean driving record, able to lift fifty pounds, and can handle working outside year-round, you're halfway there. If you enjoy powersports, you'll love Cycle Springs. Stop in and fill out an application. You won't know unless you go.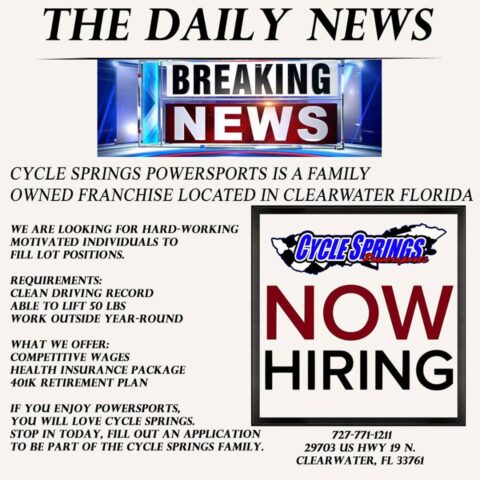 Cycle Springs Powersports is also looking for a sales person to join the family. This is an opportunity to join Florida's most successful and stable team with unlimited possibilities.
Their sales staff is responsible for the complete sales experience. Sales begin with greeting the customer and taking them all the way to delivery. You will be in control of your customers experience at the dealership.
Cycle Springs dealership prides itself on product knowledge and a  seamless sales process. Potential applicants should be self-motivated with a base knowledge of the products that the shop sells.
Good communication skills are a must as is finance knowledge, a willingness to work weekends, and a desire to have a career in the powersports industry.
After a year's employment, you'll receive medical insurance, 401K, bonuses, and vacation. You will have a lot of fun in a casual work environment. If you accept a sales position with Cycle Springs, plan to attend company parties and events. Please send resume to jimmy@cyclespringsonline.com or give them a call at 727.771.1211 and ask for Jimmy Wallace.
The shop is located at 29703 US Highway 19 N. in Clearwater, FL