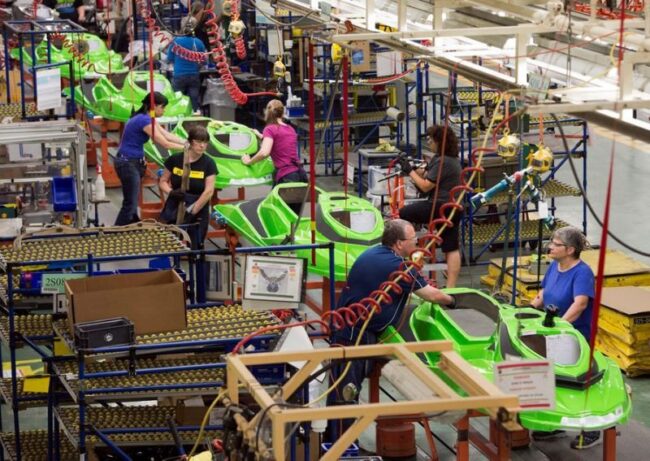 2020 has been a helluva year – and in more ways that one. For those affected by the COVID outbreak, many with the expendable income found new pleasure in owning a personal watercraft – particularly as amusement parks, concerts, restaurants and other vacation outlets were closed. This boon in PWC sales helped dramatically bolster Sea-Doo maker BRP Inc., particularly in light of several weeks of factory shutdowns.
In a recent report by Yahoo! Finance, BRP Inc.'s net income rose 35-percent, fueled by a 40-percent boost in North American sales of powersports vehicles. Earnings per share of $1.14 were seven times higher than analysts predicted – all of this in spite of production shutdowns (throughout April and May), which depleted inventory and slowed revenues in its second quarter – a revenue decline of 16-percent.
"We're down almost $1 billion in terms of inventory in the network … It's quite sizable," chief financial officer Sebastien Martel said on a conference call with investors. "CEO Jose Boisjoli views the drastic decline in business for competing industries — cruises, airlines and amusement parks — as a boon to BRP," states the article.
"A lot of people realized in May and June that they had not many options for going on vacation anywhere, and a lot of people turned around and decided to try powersports," Boisjoli was quoted. "Cruising on ATVs or Sea-Doos respects physical distancing and allows friends and family to share a social activity, making it perfect for the COVID-19 era," Boisjoli continued.
What is most interesting is that more than three-quarters of powersport vehicle purchases came from first-time BRP buyers, reported Yahoo!; "more than half of whom were new to the products, regardless of brand, the company said."
But it's not all rosy for BRP; despite extraordinary demand – particularly throughout June and July –  BRP was forced to lay off about 1,000 employees and slashed others' hours as factories ground to a halt. This and the decreased inventory places BRP's expected revenue down between five and nine percent for the year.
The report concludes, "The company earned $126.1 million or $1.43 per share in net income for the quarter ended July 31, up from $93.3 million or 96 cents per diluted share a year earlier. Revenue totalled $1.23 billion, down from $1.46 billion in the same quarter a year ago, the company said."