We at The Watercraft Journal were well-aware that a new RXP-X was coming down the pike for Sea-Doo's 2021 model year – even as far back as over a two years ago. In all honesty, we were a little afraid of the prospect of an all-new machine too, as the current RXP-X had such a strong fanbase.
The question wasn't whether it could pack the punch equal to its full-sized RXT-X 300 brother, but whether it could rise up to the challenge of the closed course. The competition has been stiff in recent years, and Sea-Doo needed not just a home run, but a grand slam to win over the diehard performance market.
Debuting in 2012, the now outgoing RXP-X introduced the world to Sea-Doo's T3 – or tight turning T-hull. The muscular 2-seater rode on a very aggressive, deep-keeled hull that flowed into a soft-edged inner chine and finally into a radiused outer chine. These rolled edges gave the musclecraft its now iconic cornering behavior.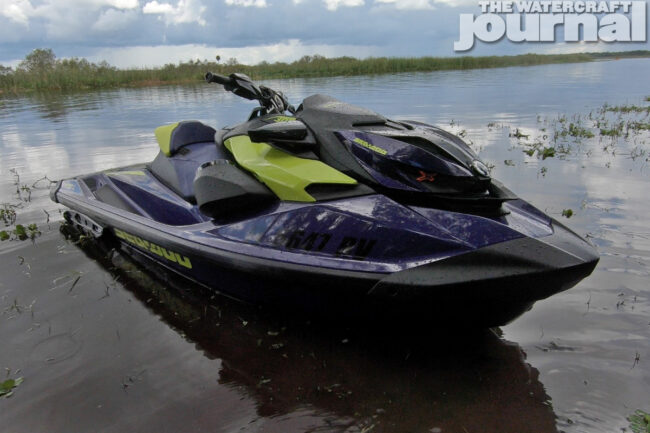 Additionally, a single step at midships was designed to create added suction before the intake grate, keeping the hull planted better and the pump loaded. To those who could master the chop, drop and roll process, the RXP-X fit like a hirsute leather glove. For the uninitiated, the RXP-X's lightning-quick reflexes could be…well, let's just say, surprising.
Of course, fears of being ejected were now absent thanks to the innovation of Sea-Doo's new Ergolock technology. Although introduced earlier on the full-sized S3-based RXT iS 255 and GTX Limited iS 255, Ergolock didn't really come into its own until the new RXP-X 260's reveal that year.
Deeply scalloped, padded coves and angled footwedges that locked the rider in place were borderline science fiction 9 years ago, and a supercharged-and-intercooled 260-horsepower (with "Sport" mode, no less) was like handing a kid a loaded gun. Sure, Johnny might learn to have a lot of fun with it; but he's more likely to hurt himself.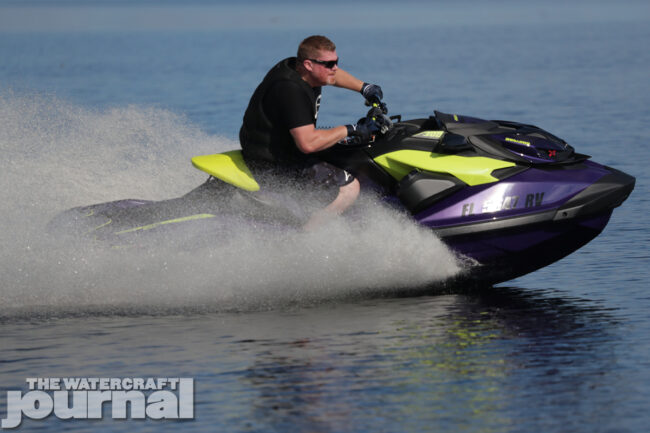 This was the most race-ready personal watercraft we had seen from Sea-Doo at the time, so how could it possibly be topped? Enter the 2021 Sea-Doo RXP-X 300. As we've said before, the all-new RXP-X is easily the most ambitious race-ready 4-stroke to come from Sea-Doo. Period. From it's GP-class, high-bolstered saddle to its one-of-a-kind T3-R hull, the new RXP-X makes a seriously bold statement:
And that is that Sea-Doo's here to win. And if we've gotta kick in some teeth to do it, prepare to start drinking smoothies from now on. Sure, it's packing the same 300 horsepower since 2016, but it's using those ponies a helluva lot better. No slop. No slack. And zero waste.
What might surprise some of you is how much the redesigned 2021 Sea-Doo RXP-X 300 ($15,799) shares with the GTR 230. Both share the same acrylic molded CM-Tech fiberglass top deck, the versatile LinQ accessory and engine access panel, and even the same hood (well, the understructure that is). Why is this a good thing?
Easy, it gives Sea-Doo's musclecraft the brand's best overall storage – even more than the big daddy RXT-X or GTX – 40.6-gallons of space split up between a 37.8-gallon front bin and a sizeable 2.5-gallon glove box. And besides the 1,630cc ACE 300 powertrain that it shares with the aforementioned RXT-X and GTX Limited, it's also got their massive 18.5-gallon fuel cell too.
So let's talk differences. For 2021, the RXP-X drops 67-pounds, making it considerably lighter than the previous generation (780lbs. vs. 847lbs.), and it does it while retaining the same overall length (130.6-inches), and being .9-inches wider (49.2″ vs. 48.3″). So no, it's definitely not bigger.
And while the supercharged-and-intercooled ACE 300 engine returns unchanged, the RXP-X wields a new top-loader intake and a highly polished, repitched prop producing greater thrust and initial hook-up. One last additional change was that Sea-Doo moved the engine and gas tank two inches (50mm) forward, placing greater emphasis on the nose – but more on that in a second.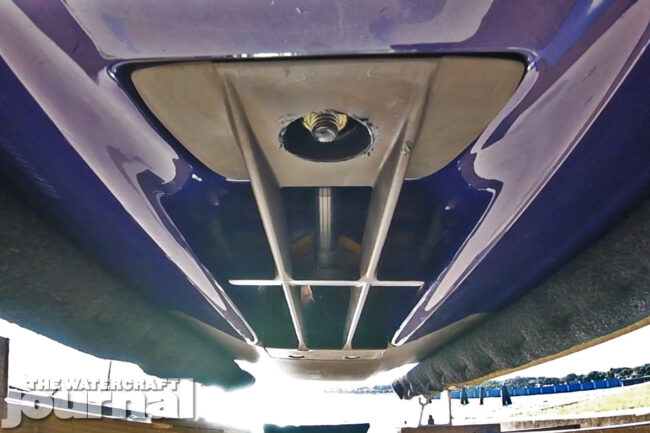 Interestingly, relocating the engine required a new, longer driveshaft. Given the opportunity, Sea-Doo tweaked the design of it as well as that of the carbon ring seal. It's not a noticeable change, but Sea-Doo has worked with its parts supplier to develop an improved carbon compound to hold up to the added rigors and torture that new RXP-X owners are certain to deliver.
All of this equates to a far superior power-to-weight ratio, and demonstrative gains in acceleration: Sea-Doo measured 0-to-50mph in 2.9-seconds, and 0-to-60mph in 3.6-seconds (versus the previous 3.9-seconds) – remember, it's got Launch Control too. While units sold domestically will be restricted to a USCG-approved 68.5mph, our unrestricted test unit reached a GPS-confirmed unsustained peak speed of 73.8mph @ 8,000rpm (the speedometer read 75).
Yet, much of the RXP-X's appeal isn't found in its ability to run a straight line – heck, any ski can go straight – what really makes the RXP-X is how well it corners. For 2021, Sea-Doo didn't completely redesign the T3 hull. Rather, engineers made nearly 30 subtle-yet-specific changes to make it more forgiving for less aggressive riders without losing its racy edge. Dubbed T3-R, the biggest standout in the new hull are its CM-Tech fiberglass construction and a series of serrations running along the inner chine at midships.
Coined by BRP as "Shark Gills," these serrations are designed to break up the hull's surface tension, aerating the water's cohesion and making for a slightly looser, more gradual corner at lower speeds. But how does it work? Again, at slower speeds or in a gradual sweeping turn, the RXP-X rides on this second chine, which previously could "load up" or suddenly bite, whipping the RXP-X into a hairpin turn. By breaking up this surface, the RXP-X can progressively roll into a wide sweep with confidence.
Further changes were made at the tail, from the pump inlet back. In fact, the entire wetted surface at the tail was redesigned to improve hookup and reduce chine-walking. At its outermost edge is the same rounded chine as before, providing unbroken surface tension (ie. traction) when cornering hard on its rail. Yet, snapping a tight turn at wide open throttle is a different experience because of the recent weight redistribution. Sea-Doo claims the new RXP-X 300 can carry full speed better throughout a turn – approach, apex and transition (or exit) – without the rider needing to back off.
In our two days of testing the new RXP-X 300 (The Watercraft Journal literally racked up double the seat time of any other media outlet invited to the release), we found that favoring the nose means the vertical bow and concave deadrise still does most of the work as before, particularly when trimmed all the way down (as Sea-Doo racer and decorated national and world champion, Erminio Iantosca recommended).
Yet, with both the rider and powertrain's weight moved forward, the hull's natural pivot point as been greatly advanced. Rather than the bow "leading" the Sea-Doo, the RXP-X feels surprisingly paired to the rider. Imagine an 8-foot pole intersecting the ski directly through the glove box and out of the hull like a carousel horse. It is at this intersection in the hull where the RXP-X makes it most contact, whether tracking through chop at high speeds or setting up the nose for a late apex 90-degree sweep. So in other words yeah, it corners a lot better.
Of course, this is not how most enthusiasts ride, so that's why Sea-Doo developed a more forgiving feel for casual riders. Then again, don't be fooled, this PWC is designed to corner – and on the nose. Why else would Sea-Doo relocate the engine and fuel tank forward, as well as design a new forward cockpit if not to put as much weight on its nose as possible? So know that you gotta trim this sucker down and snap those bars with the throttle pinned, man!
Speaking of that redesigned cockpit, Sea-Doo seriously stepped up its game with its now standard 1-person seating. Yes, you read that right, there's no passenger seat unless you buy it as an accessory ($399). Why? Because most RXP-X owners that Sea-Doo interviewed said that they almost never bring a passenger. Instead, the new seat – christened Ergolock-R – features a plastic block-off plate at the rear, a thick padded back rest and a durable hook-and-eye system that allows for as much as 5-inches in adjustment.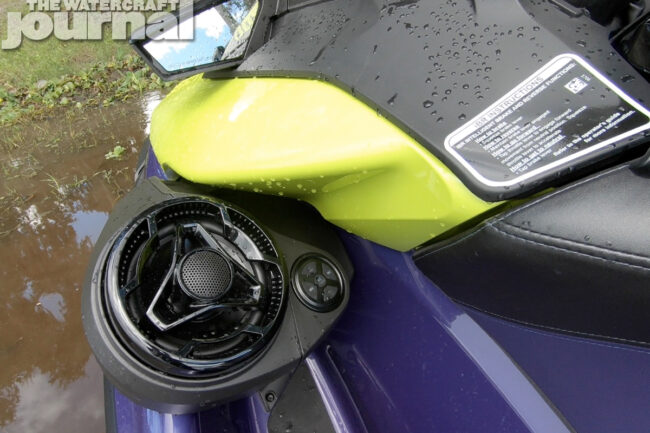 If sprinting through the mangroves or maneuvering through a twisting channel is your thing, bump the seat up until it's just a little tight. Then stand up, set your heels firm on the new two-angle footwedges, slip your knees into the deep, padded coves and wedge yourself snug into the saddle. That seat back will literally lock your legs in place, letting you steer at full throttle without feeling like you're constantly having to do chin-ups.
Additionally, Sea-Doo made the telescoping steering neck (same as used on the Trixx and previous RXP-X) optional as well ($175). Again, most performance enthusiasts said they didn't need it, so Sea-Doo plopped it behind an option box. The same went for the BRP Premium Sound System ($800). Producing the identical 100-watts of Bluetooth-controlled fun (now found on all other mid- and full-sized runabouts) it too is another goodie you need to check a box for. And no, that doesn't mean it can fit pre-2021 RXP-X's either. Sorry to be the bearer of bad news.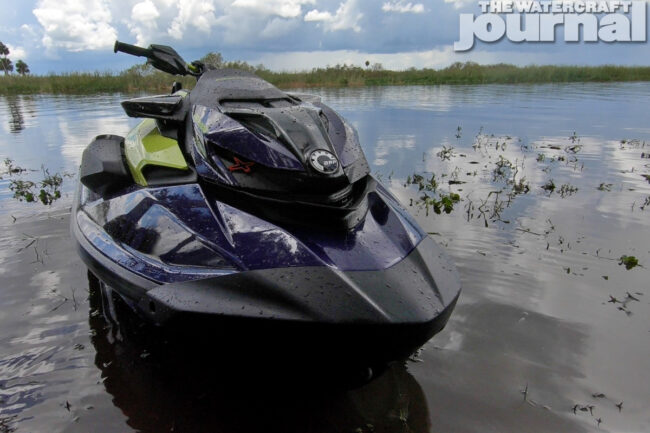 Listed with a base MSRP of $15,799, the 2021 Sea-Doo RXP-X 300 comes in a very classic Bombardier hue, what they're calling Millennium Yellow. If you're wanting a little more flash, you can fork over an extra $300 for the Midnight Purple and Manta Yellow variant, which is what we tested here. And Sea-Doo's also offering two unique vinyl wrap kits to boot. So at the very least, the RXP-X definitely looks the role – but is it the grand slam Sea-Doo needed?
While we mourn the loss of adjustable sponsons (standard are the less-than-great X-series sponsons found on the RXT-X 300), we were disappointed by its tendency to unhook the pump at wide open throttle across Lake Monroe's windblown 2-to-3-foot moderate chop even when trimming the bow up. Pumps make thrust, and pumps need hook up; and if you're unhooked, you ain't making thrust. And that's gonna cost racers the checkered flag.
In all, the new RXP-X leaps forward several steps ahead of its predecessor; the out-of-the-hole acceleration, optimized weight distribution, killer power-to-weight ratio, and improved rough water straight line tracking (at least at cruising speeds) are all the things that many performance enthusiasts have been craving for for years – and all of that adds up to solid proof that Sea-Doo is listening and has delivered the musclecraft that its most loyal fans have asked for.