Normally, we here at The Watercraft Journal are ardently opposed to early Christmas decorating; but considering the $#%&-show that 2020 has added up to be, if spreading a little holiday cheer is what is going to get you through the next few weeks, then by all means, deck those damned halls, baby. With much of people's means of entertainment and diversion limited, restricted or outright outlawed, personal watercraft sales shot through the roof. Unfortunately, demand outpaced supply, and a shortage led to skyrocketing costs – even for used PWC – and even the 2021 models have been slow to hit showroom floors.
So what is a PWC enthusiast to do? Well, until the new units are finally delivered to your local dealership, it's best to show you what The Watercraft Journal deems as the Top 10 best gift ideas for yourself or the jet skiing fanatic in your life. The items we selected this year were specifically chosen with a theme in mind: utility. That is, almost everything here is aimed at helping you get the most use and functionality out of your personal watercraft – regardless of your riding style or ability. Because if you're not stepping up to a new machine, you might as well get the most enjoyment out of the one you've already got.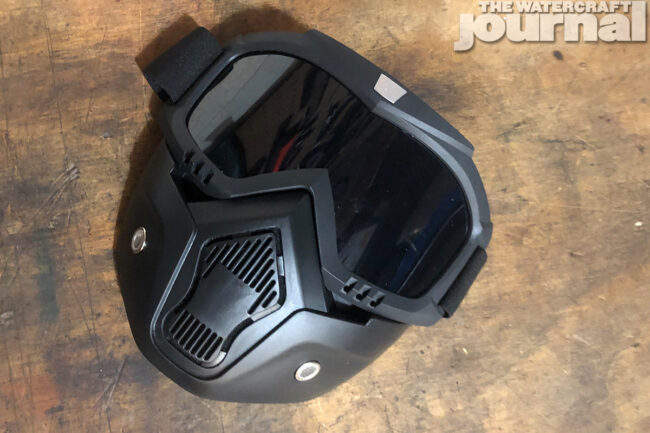 Safety Shield Face Mask with Detachable Goggles – $13
Quick question: Have you ever been caught out on the water during a sudden rainstorm and couldn't wait it out? If you have, you'll know first hand the value of having a quality face mask and goggles. Carrying such equipment is almost mandatory in Florida where sudden cloudbursts can catch a traveler unawares in seconds. That's why the Safety Shield Face Mask is such a good buy. Admittedly, it's cheap Chinese junk. [Hey, I found it on eBay. What do you expect? –K] There are certainly far better goggles on the market, and most likely superior face shields to boot. But that's not the point.
We recommend these detachable two-piece face mask and goggles because they are so cheap. That way, you won't think twice about cramming them in your bow storage and forgetting about them until you get caught in some nasty weather. Thankfully, of all of the cheap masks we've used, these are the most comfortable. Breathing isn't restricted as air flows in through side ports and a well-ventilated plate gratefully far enough from your nose and mouth not to feel crowded. The goggles rest nicely on the bridge of your nose and offer decent air circulation, minimizing fogging too. And did we mention they're cheap?
Sea-Doo Removable Storage Bin Organizer – $61.99
Easily one of the most appealing features of the 2018-and-up full-sized Sea-Doo runabouts is the centralized storage compartment fixed beneath the steering column and dashboard. Accessed via two locking handles, the entire top deck pivots vertically on a gas strut exposing the ST3-based watercraft's 27-gallon storage bin. Unless otherwise equipped, most runabouts come without any sort of divider or container, leaving one's packed belongings to rattle around loosely. Thankfully, Sea-Doo's Parts & Accessories Division whipped up a couple of solutions, our favorite being the full-sized Removable Storage Bin Organizer.
During the year The Watercraft Journal enjoyed a '19 Wake Pro 230, we equipped one of these breathable front bin organizers and never looked back. Made from high-quality premium-coated synthetic mesh, these won't collect water and mildew. In fact, Sea-Doo even advertises that the bin organizers specifically designed for "storing wet clothes away from the rest of your gear or to transport gear to/from the watercraft." Making that easier is the incorporated carrying handle and cinching pull string. Simply slip the quick-attaching fasteners into the molded-in fixtures to secure the bag in place inside the storage bin. It's really a no-brainer.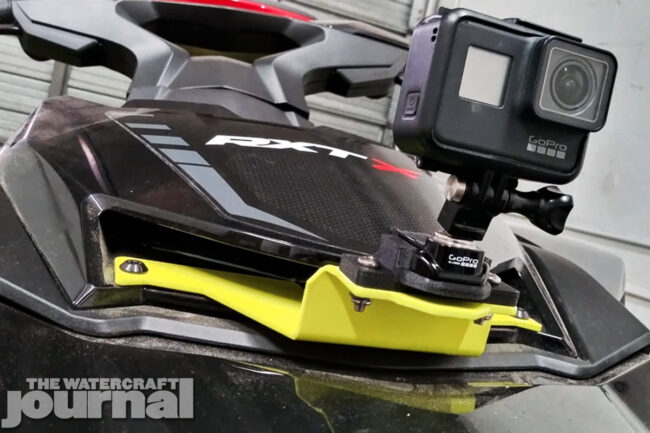 Super Rack Action Camera Bracket For ST3 Sea-Doos – $69.99
Admittedly, 2020 has cost us two GoPro cameras – not to mention several close-calls. Nearly $900 in action cameras is more than any one person should have to swallow, so we're very excited about Super Rack's Action Camera Bracket for all 2018-and-up ST3-based Sea-Doos. Obviously, most folks know Super Rack for their stellar rear storage racks, but this one item really stood out as a problem solver for many would-be content creators. And if you order now, you can save 10-percent off of your order (of over $400) using code "2020" at checkout.
Made from 100-percent marine-grade aluminum, the bracket installs easily to the front "hood" cover using the same factory screws – requiring no new hardware. According to Super Rack, the "GoPro mount is included, all you need is your camera; there is no need to buy any extra parts or accessories." As a nice final touch, Super Rack LLC offers the bracket in a variety of powder coating color options. While the colors are not meant to match any PWC, they are "close enough" to some colors use by Sea-Doo, so make sure to check out what's available!
Slippery Wetsuits' Liquid Race Boot – $89.95
Many casual riders will brush off the idea of wearing a full lace-up boot, particularly when the skies are clear and the sun is warm. But we find even on low-key cruises, added traction and superior protection is never out of style, and that's where a good pair of riding boots come in real handy. While we've found more gimmicky boots offering more frills and snazzier options, Slippery Wetsuits' Liquid Race Boot has never, ever let us down.
Now on our third pair in 13 years, our first pair of Liquid Race Boots were just getting a little stiff after too many years of use. Thankfully, the updates and improvements made to the boot were made to the toe and heel, reinforcing them with thick-yet-flexible, textured panels giving added traction and protection to an already stout product. Plus, they come with their own tailored neoprene socks, so you'll get the best fit possible. Riders and racers who use them love the Liquid Race Boot from Slippery, and we're certain you will too.
WaveRunner EX Stern Mounted Storage – $129.99
When it comes to Yamaha's EX Series, there's very little not to like – except for a lack of storage. The glove box is surprisingly deep but it's narrow opening is rather restrictive. That's why we really liked the 2021 EX Limited, given that it comes equipped with two of Yamaha's best storage solutions; the bow-mounted dry bag and the Stern Mounted Storage Bag (shown here). Providing nearly 4-gallons of added capacity, the Stern Mounted Storage Bag adds almost 50% more room to stow a tow rope, dock lines, rail guards or other items).
Best of all, the Stern Mounted Storage Bag requires zero drilling to install. Made from durable, weather resistant compression-molded black EVA foam and vinyl, the mesh interior base allows for quick water drainage and air circulation so mold and mildew won't cultivate when not in use. As a nice touch, Yamaha designed the Storage Bag to also allow access to the stern tow eye without having to remove the bag.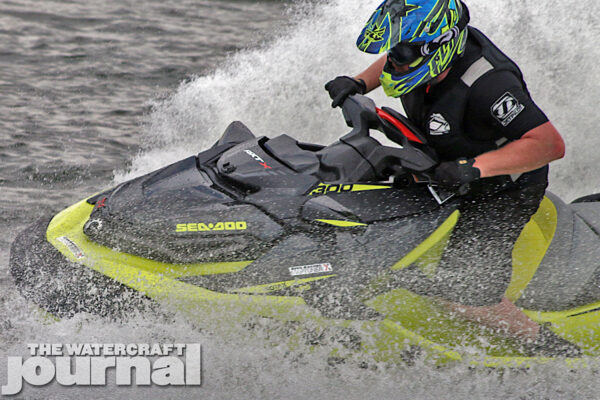 RIVA Top-Loader Intake Grate for ST3 & 2020-up GTI/R Sea-Doos – $186.96
There's no arguing that Sea-Doo's ST3 platform (first introduced in 2018) is a winner. The Ergolock seating is unmatched, static stability is as steady as a surgeon's hand, and the out-of-the-gate acceleration is killer. Yet, there's a few quibbles with how the hull actually tracks in variety of conditions that just need to be addressed. A little over a year ago, we praised RIVA Racing's Pro Series Sponsons for helping us fall back in love with our 2018 RXT-X 300. And now, RIVA's Top-Loader Intake Grate delivers the final punch to this one-two combo to make the ST3 platform a true all-around competitor.
RIVA dedicated its research and development team to craft an all-new design that delivered a dramatic increase in hook up – via an oversized top loader wing design and "optimized" inlet ramp (most commonly used for closed course and offshore racing) that wouldn't scrub speed off of the top end. In fact, the new intake grate improves top speed through rough water conditions while maintaining identical speeds on smooth water! The racy design significantly drops initial cavitation and glues the ST3 hull to the water in extreme conditions. It's basically everything the ST3 needed that the Pro Series Sponsons couldn't do alone.
Sea-Doo's Heated Grips – $209.99
Let's just be honest – there's not a lot of you in Florida or Arizona who are going to need these. Now, we're certain these would move in California, but that's only because Californians don heavy jackets and thermal underwear when the mercury dips below 58º. For the rest of us who never-say-die in the face of riding in foul weather, Sea-Doo's Heated Grips are one of the most welcome accessories we've had the pleasure of testing. And no, that is not hyperbole. When we returned our '19 Wake Pro 230, we removed the heated grips just so that we could install them on future long-term test units.
Installation may look a bit intimidating for the less mechanically-inclined, but our tutorial on doing so should (hopefully) take some of the teeth out of that. Gratefully, Sea-Doo has done a masterful job with its wiring components, making the adding of electronically-charged accessories pretty effortless. Adding the heated hand grips did require a bit more tooling than other items we've installed, but once completed, the grips work masterfully (only when the engine is running). In fact, of the five heat levels, the highest (red) was often too hot to enjoy even as we sped along in sub-freezing air temperatures.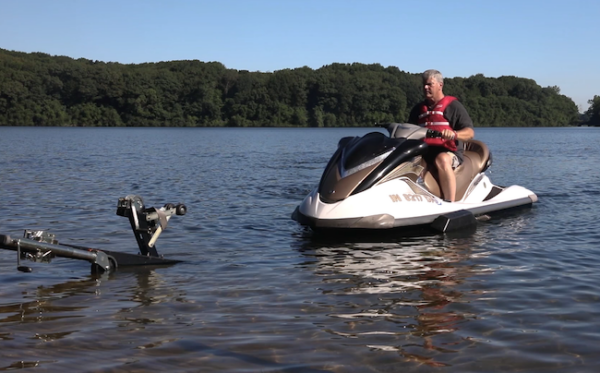 Easy Guide PWC Trailer Docking System – $399.99
A few years ago, I approached a man launching his boat as I waited in line to use the ramp. Jutting from the water were two white PVC pipes, which at the time, I had never seen before. He explained that he had installed them so he could better see the leading edge of his trailer, and to a lesser extent, keep his boat from drifting in the river's current. Turns out, lots of folks do this. Thankfully, Easy Guide has made boat loading/launching demonstrably easier with its floating docking system without looking like you need training wheels.
Designed to literally guide you between the bunks, keeping your watercraft from floating away while you dismount and attach the winch, the Easy Guide is is a pair of chambered heavy-duty floats that buoy up on sturdy, articulated reinforced polymer plastic arms as you back your trailer into the water. Not only do they help guide you onto the trailer, but also save you from stressed or broken bunks as you no longer need to throttle your PWC up onto the trailer! Made entirely in the USA, the Easy Guide kit ($399) requires zero cutting or drilling, and will work on most all single-bunk trailers.
Kawasaki Ultra 300/310 Kspeed Stage 1 Kit – $1,200
While being one of the most lauded offshore machines on the market (as well as touting the highest horsepower output and onboard storage of any full-sized personal watercraft), the 310-horsepower Ultra JetSkis haven't been known for their top speed numbers. That was primarily attributed to the Kawasaki's Deep-V hull, giving the craft considerable drag – that is, until recently. Kspeed's Stage 1 Kit is unequivocally the easiest and most affordable package to push an otherwise bone-stock Ultra 300 or 310 up into the high 70's. Heck, we went to Brisbane Kawasaki earlier this year just to prove the claim.
The kit begins with Kspeed's ECU reflash which removes the factory speed limiter and traction control (specifically for on 310 models), and remaps the ECU. This in turn, permits the ski to pull past the factory-preset 68mph top speed cap, increases the throttle response, sharpens the acceleration curve and optimizes the fuel and ignition timing for more power. Next is a 2º pump wedge, reangling the pump, lifting the bow of the ski for less drag and better top end speeds. Finally, the Kspeed Top Loader Intake grate radically changes the angle of "water entry," forcing more water in the pump improving hook-up in all conditions. As Kspeed promises, "Better hookup, better hole shot and less loss of speed when traveling in rough conditions."
The Watercraft Journal's Long Hauler Auxiliary Fuel System Kit – $650
As personal watercraft have evolved into super-comfortable, feature-laden machines, more and more enthusiasts are using their PWC to explore new places and ride further distances. To help them go further, The Watercraft Journal's Long Hauler Auxiliary Fuel System Kit increases your PWC's fuel range by upwards of 85-percent (depending on model). Engineered so that the least mechanically-savvy could install it in a matter of 10-to-15 minutes using common hand tools, installation requires zero cutting or drilling, or permanent modifications, and is 100% reversible.
Using the mechanical vacuum created in the factory fuel cell to organically siphon fuel from the auxiliary tank mounted on the rear deck, this system works on all 2004-and-up 4-stroke Kawasaki and Yamaha runabouts, as well as all 2003-through-2011 Sea-Doos. (Changes made to the fuel pickup by Sea-Doo in 2012 makes use of our system impossible without major changes to the factory fuel system, which we didn't want to require.)
The kit consists of 9 pieces: a special-designed stainless steel, powder coated rack from Kool PWC Stuff, featuring a patent-pending Z-bar adjustable base lined with Hydro-Turf padding; a stainless steel double-hooked turnbuckle; a USCG-certified 12-gallon auxiliary fuel tank featuring a ventilated locking gas cap, internal pickup and fuel level gauge; two ratchet straps; 11-feet of non-EFI 50psi-rated fuel line fitted with a brass 5/16-inch hose barb; and two zip-ties to secure the fuel line.
Available for sale now, the Long Hauler Kit is sold exclusively through The Watercraft Journal's online store for $650. Simultaneously, a video installation instructions has been published to The Watercraft Journal's YouTube channel so you can see a step-by-step tutorial on how to install your Long Hauler Kit. It's the most comprehensive, easy-to-install auxiliary fuel system on the market – and it's been proven by The Watercraft Journal HERE.