With all of the news pouring out of Yamaha's watercraft division this year it might be easy to forget the newest addition to the lineup, the 2021 EX Limited WaveRunner. While much of the brand's entry-level Rec Lite series went untouched for the new year – apart from the usual colors and graphics, that is – Yamaha did add one more model to its EX Series: a new, fully-optioned EX Limited.
The new EX Limited joins both the VX Limited, VX Limited HO and FX Limited SVHO. To those unfamiliar, the "Limited Package" includes a king's ransom of accessories including two waterproof wireless EcoXgear Bluetooth Speakers, a single-rider tube, tube inflator, tube holder, tow rope, tow rope bag, fixed bow-mounted dry storage, 12V outlet, custom color-matched cover with glove box access and two fenders.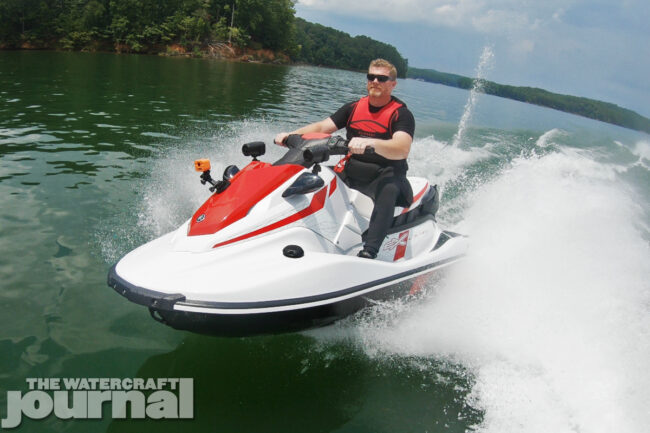 Effectively, the Limited accessory package equips the owner with quite possibly everything that a new personal watercraft owner could want or need for the season – and all for a nominal price. The EX Limited comes with an MSRP of $9,599 – a paltry $600 more expensive than the EX Deluxe (MSRP $8,999), a sum well below the cost of purchasing each of the items separately from Yamaha's accessory catalog.
The Deluxe is the EX Limited's closest sibling, sharing the same weight (602-pounds), fuel capacity (13.2-gallons) and powertrain; namely, the 100-horsepower TR-1 EX 4-stroke. There is one small outlier though; the 2021 EX Limited features slightly widened sponsons for increased static and dynamic stability. This change was made for the Limited only, as this WaveRunner is expected to be operating with multiple passengers and towing a raft.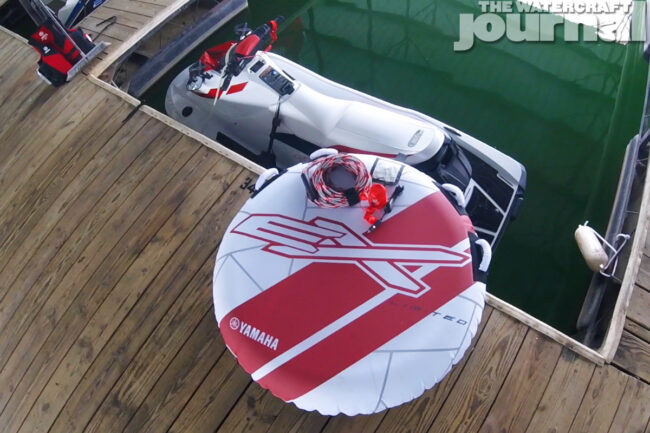 Equally, as the Limited comes equipped with Yamaha's factory-installed bow compartment dry bag, the standard 7.7-gallons' worth of storage is up an additional gallon-and-change.
As all standard EX models are made using traditional fiberglass, the EX Limited is a far more forgiving ride than the competitor's entries in the segment. The EX hull is playful but predictable, tracking straight in chop and reliably true in tight corners. Throttle response is on point as well, wringing out plenty of low-end grunt from its standard 1,049cc three-cylinder to launch the EX from a standstill or pull a towable around the lake with moderate effort.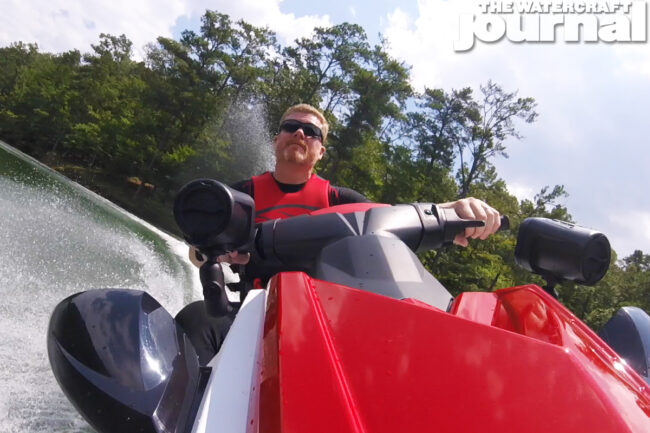 While not as sporty as the 110-horsepower EXR (MSRP $9,499) and its featherweight NanoXcel2 construction that shaves off an additional 70-pounds, the Limited is still an incredibly fun, agile ride that permits riders of all experience levels to have a great time. Of course, the Limited includes Yamaha's RiDE dual throttle braking and reverse system, permitting riders to bring their WaveRunner to a complete stop from a full speed clip, or simply maneuver through the tight confines of a marina.
A single spartan LCD dash below the handlebars sits almost between the driver's knees reading off the speed in an oversized font and a slightly-too-simplified gas gauge shows only 4 bars (with each representing 3.3-gallons of fuel each). Of course, it'll take a whole day's worth of play to drain the tank as the TR-1 is notoriously efficient, miserly sipping fuel even when really romping on the throttle.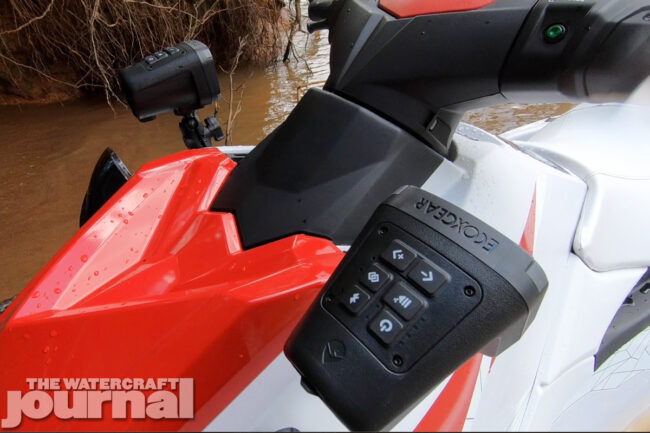 With half a tank and some decent flat water, we eked out a respectable 51mph from our EX Limited. Speeds like these aren't going to set the internet on fire, but then again, that's not what it was intended for. Also, using the spring-loaded reboarding step begins with a single knee, as placing your full weight on it will surely roll the lightweight runabout nearly completely over.
Available in White with Torch Red, our time on the 2021 EX Limited was spent mainly cutting figure-8's and trying to churn up the lake enough to launch the little WaveRunner into the air. Powerslides are effortlessly doable, but not as easy thanks to the wider sponsons. Nevertheless, the EX never fails to put a smile across your face; and with its everything-but-the-kitchen sink Limited accessory package, is certain to be a great candidate for a first-time buyer or lakefront resident.