Sea-Doo knew it had something special on its hands when it first developed a runabout specifically for tow sports way back in 2005. Fitted with a semi-collapsible ski pylon and rail-mounted board rack, the "Wake Series" began as a trim option on the GTX line. Fifteen years later, the two Wake series offerings are their own Sea-Doo models delivering three times the fun per hour all while maintaining the same spirit and formula as its first ancestor.
Every year, we at The Watercraft Journal are lucky enough to be provided a long term test unit to use as we wish, and rack up as many miles as we can muster over that season. While we've had our share of race-ready supercharged machines over the years, when it came time to select one unit from the entire 2019 lineup, we opted for the top-of-the-line Wake Pro 230 without a moment's hesitation.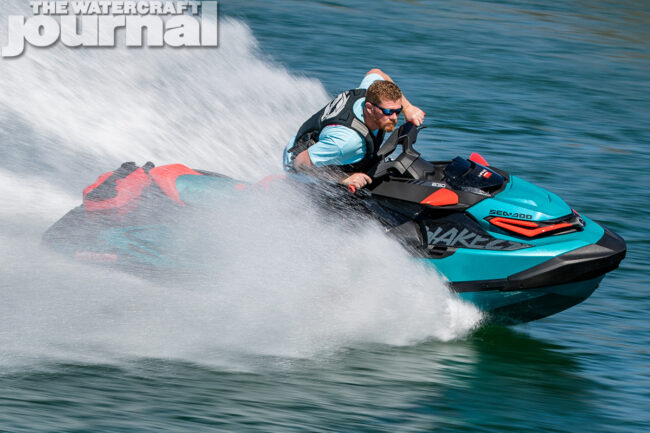 Why, you may ask? Because few watercraft available from Sea-Doo allow so much versatility, range of use, and just plain enjoyment as the ever-popular Wake series. And yes, it's true! Sea-Doo's Wake models (whether its the full-sized ST3-based Wake Pro 230 like we selected, or the smaller, naturally-aspirated Wake 155) continue today as some of the most popular, highest selling models sold by Sea-Doo – and all for the very same reasons we mentioned.
The 2019 Wake Pro 230 we received shares the same Teal Blue Metallic and Lava Red livery as the 2018 model, where it debuted on the then all-new ST3 platform. Made entirely from Sea-Doo's proprietary CM-Tech material, sheets of fiberglass are pressurized in a closed mold into a pre-formed shape – a process that leaves the inside of the hull and deck with a smooth, almost chalky surface, ideal for service technicians and home mechanics tired of the scratches that raw chopped fiberglass can leave on their hands and arms.
The hull design itself is a bit of an amalgam. The knife-like vertical bow borrows heavily from the RXP-X 300, featuring an aggressive 23-degree deadrise flanked by smooth-sided convex coves. This allows the craft to split a path through waves and rollers, but also has a tendency to hunt like a forward-mounted rudder, as well as pitch over to the inside of a slow turn. When throttled out, the heavy lean can overpower the tail's flattened running surface and cause a temporary loss of traction, breaking free and even spinning out – similar to smaller, more playful units like a Spark or GTI.
Wide-set, hard-edged chines at the hull's outermost edges give the ST3 its remarkable stability, particularly while stationary or operating at slow speeds. This permits passengers to move around freely without feeling uneasy or imbalanced. Adding to the Wake's increased balance is the lowered Ergolock seating – the bench and footwells have been sunk deeper into the hull, optimizing the craft's center of gravity. Additionally, the Wake Pro's voluminous footwells mean standing up and moving positions isn't the cramped exercise it might've been on previous models.
Extra ease of motion for the passengers is provided through a redesigned folding swim step, and inset re-boarding hand grips molded into the new LinQ accessory platform integrated into the deck. All ST3-based Sea-Doos, including the Wake Pro 230, feature this modular system that permits the attachment of a LinQ accessory: be it a 4.2-gallon cooler, a 4-gallon fuel caddy, a watertight dry bag, or even the gargantuan 13.5-gallon cooler previously exclusive to the Fish Pro. Either way, the Wake Pro is incredibly versatile when it comes to accessorizing to fit your needs.
Of course, a major feature of the LinQ platform is also standard equipment: the inclusion of the retracting ski pylon. Extending to 3-times its height, the BRP Retractable Ski Pylon is ideal for towing low-drag wake skaters, wake boarders and lightweight water skiers. A reinforced tow eye is also integrated into the rear of the hull if you so choose to tow a raft or heavier skier behind the Wake Pro. Equally, the Wake Pro 230 includes an easily removable, padded wake board rack that snaps in place alongside the passenger side bond rail.
For the operator, the Wake Pro 230 provides some unique features not found on any other brand. Most notable is the Wake Pro's digitally-controlled Ski Mode. Providing the pilot a sequence of launch settings to select from, Ski Mode throttles the Sea-Doo's rate of acceleration from incredibly mild to surprisingly aggressive. Toggling through the Ski mode pre-sets is done easily using the handlebar-mounted thumb pads. The 7.6-inch wide digital display telegraphs the Ski Mode settings, VTS trim attitude, fuel and other vitals in big, bold typeface that's easy to read at most any speed.
With the 2018 redesign also came the phasing out of conventional Cruise Control. Rather, Sea-Doo's Intelligent Throttle Control (iTC) software employs a clever Speed Mode, as indicated by a small tachometer icon on the left-hand side thumb pad. Speed Mode serves two functions: when in Neutral or Forward without the throttle engaged, Speed Mode works as "Slow Speed Mode" providing several No Wake Zone idle speeds. While under throttle, Speed Mode locks in a designated top speed that cannot be surpassed, but allows the pilot to ease off the throttle without cancelling the preset, providing a tertiary purpose of eliminating the need for a "Learner" lanyard.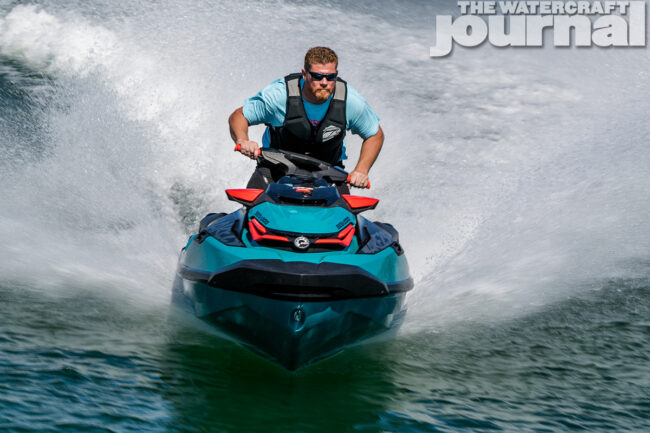 Seeing as our Wake Pro 230 was on the new ST3 platform, it also meant that we enjoyed the easy access center storage system. Rather than having to double over the handlebars, two durable plastic latches unhinged the top deck and center console to reveal a massive center bin and filler neck. While this arrangement (paired with the tiny glove box and integrated waterproof phone case) reduces the full-sized runabout's total storage down to a meager 27-gallons; when upgraded with the optional storage divider and cargo bag, bringing along extra sunscreen or a pair of flip flops became far less unruly.
Already coming to us with the Bluetooth-compatible, 100-watt BRP Premium Audio System (a definite "must have" if you're considering a new Sea-Doo of any make or model), we also chose to "plus" our Wake Pro 230 with several other industry-leading accessories (all available through Sea-Doo's Parts & Accessories Division) namely the USB port for an optional phone charger found in the phone case, the aforementioned storage dividers and bag, the new-for-2020 Heated Hand Grips and Wind Deflectors, and finally, the slightly redesigned 2020 Retractable Ski Pylon.
Over the course of the year, we racked up just over 30 hours of riding time, which we know to many might not sound like much time at all, but considering how many makes and models we test throughout the year, it was significant. Mainly stored outside, our 2019 Wake Pro 230 never failed or disappointed. Although, without the use of a UV-protective cover, the black plastic surrounding the gauge cluster and handlebars began to discolor. We tried several restorative products to bring the plastic's luster back but never found one that lasted more than a few days.
With 230 supercharged-and-intercooled horsepower on tap from its Rotax 1500 HO ACE, we maxed out at 65 miles per hour – a respectable speed for a family-focused runabout tipping the scales at 815-pounds. As our Wake Pro 230 came equipped with the aforementioned onboard stereo, our unit carries an MSRP of $15,599 – not exactly an impulse purchase by most family's budget.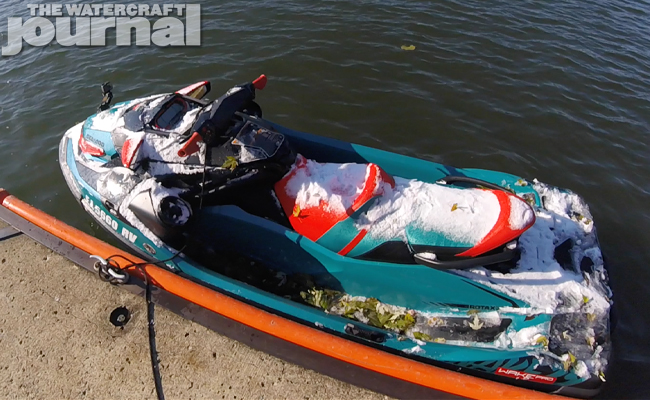 Interestingly, with Sea-Doo standardizing the attachment point for the retractable ski pylon across all ST3 and GTI runabouts in 2020, and the pylon and the removable board rack being made available through Sea-Doo's Parts & Accessories division, there's very little left to distinguish the Wake Pro 230 from an equally-powered GTX, save for maybe the Ski Mode program, which also can be upgraded to any iControl-powered unit.
While there's zero threat of the Wake Pro 230 going away, it would be nice to see some added features like larger rear view mirrors and footwell drains, as both items offer specific benefits to those using their Wake Pro for tow sports as it was intended. In either way, the 2019 Sea-Doo Wake Pro 230 was a definite crowd-pleaser, never let us down over the course of the year, and fetched plenty of looks while towing it to and from the launch ramp, which is always nice.